Popular Idaho Fairs and Festivals
Posted by Mike Brown Group on Friday, August 16th, 2013 at 1:54pm.
Nothing says summer like a fair or festival, but according to VisitIdaho Idaho is home to a long list of year round events. From the popular Summerfest in Driggs each July (with more than 30 hot air balloons and all kinds of fun) to the Lionel Hampton Jazz Festival that occurs each February in Moscow - there is a lot to do.
What about a potato festival or fair? Because so many people associate the state of Idaho with the root vegetable known as the potato, most assume that any community festivals or events might emphasize this particular food.
However, there are actually not that many fairs and festivals built strictly around the potato. Instead, the state has an amazing and impressively diverse number of activities throughout the year. Some of the most interesting include: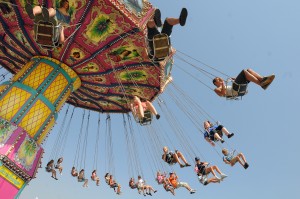 Trailing of the Sheep - This takes place each October in Sun Valley and allow visitors to learn all about the sheep ranching lifestyle in the state. It is both historic and loads of fun. It is three days of excitement that includes the movement of a massive herd of sheep through the busy downtown area of Ketchum.
Holiday Light Shows - Several popular cities put on outdoor displays of holiday themed lighting beginning in November and running into January. Some of the spots include Coeur d'Alene, Sandpoint (which also hosts a winter carnival), McCall (which also hosts a winter carnival), and Preston.
Rodeos and Rodeo-like events - The history of the state has a lot to do with ranching and rodeo, and so there are many large-scale rodeo and roundup events that include, Lewiston Roundup every September, Nampa has the Snake River Stampede each July, Twin Falls hosts Western Days every July, Pocatello is home to the Dodge National Finals Rodeo in March, Glenns Ferry has the Three Island Crossing, Ketchum has the Wagon Days in September, and Caldwell has the Caldwell Night Rodeo every August..
Logging - Orofino is home to annual Lumberjack Days in September, and also in that same month St. Maries has its Paul Bunyan Days.
Native American - Post Falls is host to Julyamsh Pow Wow, the Shoshone Bannock Indian Festival is in Fort Hall every August, and Heritage Days occurs in Salmon each September.
State Fairs - Boise is the home of the Western Idaho State Fair each August and the city of Blackfoot has the Eastern Idaho State Fair each Labor Day weekend. These are massive happenings with days of activities, and it is easy to dedicate an entire weekend or a few days just wandering these fun and festive events.
Potatoes - Yes, there are potato festivals and two of the biggest are in Driggs in Eastern Idaho where the Spudfest happens in August, and there is also the Idaho Spud Day in Shelley every September.
There are also many arts and crafts fairs, music events, and special festivals around the blooming of some trees and flowers. Essentially, you could find something big and festive to do almost every month in Idaho.
Works Cited
VisitIdaho. "Top Events." 2013. Visit Idaho. 2013 <http://www.visitidaho.org/press/events/top_idaho_events.htm>.
Leave a Comment