Simple Yard Projects that can make a BIG Difference this Spring
Springtime in Boise is the perfect time of year to step back, look at your house, and start dreaming of the warm, sunny season ahead. It won't be long before you start sending out invites to have friends over, and you'll want to be ready for entertaining!
Now that winter is behind us and the flowers are starting to bloom, you might notice that your house doesn't look as proud and polished as it once did… but that's okay! It's normal for houses to lose their luster over time. Paint fades, dirt gathers, and plants can grow out of control.
We believe everyone should love where they live, but this can become difficult as outdoor gardening and yard projects sneak up on you all at once. Don't worry, you've got this! Every home has a little room for improvement, which is why we've assembled this list of easy curb appeal boosters.
So grab those paintbrushes, dig out your gardening gloves, and set aside an upcoming Saturday or two. These home improvement tips are all great ways to add some curb appeal and allow you to take pride in the place you call home.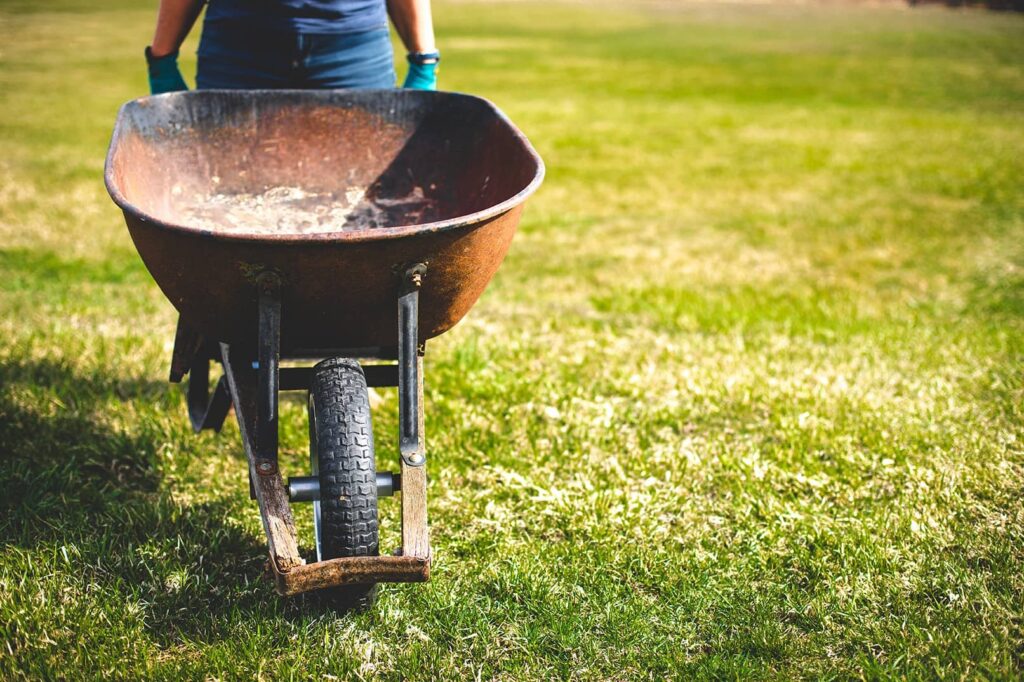 15 Easy Ways to Improve Your Curb Appeal
Add pops of color
Whether it's flowers, furniture, or a fresh coat of paint, using a little bit of color is a great way to make your home feel bright, warm, and inviting.
Clean up your edges
The secret to a crisp-looking yard is all in the lines. Gardens, pavement, and paths all look better when kept crisp and clean, so use a weed eater to trim back overgrown grass and define all your edges.
Add flower beds
A lone tree standing by itself is beautiful, but add a small flower bed around it and you create space for a little ecosystem to emerge. The expense here is minimal and should only cost you a little digging and dirt work.

The size, shape, and design of your flower bed is up to you! These new spaces can be as hands-on or hands-off as you like.

To give your yard subtle contrasts, add a dark-colored mulch beneath your plants. Or for less work year after year, consider adding a long-lasting ground covering, like Serbian Bellflower or Red Creeping Thyme. These species of ivy require very little maintenance and bring a sweet aroma to your yard. Be sure to read their unique descriptions before planting.

Note: Some species of ivy are invasive, like English Ivy (Hedera helix), might kill your other plants. Be sure to read unique plant descriptions before adding them to your landscaping.


Hide the eyesores
Sometimes the necessary functional pieces of your home stand out like a sore thumb. Take a look around for obvious things, like heating and air units, electrical boxes, crawl space vents, etc. If you see anything that can be disguised, try painting it or placing something in front of it. This small change will quickly hide eyesores and keep people's attention where it belongs… your front door!
Focus on the front door
Most homes have a front door that faces the street. By design, this focal point is meant to give your guests a clear place to enter the home and the rest of your home is oriented to direct visual attention to the door. With this in mind, a fresh coat of paint, new hardware, or even a brand new door will immediately upgrade the aesthetics of your home.

But if you already have the perfect front door, consider making it more "yours" by hanging a wreath or another decorative piece to put your personality on full display.

Upgrade your mailbox
New residential mailboxes typically cost somewhere between $50 and $350 and won't take much time to install. If you want to put in a little extra time, look for a unique set of mailbox numbers that match the style of your home. Or, consider painting the one you already have. It can't be said enough: adding a fresh coat of paint will go a long way!

Bonus: You could also think about adding decorative landscaping near the base of your mailbox. A few well-placed plants can establish this spot as a more prominent feature in your landscaping and help tie everything in your front yard together.

*If you live in a neighborhood with a Homeowner's Association, check the mailbox guidelines before making any changes.

Get digging
Planting trees, bushes, and colorful heirloom flowers will transform your yard, adding different heights, textures, and dimensions throughout each season. To ensure that every plant takes root and starts a healthy life at your home, unique care instructions should be followed carefully.

No matter which plants you choose, most typically cost less than $60. Just grab a good shovel and watch out for buried utility lines.

If you aren't sure where your lines are buried, call 811 two days before you want to start digging.

Freshen up your fencing
Homes with fences, decks, front porch railings, and wooden gates will all need maintenance every 1-3 years. If these areas go untreated for too long, the curb appeal of your home will diminish quickly. Depending on the amount of wood you need to treat, these projects can grow to become quite expensive and may need to be added as a savings goal inside your annual budget.

On average, the price for one gallon of exterior paint, or one gallon of exterior stain and sealer, is about $30. For big projects, it's best to buy in bulk. If you only have small areas to address, buying in bulk could end up costing you more money. Once a container is opened, these liquids will begin to lose their effectiveness. The elements can separate and get ruined if exposed to moisture and temperature fluctuations.

Replace fencing with foliage
If you want a more natural, landscaped look, consider adding a row of boxwood hedges along your property lines or prominent edges. These shrubs are easily sculpted, won't grow very high, and bring a refined look to any yard. They can be used to replace a fence, outline a sidewalk, surround the base of a tree and more. Get creative!
Add a unique walkway
Taking "the road less traveled" doesn't always need to be a grand adventure. Adding a decorative pathway between two parts of your yard can turn an ordinary walk into a small little journey of its own. These projects can involve more work and expensive materials, but the end result is worth it.
Install planters
It really is amazing how different a home can look with a few extra plants. If you see an unused railing, sill, or corner, find a way to add more greenery! Hanging planters and window boxes are likely the quickest to install, just make sure to suspend them from a secure spot that won't create any damage to your home.
Update your shutters
These pesky pieces are notorious for falling off, breaking, and leaving your home looking a little worn down. Based on the height of your windows, it may be best to pay someone to install these for you. However you choose to go about it, a few spare hours is all it should take to search new styles, place your order, and enjoy the new facelift.

If your shutters still seem to be in good shape, but still look tired, consider pressure washing, painting, or upgrading the hardware.

Pick a color palette
Coordinating all the colors on the outside of your home is a great way to tell all your neighbors that you have good taste without telling them you have good taste. Previous owners might not have had the same eye for color that you do, and a matching color scheme will capture the creativity you harness in all the other parts of your life.
Keep your lawn green and lush
Some people have the green thumb, and others… not so much. Regardless of your past experience, we're here to tell you that it is possible to keep a green yard in Idaho! Cultivating the perfect lawn might take some extra care and attention in this semi-arid climate, so if you're ready to have the dark green tones now, laying down sod will be your most convenient option.

A local landscaper will know best, but generally speaking, Kentucky bluegrass and perennial rye will be among the best options to thrive here in the Treasure Valley.

Clean your gutters, inside and out
Anything that defines an edge or line of your home can add some "umph!" Scrubbing or pressure washing your gutters will remove dust and make these lines bold and restore them to their original form.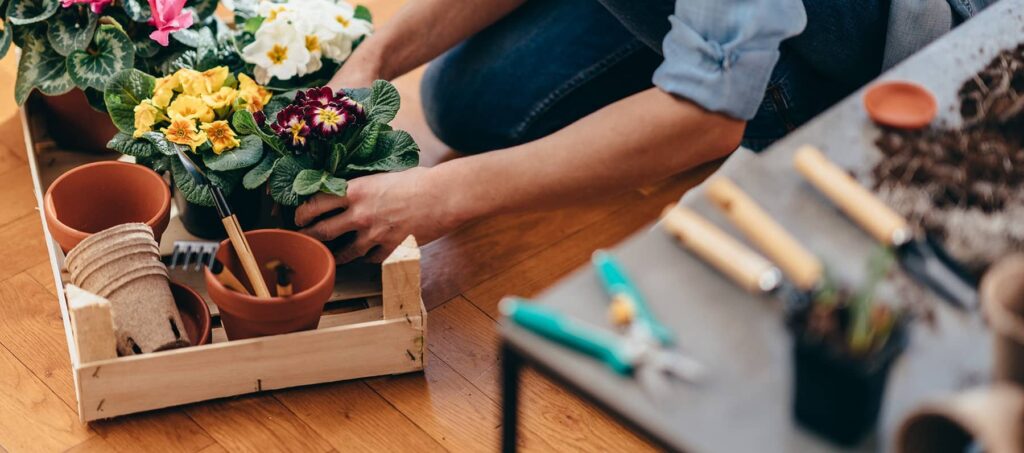 No matter which projects you choose, giving your home new curb appeal is a great way to spend part of your weekend. So get out there, make it your own, and have fun working on your home this season!