This weekend, one of the area's most anticipated events of the spring begins, The Spring Boise Parade of Homes. The Spring Boise Parade of Homes affords homebuilders an opportunity to showcase their latest floor plan designs while highlighting new and upcoming design trends.
Homes that are part of the Parade of Homes are incredibly stunning as the attention to detail and craftsmanship featured in each home is nothing short of extraordinary. Builders are trying to win awards for their designs and staging, so no expense is spared, and no detail is overlooked.
Homes are constructed in some of the area's top new construction communities, allowing people to explore the new developments and see amenities and features that residents enjoy. People who are looking for a new home will surely find inspiration in the designs.
This year's Parade of Homes will feature 30 entries, with homes available in communities across the Treasure Valley. There's even one in McCall.
The Boise Spring Parade of Homes opens Saturday, April 24, and runs through Sunday, May 9. Homes will be open and available for in-person tours Tuesdays through Thursdays from 5 p.m. until 8 p.m. and Fridays through Sundays from Noon to 8 p.m. As you can imagine, weekends are going to be busier times to visit. Also, since the homes are new construction, there's a chance your favorite "maps" application may not have their address. Be sure to look for the Parade of Homes signs to direct you to the homes.
Two of the Parade Communities
A couple of this year's Parade of Homes entries are in two of the area's most highly sought-after communities, Bridgetower West and Eagle Mountain Estates. Let's learn a little about these communities.
Bridgetower West
Bridgetower West is located in northwest Meridian near Ten Mile and McMillan roads. The community offers bike and walking paths, a basketball court, clubhouse, pool, and four open space parks. The northern part of Meridian just added a new Costco as well as a number of other amenities that make Bridgetower West an attractive community to call home.
Eagle Mountain Estates
Eagle Mountain Estates is nestled just north of Floating Feather Road in western Eagle. The community features large lots with abundant common areas and walking paths, as well as expansive views. It also has a community pool with changing rooms adjacent to it.
Mike Brown Group Represented Parade of Homes Entries
The Mike Brown Group is pleased to represent two builder participants in this year's Spring Parade of Homes, Biltmore Co., and Ninety-Degree Construction.
Biltmore Co. "The Lauryn"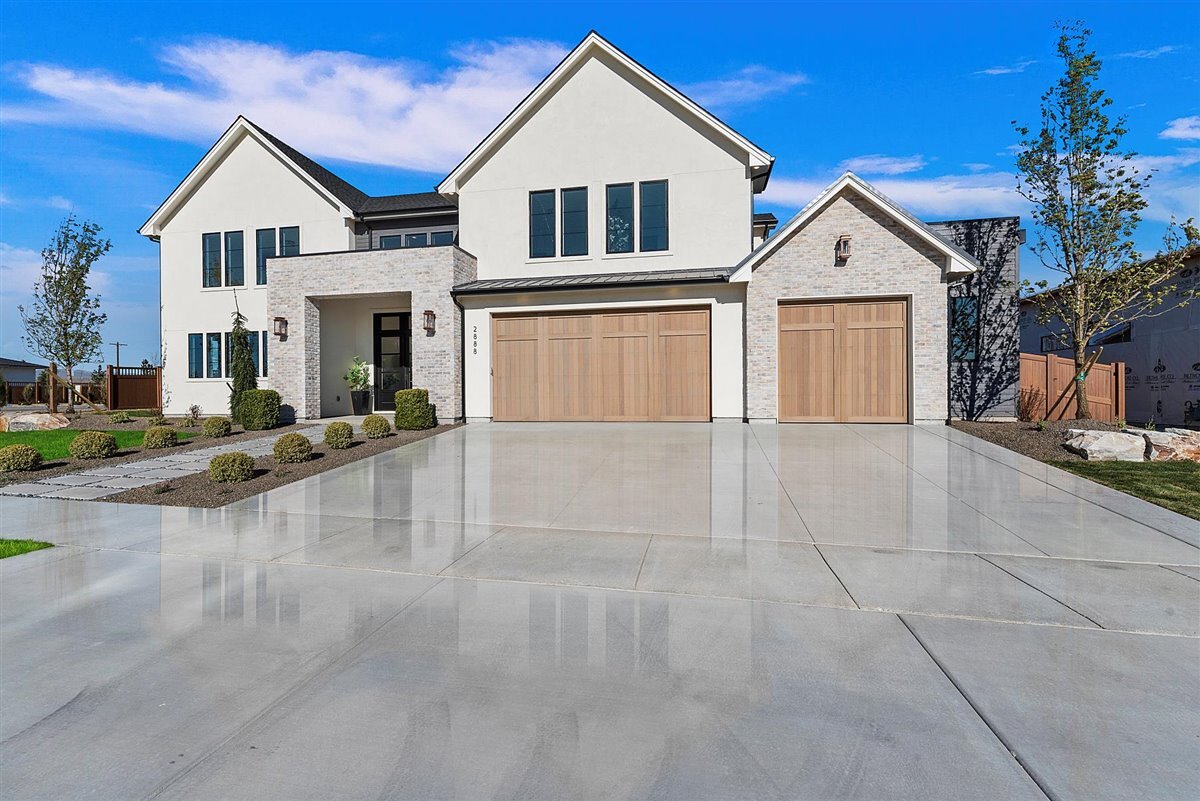 Parade of Homes Home Entry #2
2888 N. Foudy Avenue, Eagle, ID 83616
In Eagle Mountain Estates, the award-winning builder Biltmore Co. has entered the "Lauryn," pronounced "Lar-in," into this year's exhibition. The 5,272 square foot home is thoughtfully designed for today's active family with a modern European flair.
The house has five bedrooms and three and a half bathrooms. It has a grand two-story entry with stunning black windows both inside and out. Additionally, the tech room/office has an iron and glass wall, which will surely be a conversation piece. Really, imagination is the limit when it comes to this space as it is super versatile. It could be a "Zoom" room, an office, or even a quiet family gathering area.
Another one of the statement pieces of the home is the great room that features a large fireplace and stained beams. The herringbone-patterned flooring is an amazing compliment to the space, tying in the open floorplan between the kitchen and great room. There are also expertly crafted arches throughout the home.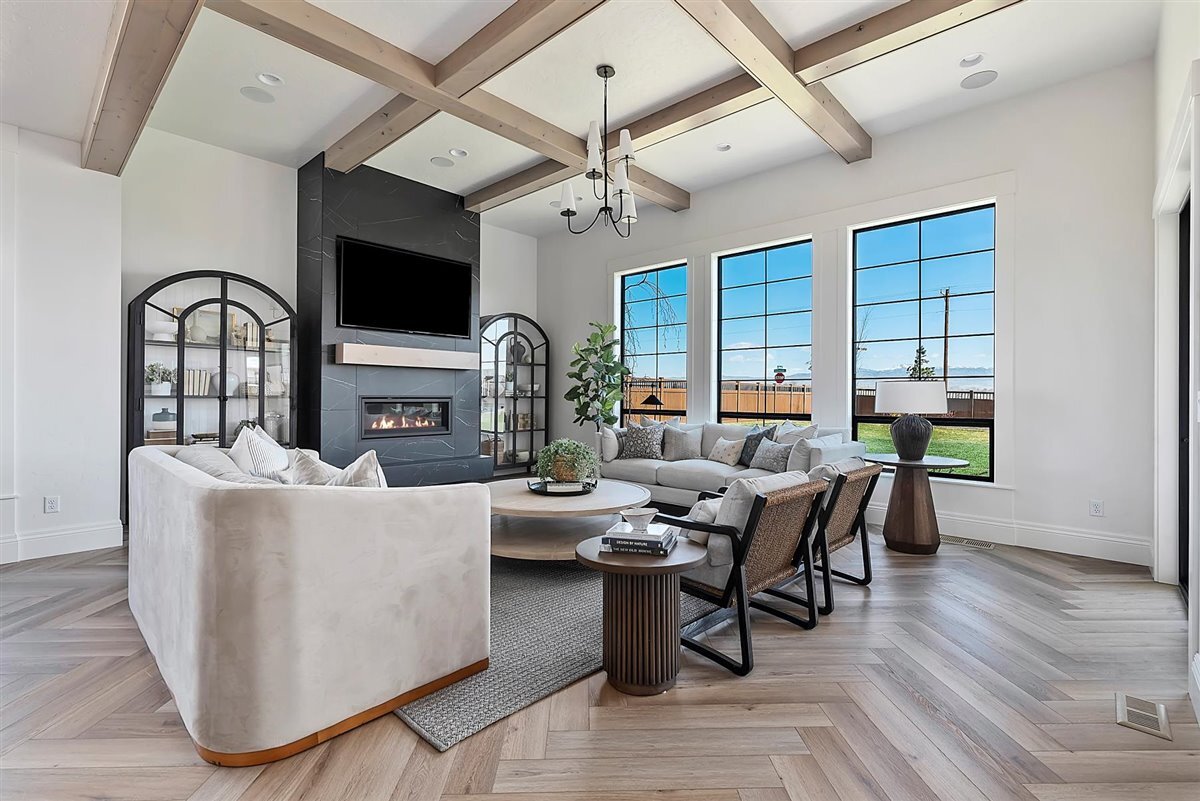 The kitchen is designed for both entertaining and family functions with Sub-Zero/Wolf appliances and an open butler's pantry with a window showcase wall. The kitchen features two full-sized refrigerators and two beverage coolers. The Wolf cooktop also has a built-in griddle that can be hidden. The cabinets feature mesh wire, allowing the homeowner to showcase their dishes in an elegant way. All of the cabinets and drawers have soft-close functionality.
The owner's suite has a shower and tub room for divine relaxation, as well as heated floors, and a TOTO washlet. The suite also features a vaulted ceiling. The house also boasts a homework zone, and a large hidden storage room. In addition, the laundry room is designed to capture views of the rolling Boise foothills.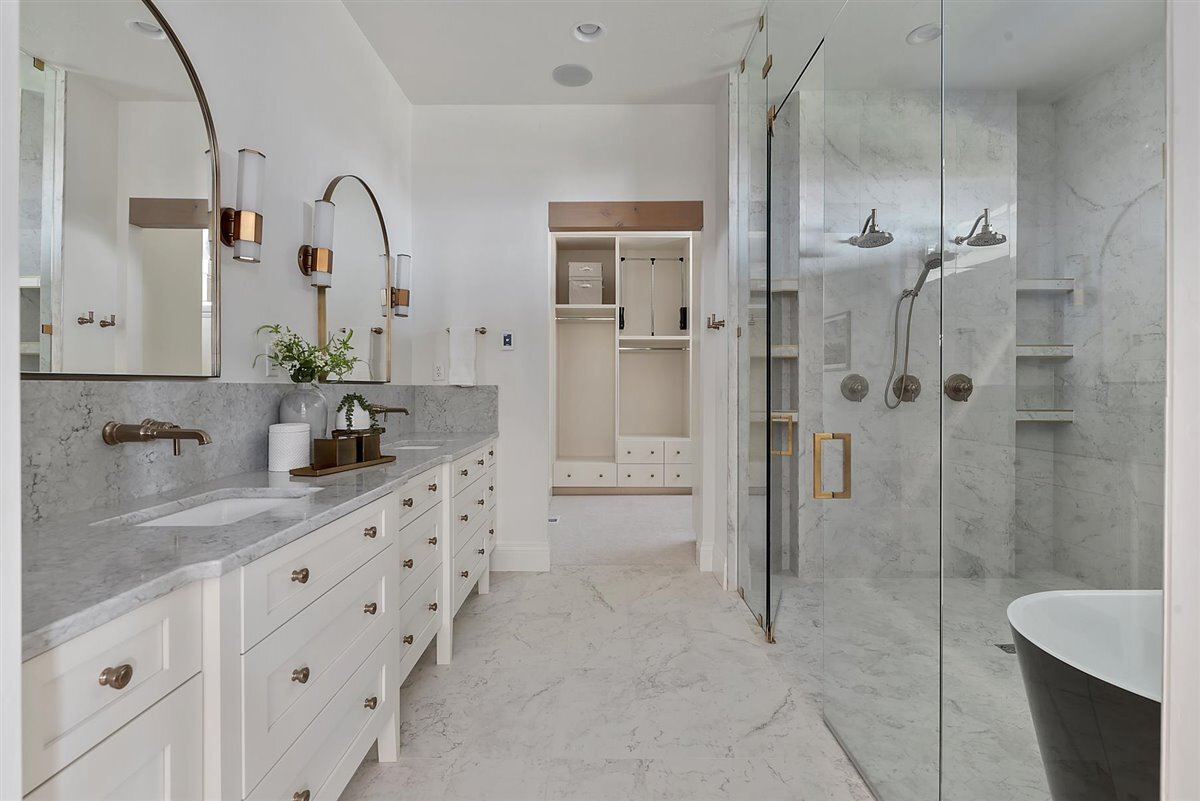 The entire house has smart home functionality, allowing lights and other components to be controlled remotely. Pushing a button can automatically turn off lights, the whole house radio, and even TVs.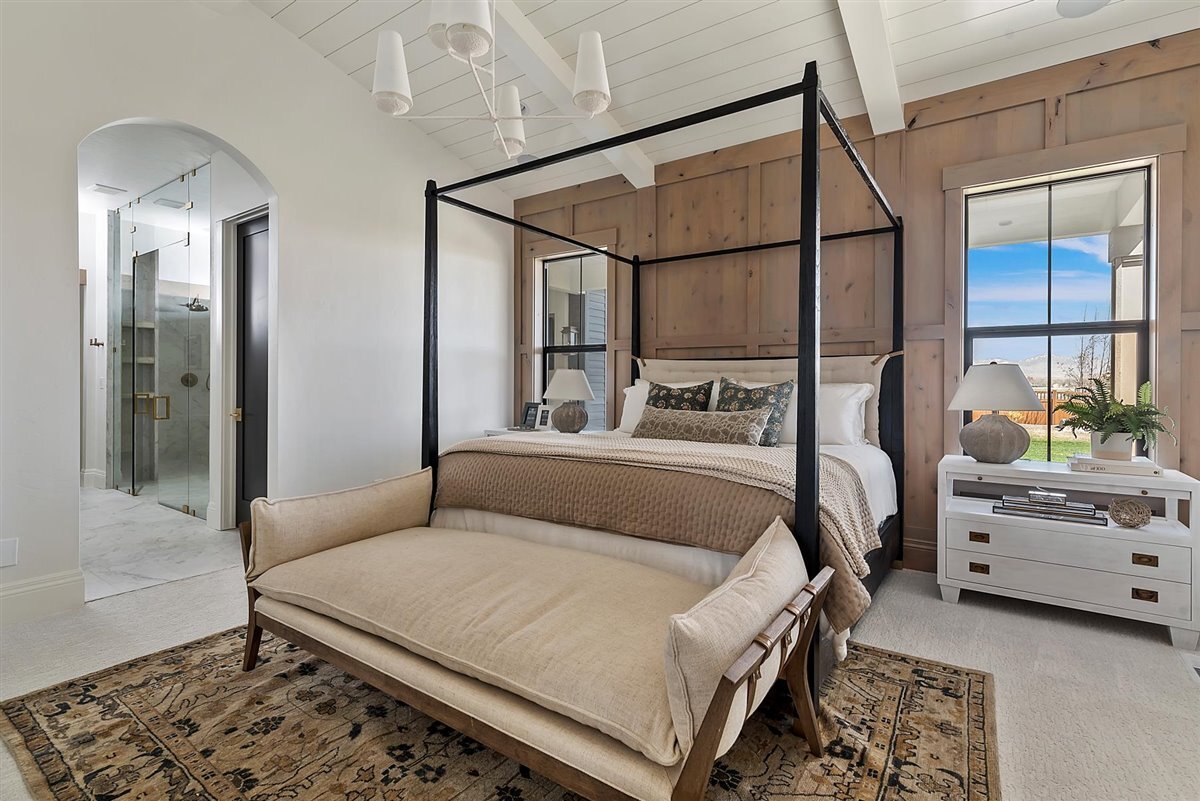 The gas lanterns on the exterior of the home give a nod to centuries past, reminiscent of the streetlights from the 1800s.
Ninety-Degree Construction "The Trinity"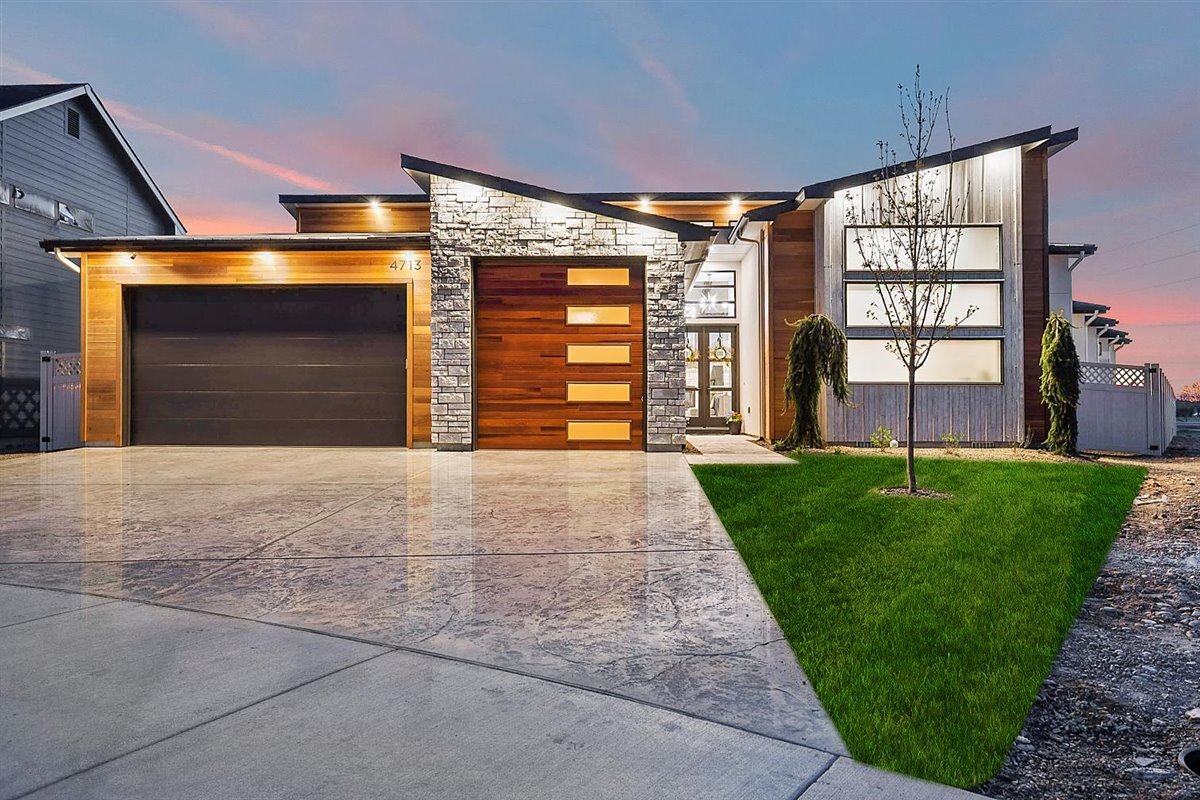 Parade of Homes Home Entry #19
4713 N. Bolsena Avenue, Meridian, ID 83646
Tour the Home Virtually – Click Here
Watch a walkthrough with the interior designer Landra Brown
In the Bridgetower West community, award-winning builder Ninety-Degree Construction has entered 3,010 square foot "The Trinity" into this spring's Parade of Homes. This well-thought-out single level boasts abundant natural light, and a breathtaking 20-foot-tall entry. Warmth and rustic charm accentuate the expertly designed floor plan. The home features four bedrooms with four en suite bathrooms.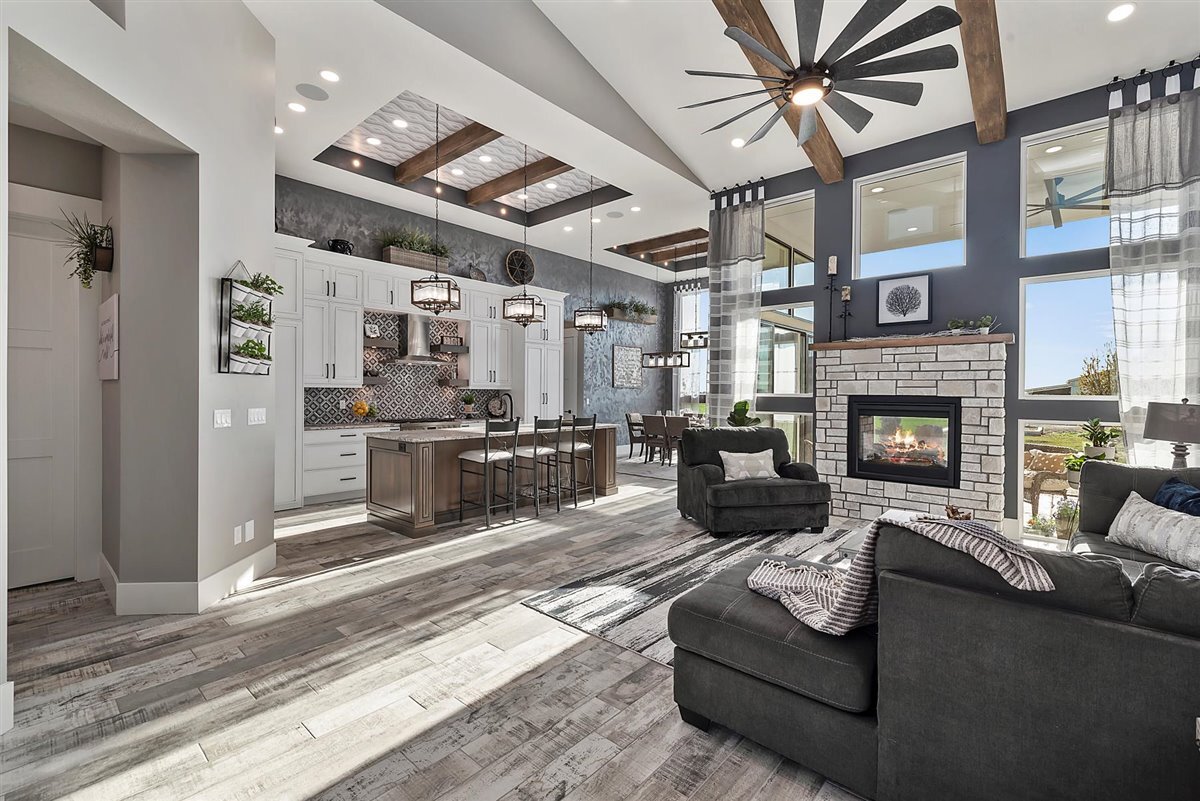 One of the bedrooms is separate from the others and could be used as a generation suite, which is becoming more prevalent in today's homes.
It has a large living area that features floating shelves that provide an organic touch to the space. The open floor plan connects the living area with a gourmet kitchen for the family that loves entertaining. Speaking of the kitchen, it has Bosch appliances including a steam oven, speed oven, freestanding range, and refrigerator. It also has a hidden pantry that can be accessed through a door that looks like it's part of the custom cabinets.
The home has a relaxing wraparound patio that includes a double-sided fireplace that provides ambiance outdoors and indoors in the great room. The theater room, which is ideal for the movie enthusiast, has a built-in bar, and lighting system that synchronizes with action on the screen. The theater also boasts a custom art piece that adds a touch of Hollywood-era nostalgia to an otherwise modern home.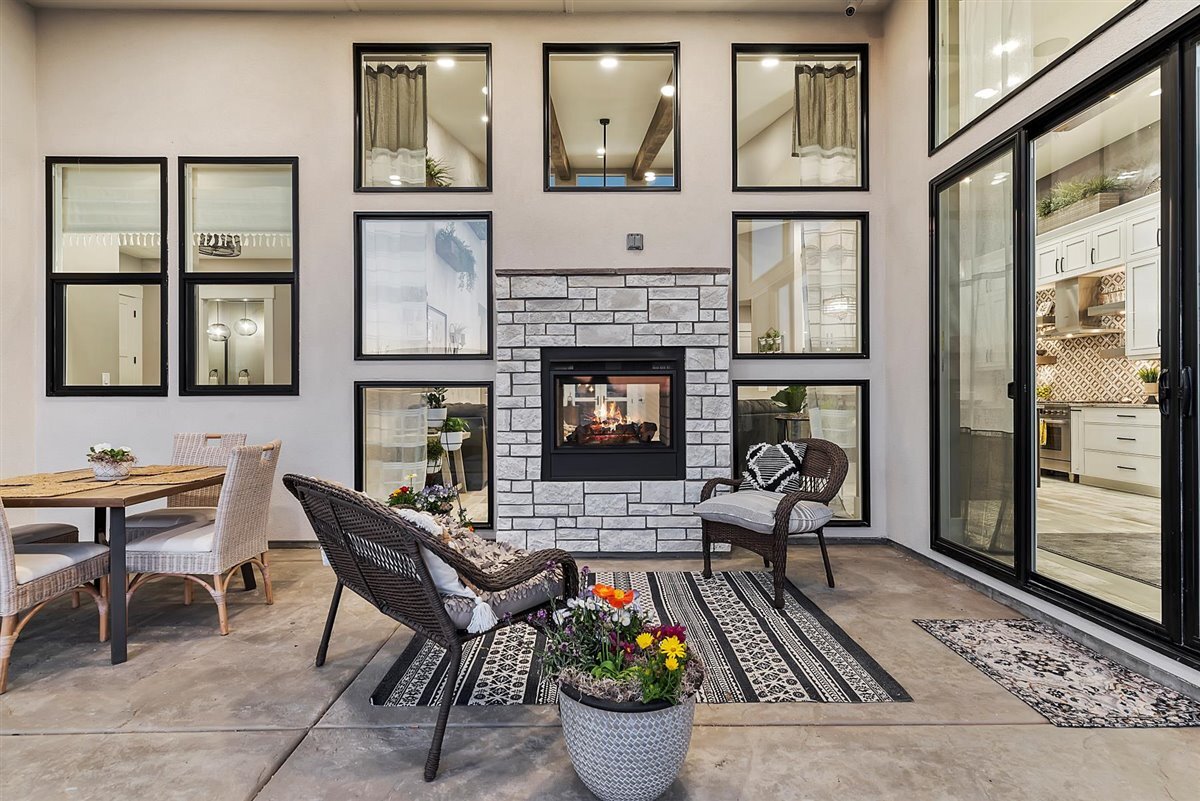 The luxurious master suite provides refuge from the daily grind and also has convenient access to the relaxing patio.
The Trinity includes office space, tile flooring throughout, a four-car garage, and a tankless water heater. Floor lights also illuminate the hallways.
Timeless detail and master craftsmanship are apparent throughout the home.
The Last Word
The Boise Parade of Homes is the Builder and Contractor Association of Southwest Idaho's signature event, and shouldn't be missed, especially if you're in the market for a new home or are looking for inspiration for a future home improvement project.
Both Parade homes represented by The Mike Brown Group are also for sale and can be yours if the price is right.