If you've spent any time in Boise, you know this is an incredible place to live. With scenic foothills backdrops, beautiful parks, and loads of local events happening year-round, it's the perfect place to find the "work-life balance" everyone is talking about.
Work-life balance looks a little different for everyone, but one of the most important pieces is living in a place surrounded by opportunities for a wide variety of fun activities.
When it comes to pastimes, our community is full of down-to-earth people who prefer to lace up some sneakers and get outside, so it makes sense that pickleball and disc golf have quickly grown to be local favorite activities.
These recreational sports are perfect for small groups (2+), affordable, and easy to learn at almost any age. Scorekeeping is based on the honor system, so no referees are needed.
Depending on where you live, you might not even have to leave your neighborhood to play! Pickleball courts and disc golf courses seem to always be occupied throughout the Treasure Valley, so developers are building them as part of brand new neighborhoods around Boise. If you're a new resident of Lincoln Creek (Meridian, ID) or Indian Creek Ranch (Kuna, ID), you'll find pickleball courts that are part of the neighborhood amenities and are within walking distance from your front door.
Curious about moving to Lincoln Creek or Indian Creek Ranch? Search all the current listings here.
---
What Is Pickleball?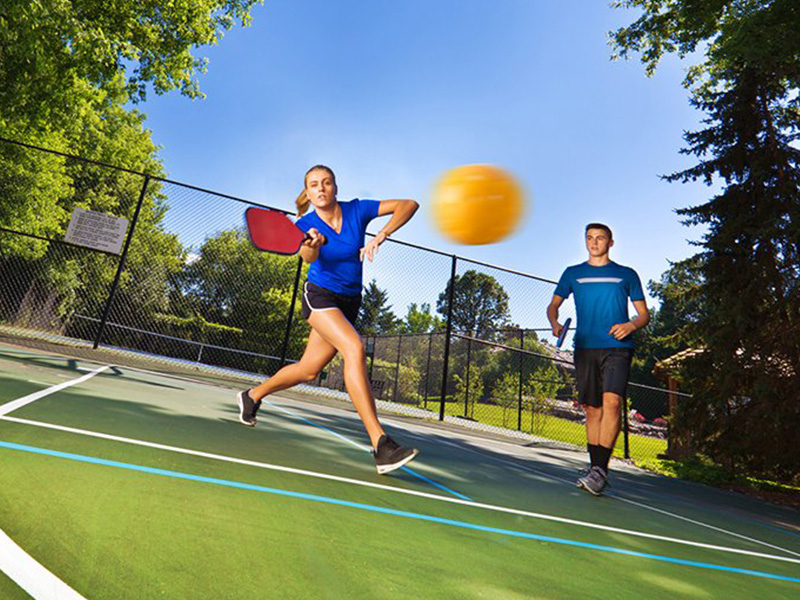 Pickleball is one of the fastest growing sports in America. It's a funny name for a 2-4 player sport that blends tennis, badminton, and ping pong to test your reflexes in a fast-paced, competitive game. The sport was invented on Bainbridge Island near Seattle in 1965 and has recently become a nationwide phenomenon.
A tennis-sized net is set up in the middle of the court and players use large paddles (like oversized ping pong paddles with tennis racket grips) to hit a pickleball back and forth over the net.
The ball is very similar to a wiffle ball, and points can only be scored by the side that served. To read detailed scoring information, visit USA Pickleball here.
What if I'm new and need lessons? Are there pickleball classes near me?
Great question! You can learn to play pickleball with any of these great organizations:
Where to Play Pickleball In Boise
The best way to find local pickleball games is with the Playtime Scheduler website.
By creating a free account, you can quickly find where the action is on their weekly calendar, see how many athletes are playing at each court, and more. It's like a free membership to a well-organized group chat for pickleball in Boise.
Perks of Using Playtime Scheduler
Sign up for sessions with just one click
Know who's going to show up before you head out the door
Arrange public play sessions by skill level
Create invite-only sessions for leagues or private groups
You can also do things the old-fashioned way and just bring your own crew! Some courts require advance reservations, so before you go be sure you check the court requirements.
Located in Garden City near the Hewlett-Packard offices, this complex includes 12 dedicated pickleball courts and two tennis courts, with striping for four additional pickleball courts commonly used for Boise pickleball tournament play.
Bringing a group? Paid reservations are needed between April 1-October 3. Courts are open Monday-Friday, 8am-10am and 1pm-4pm and cost is $9.43/hour for Boise residents, or for $14.63/hour for non-residents. Scheduling is available a maximum of two weeks in advance, so be sure to call 208-608-7680 to grab your spot!
This park boasts six championship-quality courts that are open to the public. You won't find lights, so schedule your visits during the daylight hours. Availability can vary from week-to-week, so refer to the Nampa Parks and Rec website for the best information on open courts.
Located in Meridian, this gorgeous facility offers three pickleball courts available by online registration only. Visit their scheduling site here, scroll down and click 'Settlers Park,' then open Courts 8, 9, or 10 for availability.
Planning to host a tournament or offer lessons? Skip online registration altogether and call the Meridian Parks and Rec. department directly at 208-888-3579.
No pickleball courts exist here yet, but the Boise Parks and Recreation Commission recently voted to convert one of the tennis courts into two pickleball courts! The construction timeline is yet to be determined, but updates can be seen on the Eagle Rock Park website.
---
Disc Golf Courses In The Treasure Valley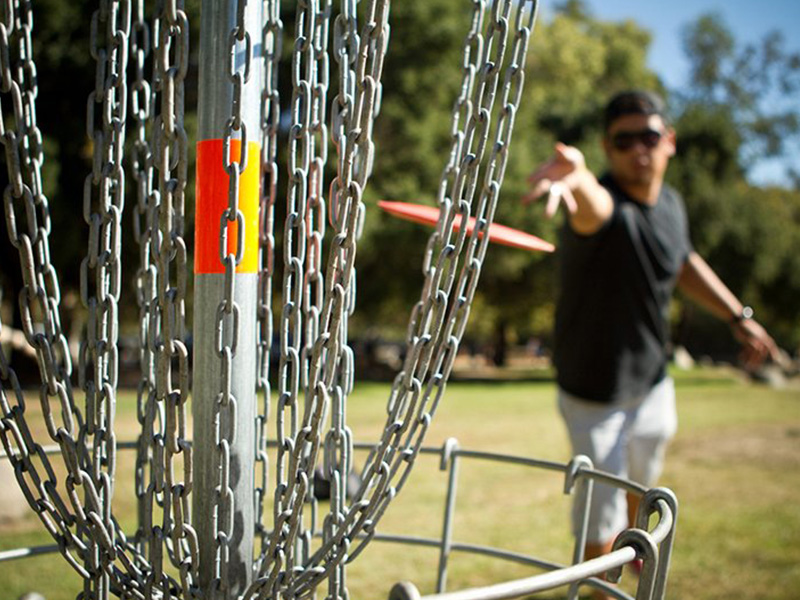 There are 25 disc golf courses scattered throughout the valley and it's easy to find fun courses within a short drive of your home.
If you aren't already familiar, Udisc.com is one of the best resources for disc golfers. Checkout their page for Boise, ID to read local course reviews, upload your scores, and see how you compare with your neighbors on the leaderboards.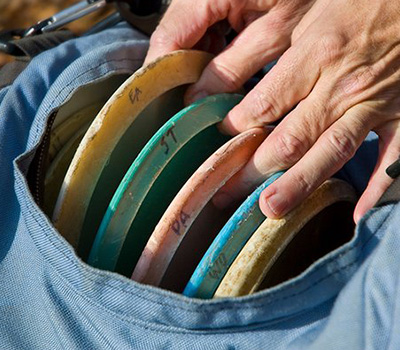 What You Need to Get Started
Similar to traditional golf, there are a few classic discs you'll want in your bag. To get started, you'll need:
a driver (long-range)
a few irons (mid-range), and
a putter (short-range)
If you're a beginner and don't know which discs to buy first, we recommend getting a starter set from brands like Innova DX ($23), Dynamic Discs ($30), or Discraft ($30). These 3-disc sets are some of the easiest to throw and they hold up well if you accidentally hit a few things along the way.
Once you've mastered your starter discs, try adding in a few more pieces to fill in the gaps of your collection. The new pieces can help you out of tricky situations, give you more confidence on the course, and ultimately drop your scores.
Ready to try out your discs? Here are some of our favorite disc golf courses near Boise:
19 holes  –  Par 64  –  6,903 feet  –  $7 parking fee
This course is gorgeous and one of the best in the area. Risky water hazards keep things interesting, so if you're looking for a challenge, start here. Tees are both grass and concrete, with Mach V baskets and two course layouts to choose from (Pro and Amateur).
Expect to lose a disc or two, but if you're lucky, you'll find a couple extras, too. Oh, and be sure to wear bug spray – mosquitoes are alive and well during the summer months.
Open year-round, sunrise to sunset
Pet-friendly (on-leash only)
Hikers use cross-trails
Check the leaderboardshere
18 holes  –  Par 54  –  5,771 feet  –  No fees
This open course stays busy for a reason! It's shaded, well maintained, and absolutely gorgeous. Signage isn't always clear so finding the next tee can sometimes be tricky, but each hole has the perfect amount of obstacles to keep play interesting. Fun for beginners and intermediate players alike. 
Open year-round, sunrise to sunset
Dog friendly

Check the leaderboards here
10 holes  –  Par 31  – 2,089 feet  –  No fees
This course is relatively easy and a great place for beginners to get their start. The holes are short and make for a fun little pitch and putt day on the course! It's usually well maintained, but watch out for sprinklers and pesky foxtail weed seeds.
Open year-round, sunrise to sunset
Concrete tee boxes
Check the leaderboards here
9 holes  –  Par 27  – 1,936 feet  –  No fees
Located in the heart of Meridian, ID, this quick 9 hole course sports Mach V baskets and is the perfect place to wind down in the evening. Walking the park is restful, but expect to cross paths with dog walkers and kite flyers on the weekends. 
Grass tees are marked with signs, but none of the signs map out the hole you're playing. Refer to the udisc.com website for accurate maps and distances.
Open year-round, sunrise to sunset
20 holes open during winter, Par 60, 4,877 feet
Check the leaderboards here
9 holes  –  Par 31  – 2,584 feet  –  No fees
As one of the courses on the Nampa Tour, this short 9-hole course is a local favorite that stays busy. Mature trees are placed strategically throughout for fun hazards. Finding baskets (Mach III) can be tricky your first time around, but it's easier once you've gotten the hang of it.
PSA: Watch your step! This course is pet-friendly and you'll probably find a "present" or two if you aren't careful.
Open year-round, sunrise to sunset
Pet-friendly
Concrete tees
Check the leaderboards here
Thinking about moving?
If reading through this list has you thinking about moving closer to all the action, be sure to visit our website to browse all the current real estate listings through Boise.
We believe everyone should love where they live and our team is dedicated to making sure that relocating and moving transitions are smooth and stress-free. No matter if you're buying or selling, closing on a home in Boise should be easy.
Work with one of our real estate experts to guide you through the buying or selling process. Call our team today at 208.278.4300.
Here's to loving where you live and picking up a new favorite sport!