The Intermountain MLS has released the Treasure Valley housing market statistics for August. Continuing the seller's market trend from previous months, August was again a scorching hot real estate market here in the Valley.
Both Ada and Canyon Counties saw their housing supplies slip below half a month's supply, as unprecedented demand continues for homes here in the area. As a result, the median price of homes in both counties has again climbed higher on a month-to-month and year-over-year basis.
The Boise Regional REALTORS® had this to say, "Our home prices continue to be driven by a shrinking supply of existing homes available for sale compared to demand, more new homes selling at ever-higher prices, increased purchase power due to low mortgage rates, and now, buyer activity being compressed into a shorter time period as a result of COVID-19."
Let's take a closer look at each county's numbers.
Ada County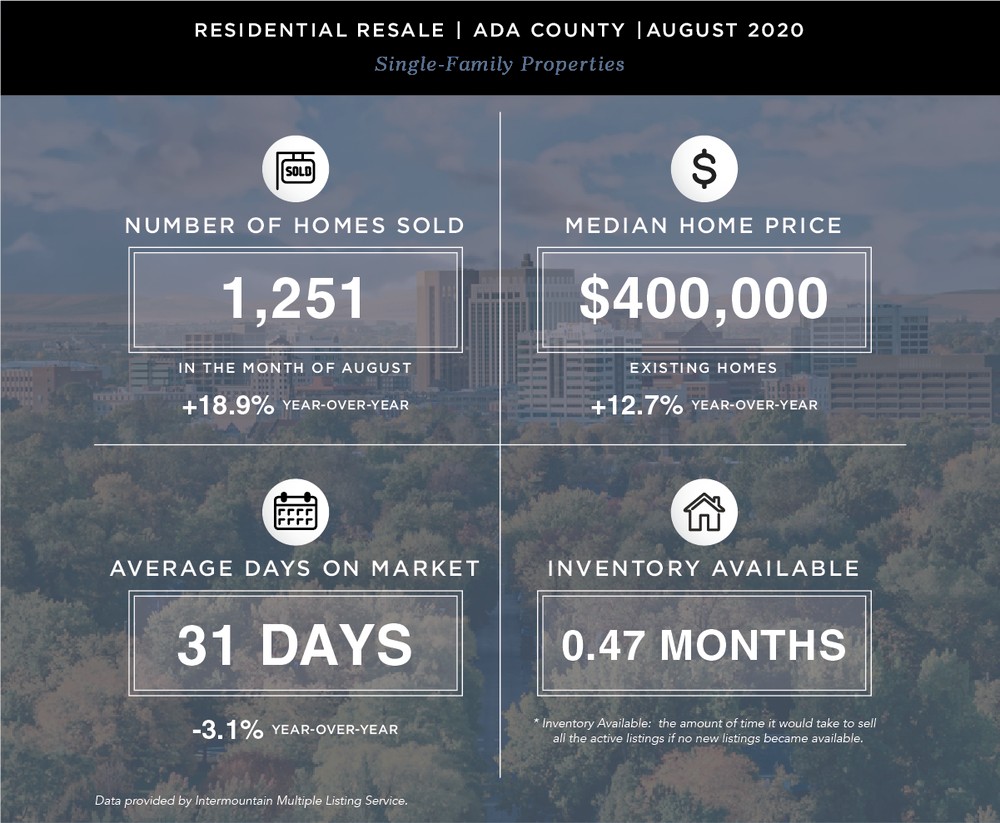 The Capitol County once again set a record, with median sale prices reaching $400,000 for the first time, up 12.7% year-over-year, and up from July's previous record high of $390,000.
Existing homes for sale have been trending downward and last month saw only 239 available at the end of the month. That's a 72.1% decrease compared to August of 2019 and is the lowest that number has been since the organization started tracking the metric.
Since the existing housing supply is scarce, people are turning to new construction opportunities, and builders saw a nearly 30% increase in year-over-year sales. Additionally, new construction accounted for a third of all closed sales in August.
Canyon County
Canyon County saw a nearly 22% year-over-year increase in the median sale price, reaching $309,900 and they're also having inventory issues. Existing homes available for sale were down nearly 74% year-over-year. Canyon County is having the same issues that Ada is, with people turning to new construction. Consequently, builders are having a difficult time keeping up with demand and new build prices are creeping higher as well.
The Last Word
Lack of supply coupled with rising lumber prices for new construction, and historically low interest rates, and massive demand is going to continue to fuel higher prices for homes here in the valley. As telecommuting has proven to be effective, people from larger metropolitan areas are able to relocate to areas such as Boise. This trend is going to continue and until more homes come on the market, prices will continue rising.