The Boise Regional REALTORS® released its monthly sales statistics for June. For the first time since the Coronavirus pandemic began affecting the area, home sales increased year-over-year in a given month.
Home prices also continue to rise, reaching a new all-time high median selling price of $375,000. That price is up 6.27% from June 2019.
There's still significant demand for housing here in the valley, as evidenced by the sales last month. The big problem is the lack of inventory to satisfy the demand for housing. Ada County has just less than one month of supply available, which is a definite advantage for sellers, as the lack of housing is pushing home prices higher. Canyon County has about three weeks of supply available.
The release by the Boise Regional REALTORS® said this: "This rebound in closed and pending sales was due to pent up buyer demand and the fact that our market was strong before the pandemic hit our region. While our local housing market may continue to be impacted by the ongoing COVID-19 crisis on some level or another, this uptick in sales and homes under contract is a good sign."
Let's take a look at the numbers for each county.
Ada County
The Capitol County had 977 active listings in June 2020, which was down from the 1,750 it had a year ago. As mentioned earlier, Ada saw a 3.4% increase in homes sold year-over-year for June. Year-to-date, home sales are down about 5% versus last year. The median home price of $375,000 is also a high, representing a year-to-date high and just over 9% increase from last year. It's also up 6.3% year-over-year. The average home sales price even crept higher, to $434,984, a nearly 9% increase from June 2019's price of $399,106.
Canyon County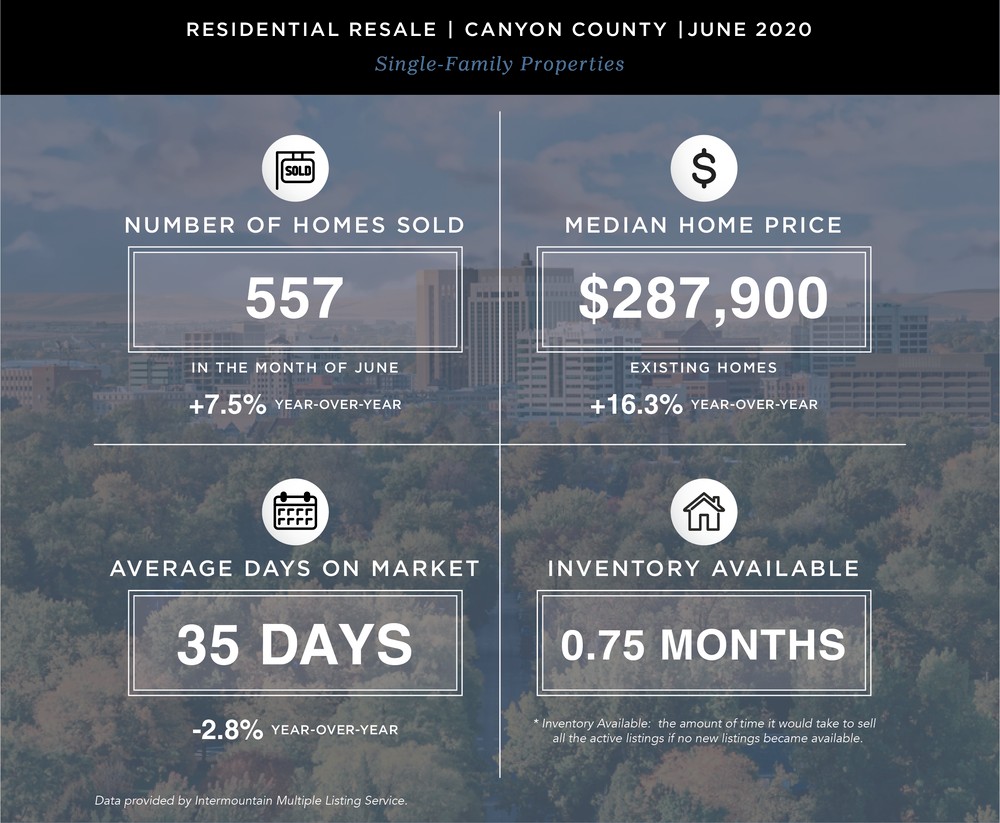 Canyon County also saw a lift in home sales, seeing a 7.53% increase year-over-year. It, like Ada County, had a decline in active listings, posting 415 in June 2020 compared to 696 for the same time last year. The median home price of $287,900 is also up 16.3% from last year. The average sales price is also up nearly 16% from last year, landing at $319,131. Canyon County has more sold homes year-to-date than last year, posting an 8.55% increase. Homebuyers looking for value seem to be turning toward Canyon County, given their home sales continue at a torrid clip.
The Last Word
June marks the first month during the pandemic that both counties eclipsed home sales from their year-over-year monthly counterparts, showing what we already know, that there's still a ton of demand here in the valley for homes.
As we continue navigating the unknown with the pandemic, we're optimistic that the sold numbers are going to keep ascending. Hopefully, more people will decide to sell their homes, giving buyers an opportunity at additional inventory. We're going to continue seeing an influx of people from outside of Idaho moving to the valley that will keep putting a strain on the housing supply.
If you're a buyer looking for property, don't be discouraged as there are opportunities available. Working with a REALTOR® can help you navigate the competitive waters here in the valley. And if you're thinking about selling your home, rest assured it's in high demand.