The bathtub. A place to clean children or pets. It's also a place to soak and relax, helping de-stress. The humble bathtub provides refuge from the chaos of the day.
October 7th is "Bathtub Day," and in celebration of the bathtub, we're going to look at some emerging design trends that are making their way into today's bathrooms, some of which include bathtubs.
Interestingly, a significant number of people who are remodeling bathrooms are opting to remove the tub – 1 in 4 bathroom remodelers said they removed the tub to gain more space for the shower or other elements. The Houzz Bathroom Trends report (pdf) also noted that half of all remodeled master bathrooms had no tub at all.
While most newly built bathrooms include a bathtub, it appears as though their popularity is waning. With many new construction homes continuing to include tubs as part of their layouts, it seems remodelers are opting to embrace other design elements in lieu of the iconic bathtub.
Read on to learn more about bathtubs and other emerging bathroom design trends.
Bathroom Design Trends for 2021 and 2022
Bathtub in Shower Enclosure
A new bathroom trend that is finding its way into today's new construction homes has a standalone bathtub in the shower enclosure. So instead of having a shower inside a bathtub, the bathtub is now part of the shower.
We first saw this trend in Biltmore Co.'s 2021 Spring Parade of Homes entry, "The Lauryn." The home had a massive owner's suite, and the bathroom was stunning. One of the signature features of the bathroom was the freestanding tub in the shower space.
The space could double as a sauna allowing the steam from the hot water in the tub (or shower) to stay trapped in the shower space, helping soothe aching muscles while relaxing mind, body, and spirit.
Space Saving Soaking Tubs
Freestanding tubs have been gaining in popularity in recent years. Still, according to a Houzz bathroom trends study, freestanding flat-bottom tubs are the in design with clawfoot and more ornately designed base styles fading from prominence. The tubs are also trending smaller to conserve space, but they also wind up taking less time to fill as they don't require as much water.
While standalone bathtubs are gaining prominence, a separate tub and shower layout is the most preferred layout for homeowners.
Larger Showers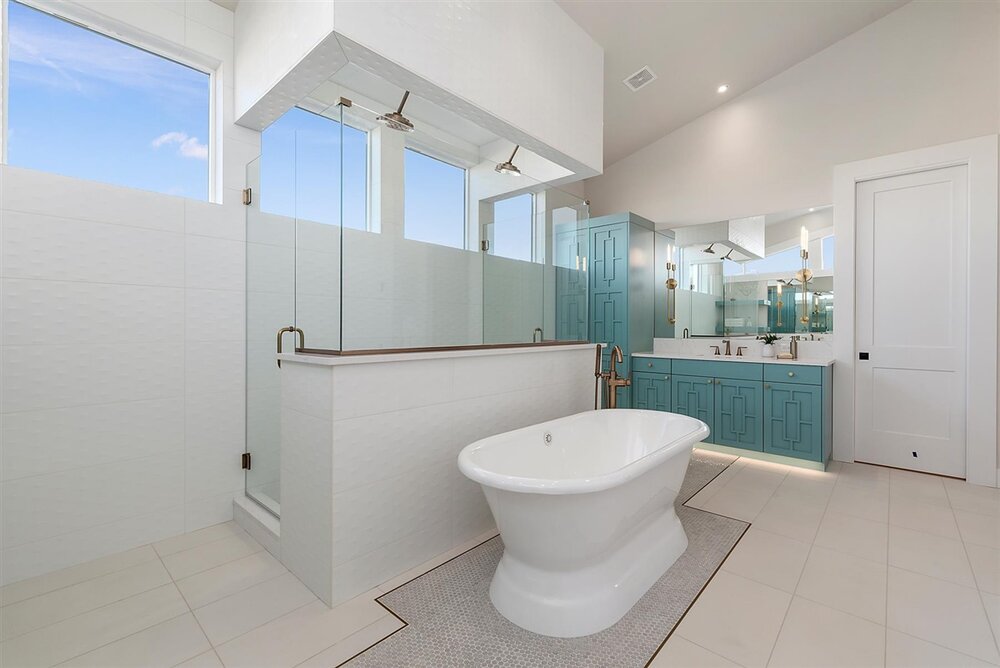 The Houzz bathroom trends study also shows that showers are gaining in size, as well. Many remodelers who remove a tub opt to enlarge the shower space. 78% of those surveyed indicated they enlarged the shower as part of their remodel.
Many new master bathrooms feature larger showers with multiple showerheads, providing users with a spa-like experience, allowing them to relax. Dual showerheads are becoming more standard in modern bathrooms, especially those attached to a master suite. Rain showerheads are also growing in prominence.
In addition to statement-piece bathtubs, more oversized walk-in or pass-through showers are more prevalent in new construction homes. Many home builders are viewing master baths as areas of relaxation, helping residents find peace and serenity.
Smart Toilets
When they were first introduced, many people viewed smart toilets as being costly and too futuristic. As time has passed, they've grown in prominence, especially as technology has made them cleaner and healthier to engage with.
It also helps that their prices have fallen as technology advances. While some models can cost as much as a car depending on features, there are smart toilets available for under $1,000.
Many of today's smart toilets feature self-cleaning components, touch-free flushing, and self-closing (and opening) lids. Some have heated seats, night lights, and even built-in bidets. They're also resource-efficient, using less water than their traditional counterparts.
Many prominent manufacturers such as Toto, Kohler, and Woodbridge are creating smart toilets that can be wall-mounted or freestanding like traditional toilets.
Quartz Countertops
Quartz countertops have become commonplace in kitchens, but with COVID-19, there's been a greater emphasis on cleanliness. Quartz is incredibly resilient, non-porous, and is, consequently, easy to clean. Bathrooms are one of the home's breeding grounds for bacteria, given the damp environment, so quartz counters are less susceptible to fostering bacteria growth.
Modern quartz countertops are available in various colors and styles to suit just about any design style. With limited seams, these countertops are low maintenance and are incredibly versatile.
Other Trending Bathroom Options
Colors
Most bathrooms are generally white. There's a movement where warmer colors are being introduced into the space, making them warmer and more inviting. The colors also help with creating the spa-like retreat bathrooms are becoming.
Floating Vanities
Like floating shelves, vanities mounted on the wall are gaining popularity as they provide a modern look while using less space. The floating look also provides additional space under the vanity for storage or decoration.
Back-Lit Mirrors and Medicine Cabinets
While bathtubs are becoming more of the bathroom's focal point, there's a move toward having their mirrors and medicine cabinets lighted. Not only do they provide a modern touch to the bathroom, but they also provide additional function by not only offering ambient lighting but can also function as a nightlight.
Like floating vanities, back-lit mirrors and medicine cabinets can achieve a similar floating effect due to the lights.
The Last Word
Bathrooms are trending toward more modern layouts with features and touches that provide a place of relaxation. Smaller, flat-bottomed bathtubs that are separate from the shower are gaining in prominence. Bathtubs that are in the shower enclosure are also gaining in popularity.
We're also seeing showers grow in size and having more showerheads, providing a more authentic home spa experience.
Drab and dreary painting and decorating in bathrooms are being replaced by warmer colors, patterns, and accents, helping elevate the spaces into more relaxing environments.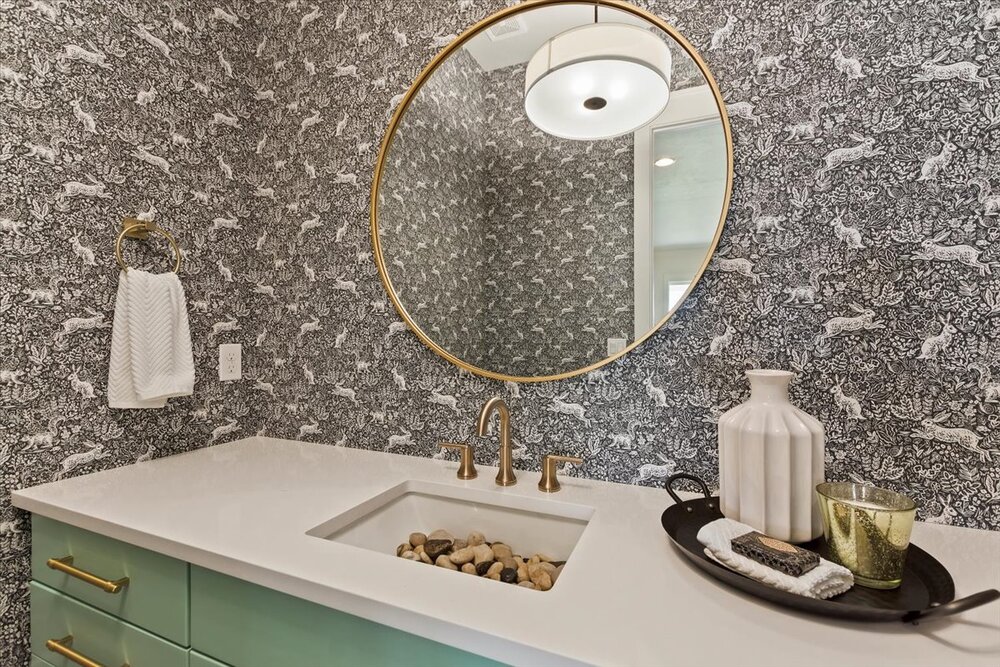 Todd Campbell Custom Homes' 2021 Fall Parade of Homes entry has a powder room that uses an amazingly stylish wallpaper that enhances the space, providing playful energy that delights the room's user.
Decorative light fixtures paired with back-lit mirrors and vanities help brighten and energize modern bathrooms.
These trends are expected to continue through the rest of this year and into 2022. As people continue to navigate the challenges of the COVID-19 pandemic, areas of retreat with abundant space will continue to be in high demand.