It's a new year full of new opportunities, as well as a chance to look back and recap the Boise Metro real estate market. With 2021 in the books, and all of the numbers tallied, 2021 was another year for soaring home prices that benefit sellers who are looking to take advantage of the area's population growth.
Overall, the real estate market was up as the average price of homes in both Ada and Canyon counties increased to an unprecedented 30% and 37%, respectively. The result we all can see and feel is that there is more demand for homes than places to live.
As our population grows and the demand for real estate increases, home prices are keeping pace with the national average. New construction neighborhoods and investment properties are struggling to keep up with demand, offering little relief for excited buyers witnessing month-over-month spikes in home prices. This booming Boise real estate market has sellers excited to cash in on their home investment made years ago and investors eager to buy up land for new communities.
Let's take a deeper look at the housing market from December 2021 to see if now's the right time for you to sell your home or purchase investment property as we head into 2022. We will review real estate in the Treasure Valley, whether home sales are still showing significant increases, and what all of this means to you.

A look at Boise homes in a valley
Photo Credit: iStock.com/vkbhat
Boise Housing Market Update for December 2021
The real estate market in Boise and the Treasure Valley continues to see year-over-year growth. Are you looking to sell your home in the coming year? Buyer demand for homes in Ada and Canyon counties saw year-over-year increases in the number of homes sold, making it one of the hottest markets in Idaho.
Why are these areas seeing such growth?
It's hard to know, but easy access to outdoor activities, local industry growth, and an increase of retirees to Idaho, Boise, and the Treasure Valley provides the perfect place to relax and enjoy a slower-paced life while still having big city amenities. Major employers, like Amazon and tech companies from the Bay Area, continue to invest in Idaho and the Boise area.
Many thought the pandemic would slow down home sales, but the exact opposite took place. Homebuyers flooded to Boise, leaving overcrowded and overpriced areas seeking affordability and space. Many were able to work remotely to accommodate at-home learning and quarantining, all while enjoying Boise's limitless outdoor fun and recreation opportunities, spacious landscape, and lower cost of living. According to the U.S. Census Bureau, Idaho's population grew at the fastest pace in the nation. This staggering influx created even more strain in the housing market, and in combination with historically low mortgage rates, the demand for real estate in Boise reached a new high.
Let's take a look county by county in Treasure Valley, reviewing the data for December and the real estate growth over the previous quarter.
Ada County Real Estate
Ada County once again set a record for median home prices even though homes sat on the market slightly longer than a year ago. The Boise Metro is still a competitive housing market with price gains month over month.
Steady demand and low inventory over the last few months propelled meant an increase in home prices to a new high, with, Ada County median home prices at $546,000. This number is up over the previous record set in July 2021 of $540,000. Year-over-year, real estate values are up 26.96% and signs of home sales slowing down don't seem to be on the horizon.
Homes were on the market just over a month at 32 days before the house sold. Although this is up slightly from the previous months, it's still incredible for a home to be on the market for a little over a month before closing.
Available inventory dropped in December and we are approaching the same available home inventory we saw during late 2020 and early 2021 when the local market peaked. Even with a few extra days on the market and housing prices on the rise, Ada County is still a strong seller's market, with home sellers receiving significant equity from their homes when they sell.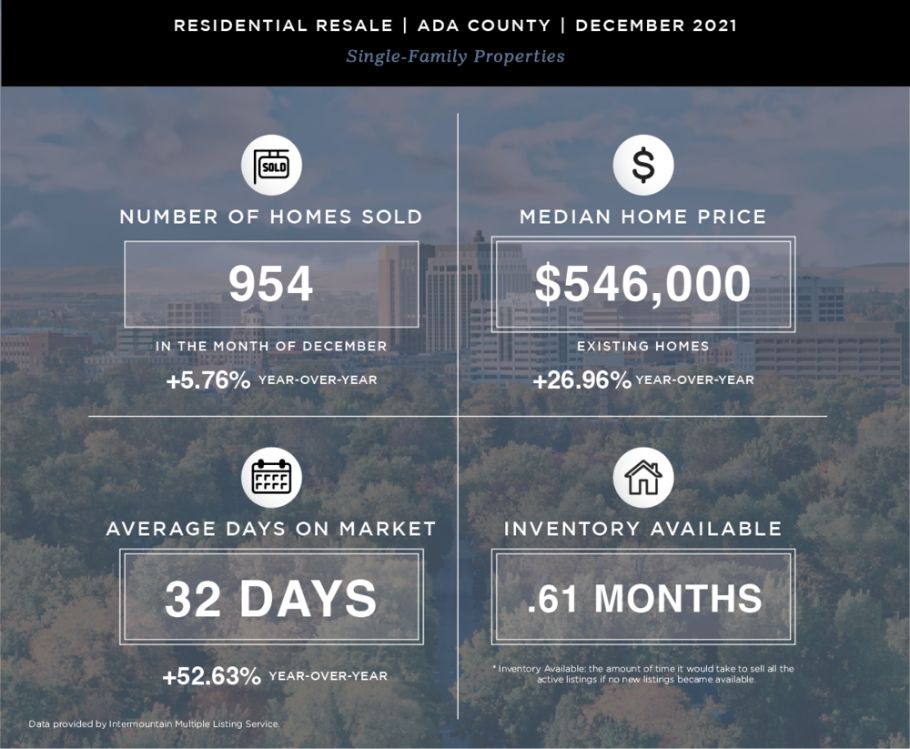 Canyon County Real Estate
Home values increased from the previous months. Canyon County didn't see a record increase in home values, but this area did see a rise in total home sales. Like Ada County, homes on the market spent a little longer on the market than previous months, but still less than in years past. In a seller's market, lower inventory, higher demand, and mortgage rates still lower than in previous years allow homeowners to take advantage of the market.
It's a seller's market, and with low inventory for existing homes and new construction, you can take advantage of increased home values in the market in 2022.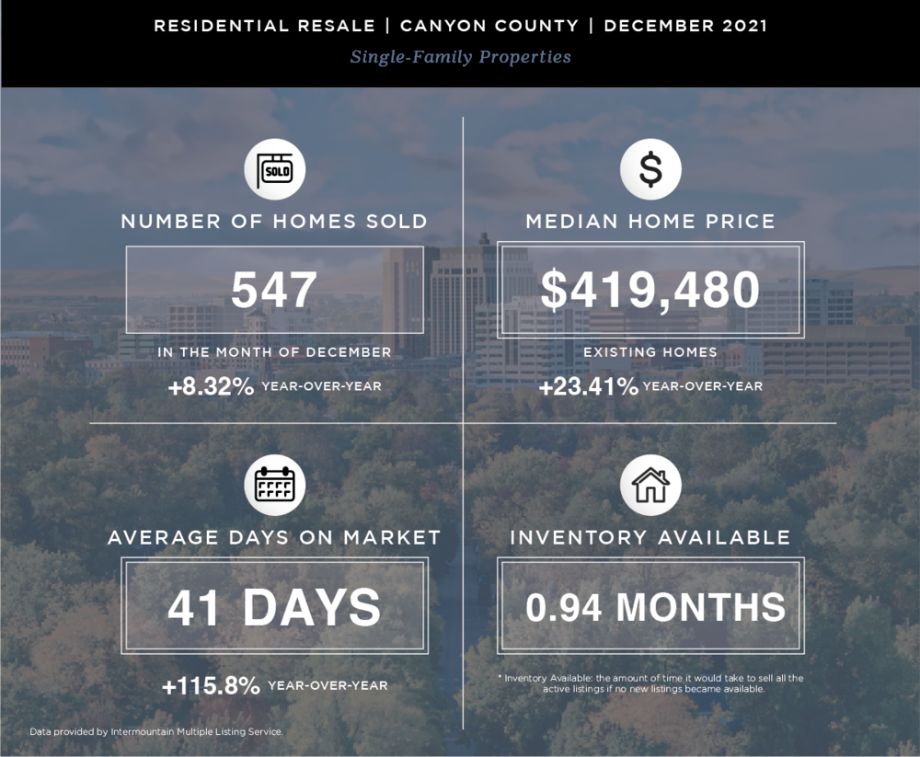 Boise Housing Market 2021 Year in Review
The housing market in the area showed substantial growth for existing single family homes, new construction homes, and increased demand for investment properties. As we review the overall numbers from 2021, it was another year of real estate growth for the Boise area housing market. Although the year continued to see home prices increase slightly, the housing market started showing signs of slowing in the final quarter of 2021.
While the housing market wasn't as frantic as in 2020, available housing inventory in the Boise Metro area continues to see higher demand, increasing real estate prices month over month.
The median home value for the year was up year-over-year in both counties. While Ada County ended the year with a record median home price, the median price for the entire year was $510,987, a 30% increase from the previous year. Canyon County saw its median price for the year settle at $405,000, up nearly 37% of the prior year.
Ada County saw 10,855 homes sold last year, marking an 11.77% decrease versus 2020. Canyon County sold a modest 183 fewer homes than 2020, registering a 2.95% decrease.
Interestingly, Ada County's new construction sales were down nearly 22% compared to 2020. Labor and supply shortages continue to affect the new construction market in the region, causing homes to take longer to build. Despite delays and rising costs, demand continues to be high for new construction homes, and builders struggled to keep up with that demand.
Although fewer homes were being sold, 2021 saw a strong demand for housing, indicating another strong seller's market through 2022.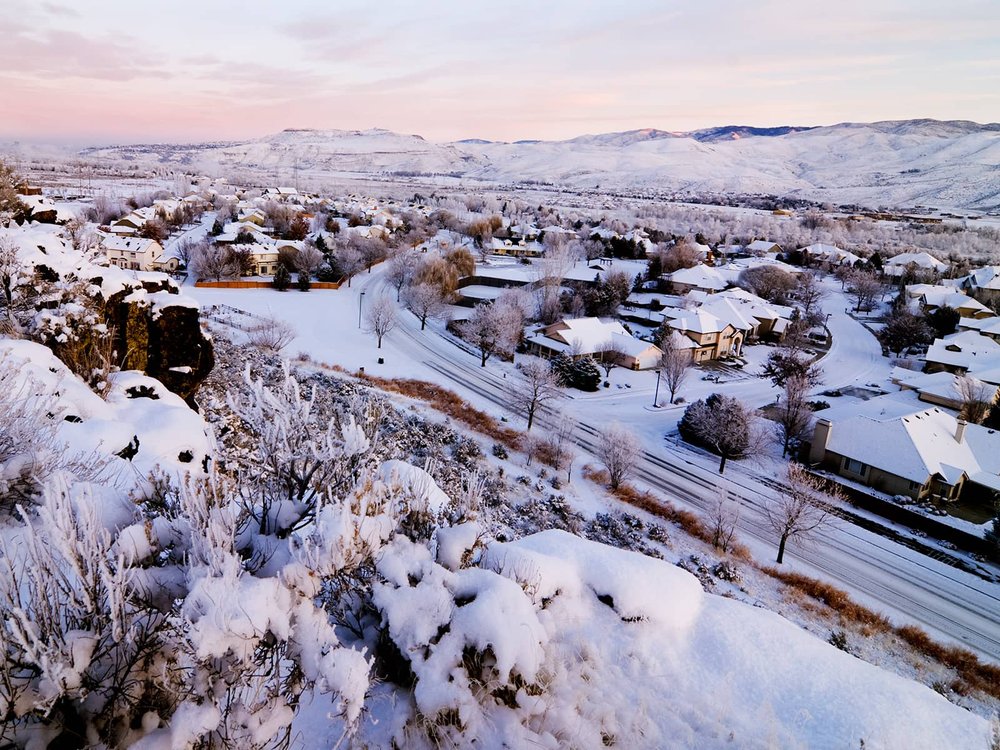 Photo Credit: iStock.com/vkbhat
Boise Housing Market 2022 Predictions
With 2021 behind us, what's in store for the real estate market in 2022?
It's hard to know, but with high demand, home prices continually on the rise, and a low housing supply, it seems the housing market will continue to see growth in the coming year.
What could affect the overall market? It's already documented that interest rates are rising, affecting the buying power of prospective buyers. This may limit the number of buyers in the market, particularly first-time homebuyers, limiting their buying power as home values climb.
As we've seen in the past couple of years, those looking to relocate to Boise will continue to see an increase in home prices. If you are waiting for a market reset like the crash of 2007-2009, you might be waiting longer than you think. The current real estate market is driven by demand and Boise is still positioned as one of the top 10 places to live in the U.S.
Although we live in uncertain times, Boise and the surrounding areas remain desirable places to live. Whether or not housing prices will rise in 2022 is still uncertain, but you don't have to worry about making that decision alone. Sitting down with an experienced REALTOR® from the Mike Brown Group can help you look at the market and evaluate your options so you can decide if now is a good time to invest in real estate in Boise or the surrounding areas.
Cover Photo Credit: iStock.com/vkbhat