The Boise REALTORS® and the Intermountain MLS have released the housing market statistics for November 2020, and the housing market in the Boise area continues to be scorching. High demand fueled by historically low mortgage interest rates and a lack of available resales continues to push prices higher throughout the valley.
And houses are selling in record time listing on average a couple of weeks instead of over a month in November of 2019.
Let's take a look at the numbers for each county.
Ada County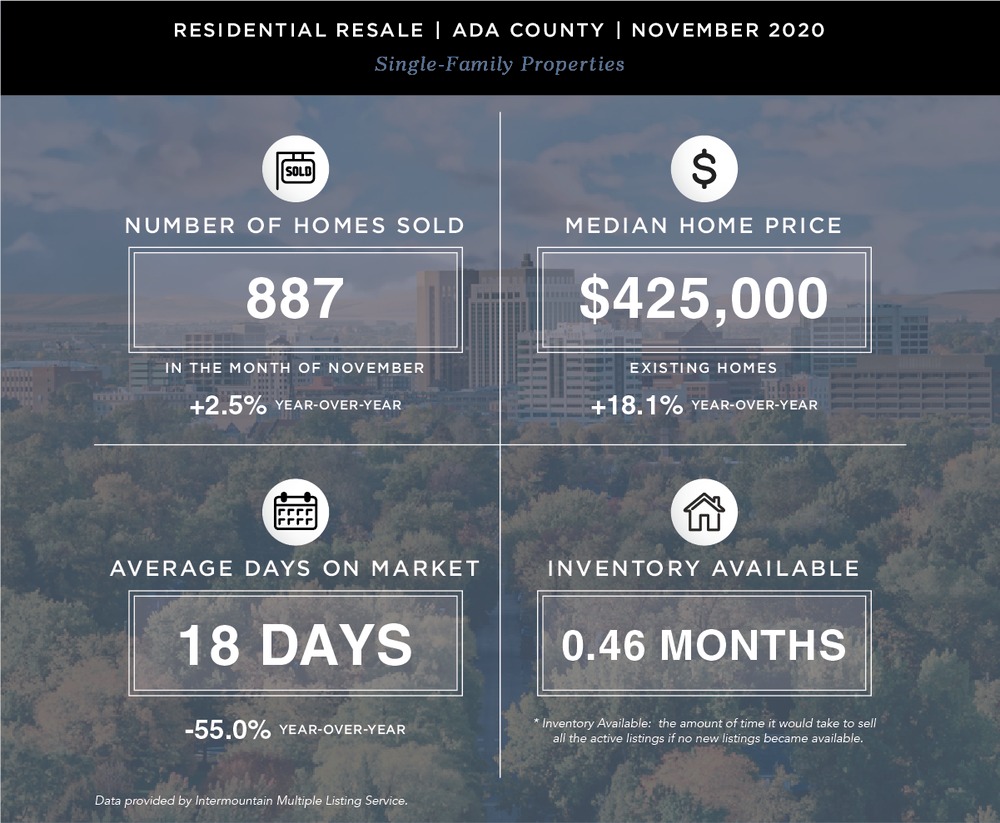 Tell me if you've heard this before: another month and another median sales price record is set in Ada County. Last month, the median sale price for homes was $425,000, a nearly 21% increase over November of 2019. Supply continues to be an issue in the Capitol county as buyers continue to flock to the area. Ada County only has about two weeks of supply available, according to the recent report.
Homes are also selling in half the time, selling in about 18 days compared to being on the market for 40 days last year.
When breaking out the home sales of resales versus new construction, the numbers are even more dynamic. Existing homes sold were at the same median price as all single-family homes and went pending in 13 days. The median resale price was up 28.4% year-over-year, and the average sale price of $497,101 was up nearly 31%. New construction saw a modest reduction in its median prices, settling in at $429,840, which is down 1.75% compared to last November.
Existing homeowners can cash in on the equity in their homes should they decide to sell.
Canyon County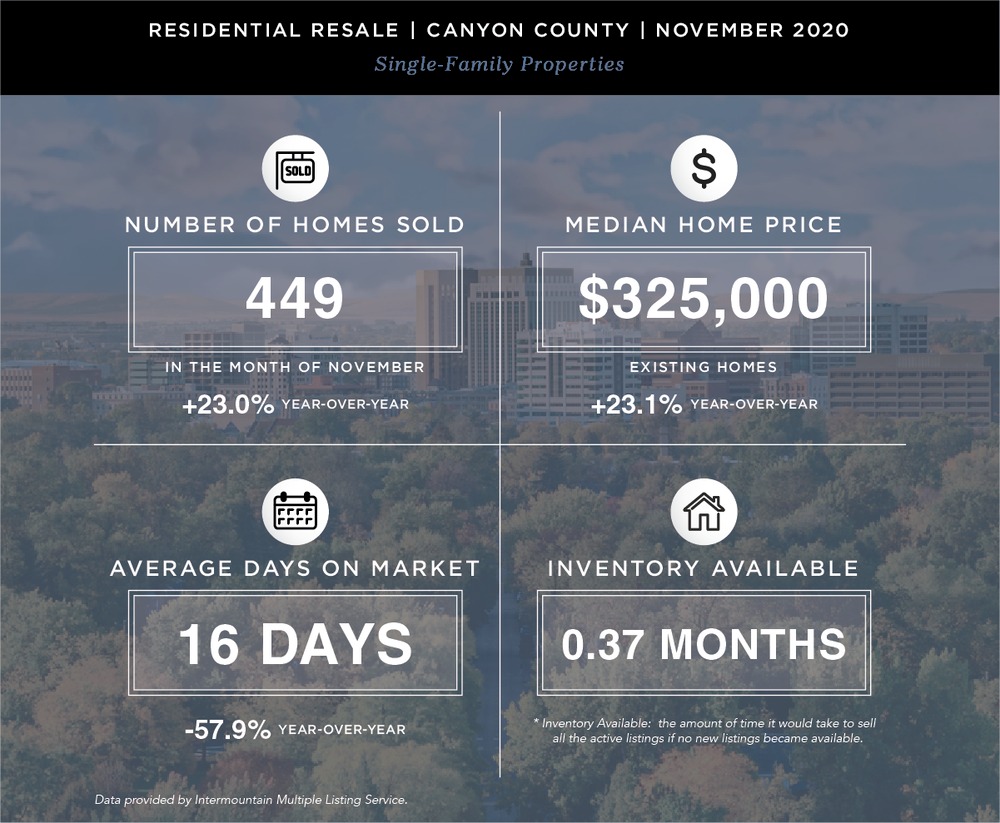 Not to be outdone by its neighbor to the east, Canyon County has also seen a record median sales price of $325,000 for the month for all homes. That's up 23% since November a year ago. Like Ada County, Canyon County is also having supply issues, with just over a third of a month of supply available, indicating a solid seller's market.
Existing homes sold in the county in about 14 days and saw a year-over-year median price increase of 25.5%, settling at $303,000.
There is a pretty significant difference between the new construction numbers in Canyon County versus Ada County. For instance, median prices were up significantly, at 25.2% compared to November of last year. $370,000 was the median price for new construction. Also, new construction homes went pending in 21 days instead of 59 days in November of 2019.
The Last Word
With real estate experts predicting another hot market for the Boise area in 2021, sellers are still in the driver's seat when it comes to price. While mortgage interest rates are expected to rise some in 2021 and as the nation continues to recover from the pandemic, more inventory should enter the market, which may help slow the explosive pricing gains we've seen in the area recently. However, if stock continues to be an issue, which it will for the near term, prices will continue to escalate.