Demand continues to outpace supply, according to the latest treasure valley real estate market report, which details stats for October. Both Ada and Canyon counties saw increases in home values year-over-year and again saw inventory levels drop. Interestingly, both counties saw increases in sales year-over-year, which many would believe to be odd given the shortage of available homes for sale. So, what gives?
Available housing fluctuates daily, and according to the report, they capture the available listings in the MLS on the last day of the month. Once a seller accepts an offer, that home is no longer considered public and isn't necessarily reflected in the numbers. And since housing inventory is very dynamic, the report is essentially a snapshot of the activity.
Let's take a closer look at the real estate market report numbers for Ada and Canyon Counties.
Ada County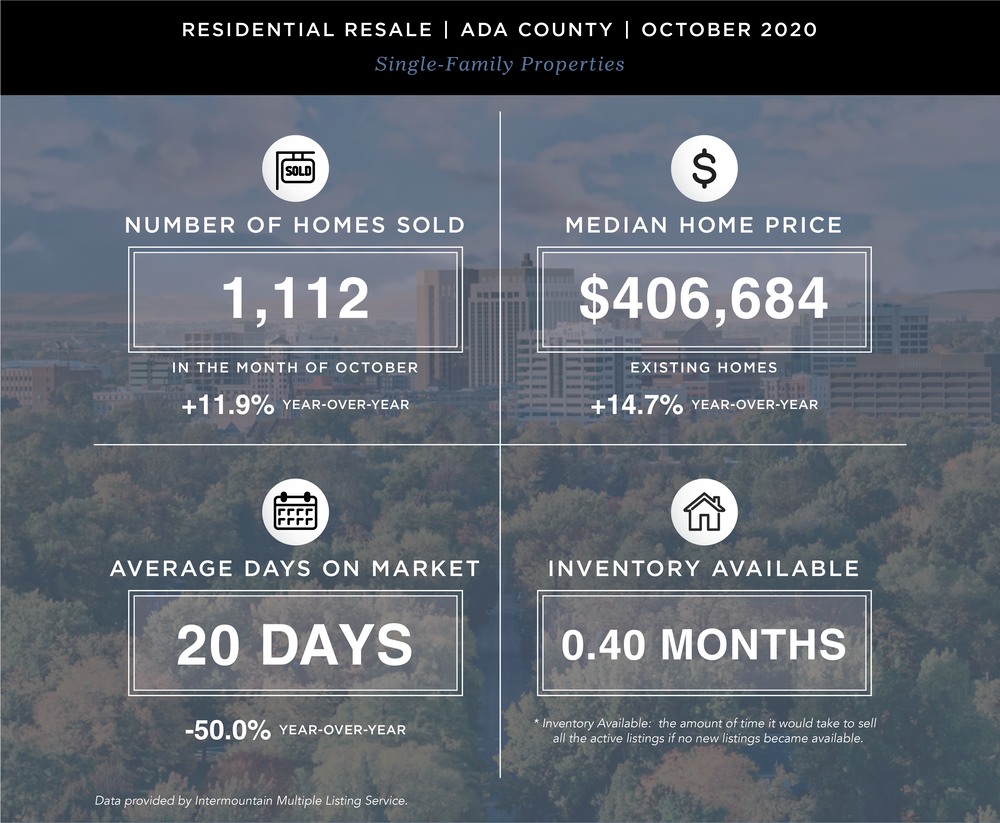 As we alluded to in the intro, the median home prices for Ada County landed at $406,684, down slightly from the previous month but up nearly 15% year-over-year. Homes were also being snapped up at a record pace, only being on the market for 20 days. Houses are selling in half the time they were a year ago.
Total home sales were up nearly 12% year-over-year, and the supply of homes at the end of the month was down almost 74% year-over-year.
Canyon County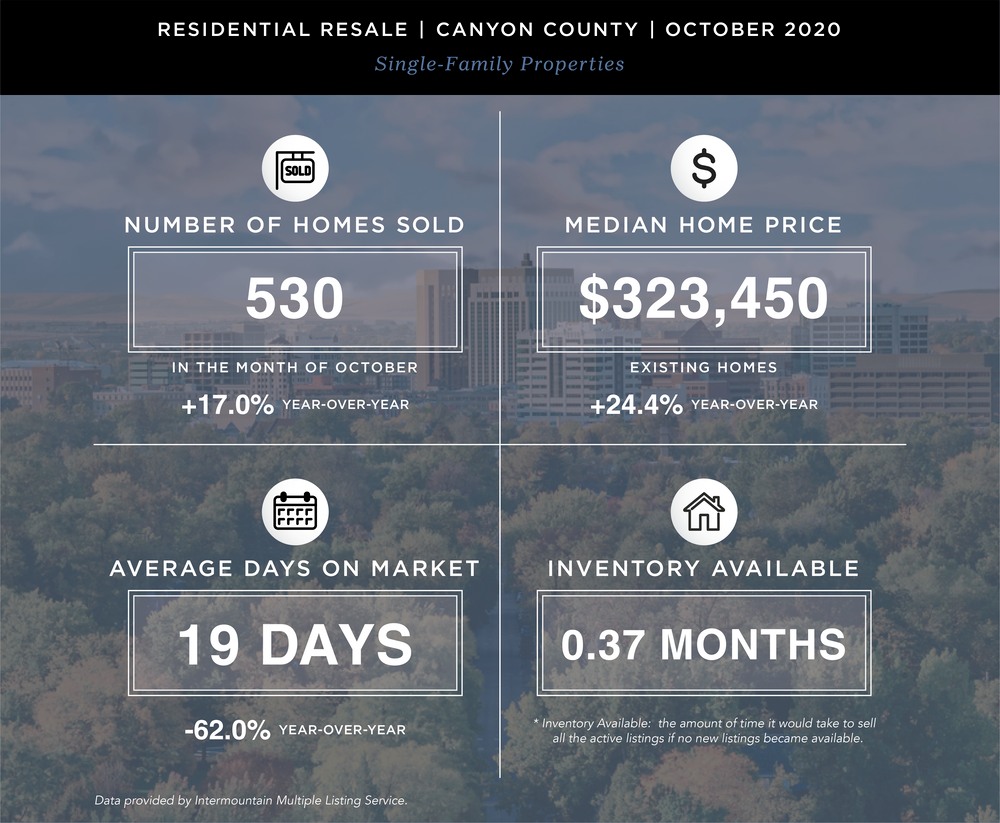 Ada County isn't the only region having some severe issues with inventory. Canyon County saw the number of available homes for sale drop 78% year-over-year but still managed to have a 17% increase in year-over-year sales. Homes were on the market for 19 days, on average, mirroring the nearly 50% drop that Ada County had year-over-year.
In terms of home values, Canyon County prices are up 24% since October 2019, landing at a median price of $323,450. The amount was also up a modest 4.3% from September.
The Last Word
Why is supply so constrained?  Well, there are many reasons.
Current homeowners delay listing until they find their next home, which takes longer due to already taxed inventory.
They may not feel they can "trade up" from their current home due to current prices, despite equity and low mortgage rates.
Aggressive mortgage refinancing may have reduced some homeowners' monthly payments, making it more affordable than what they may spend on another home.
Due to COVID-19, some have delayed listing to limit the number of people in their homes or be unable to manage a sale while working from home or having children doing virtual learning.
Demand is going to continue outpacing supply, especially as we head into the new year. As the pandemic starts to wane and life looks to return to some resemblance of normalcy, we may begin to see a shift in homes available for sale. But for now, we're just going to have to endure a competitive market for homes.