Fall in Boise is one of the most beautiful times of the year. Boise means "City of Trees," and as the weather transitions from summer to fall and the temperatures cool off, our city of trees showcases autumn's breathtaking palette of varying shades of red, yellow, orange and green.
With the changing of seasons and ideal temperature, it's the perfect time to take advantage of outdoor activities and adventures throughout the area. Fully embrace this season and order your pumpkin spice latte, light your favorite apple spice scented candle, visit a local pumpkin patch, and pull out all the cozy layers in your closet!
The cooler days and beautiful evenings offer the perfect time to watch a sunset, venture around town on a bicycle, take a hike in the foothills to see all of the beautiful colors in the city, or enjoy one of Boise's many beautiful parks. Fall days are perfect for picnics and any type of outdoor fun you prefer. The scorching hot summer days are behind us, and fall weather makes outdoor recreation in the Boise area even more enjoyable.
With the excitement for the fall season, we've made a list of our favorite road trips, farms, sporting events and activities that are best enjoyed now that the bright new colors of fall are making their debut.
Take a Hike to see the Beautiful Fall Foliage from Camel's Back Park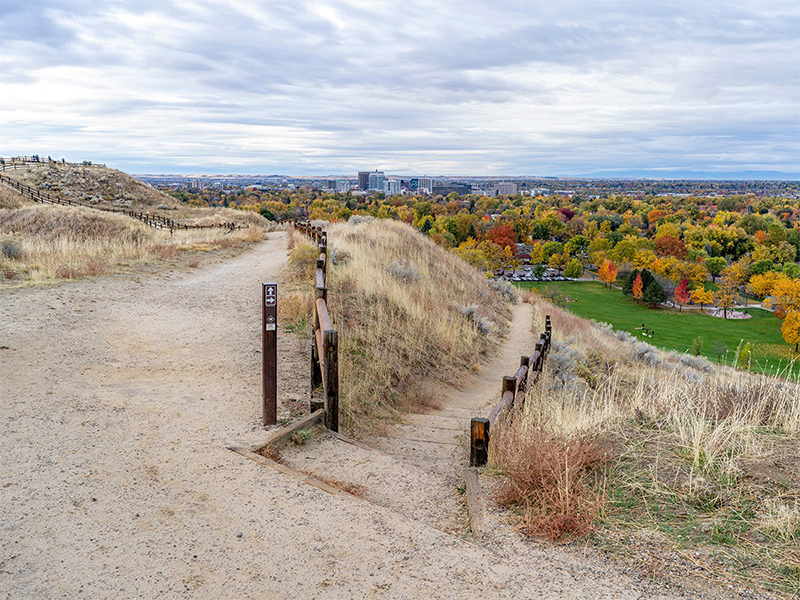 Seeing the leaves change colors this time of year is one of the highlights of living in the Treasure Valley. Taking a hike through the foothills trails gets your blood pumping and allows you to see the amazing fall colors throughout the valley. The birds-eye view from Camel's Back Park's lookout is the perfect spot to see all the colorful trees around Boise and the city skyline. Within 10 minutes from downtown Boise just beyond Hyde Park, Camel's Back Park is made up of 11 acres of developed land that is truly a Boise staple. Its ridge offers 360-degree panoramic views of the scenic surroundings. There are several miles of designated trails flanking the ridge, as well as a steep incline known as "sand hill" with stairs at the top third of the sandy chute that makes the trek up quicker, yet more challenging than the trails. The grassy park below is a vibrant center of neighborhood activity and a great spot for a pre-sunset picnic.
Take a Scenic Road Trip to scout the fall foliage
Take a day (or a weekend) to enjoy the incredible views not far from our backyard.
Sawtooth Scenic Byway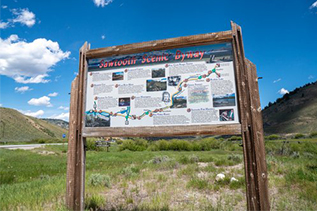 This road spans 115 miles of breathtaking wilderness, leading travelers through the beautiful Boulder Mountains along Idaho 75.
If you take it north out of Shoshone, you'll pass through cities and towns like Bellevue, Hailey, Ketchum, and Sun Valley – all  filled with the glorious colors of the autumn leaves.
You'll come across the jaw-dropping views of the Sawtooth Mountains and get the first glimpse of the pristine waters at Redfish Lake in Stanley.
The Payette River Scenic Byway

This epic drive through Idaho is famous for all the breath-taking colors found between the end of August and mid-October.
It begins west of Boise and continues north along state Highway 55 for 112 miles. Nearby activities include rafting in Lake Cascade State Park, resting at the Shore Lodge luxury resort, hiking in Ponderosa State Park, and soaking in one of the natural hot springs.
Use this resource to find fall leaves!
Visit a Pumpkin Patch
With corn mazes, apple cider, pumpkin picking, and hay bales, we are spoiled enough to have a variety of pumpkin patches and corn mazes around Boise. Every event features its own unique experience, but pumpkin patches, in particular, embody the undeniable essence of Fall.
One of the best ways to celebrate the arrival of fall, in addition to sipping hot cider or a pumpkin spiced latte, is the tradition of visiting a pumpkin patch. Make a trip out to one of the many pumpkin patches in the area to enjoy hay rides, hand-pick pumpkins from the vine, and find your way through a corn maze. What better way to embrace fall than by picking out your favorite flannel and boots and spending a beautiful day at the pumpkin patch!
Farmstead and Linder Farms are two of the area's most popular patches to visit, but here's a list of all local pumpkin patch options.
Twin Oaks Farms in Eagle
Wissel Farms in Nampa
Boise State Football!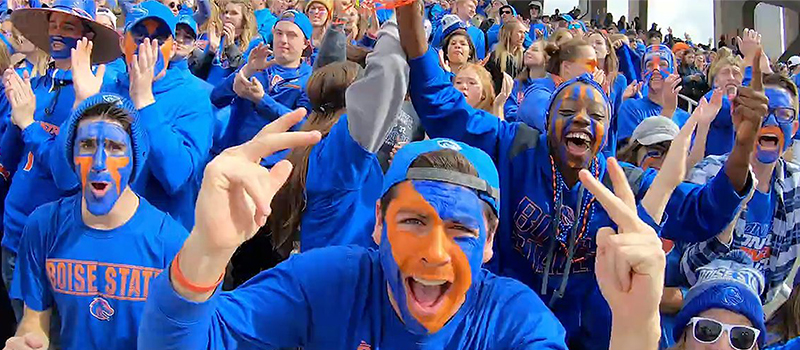 Fall equates to football season in Boise. We love our local Boise State Broncos and the city is full of excitement on gameday! The blue turf field, the atmosphere of the stadium and the energy of Broncos fans are an experience you don't want to miss.
Head over to the Boise State University athletics age for tickets and schedules.
Fall Harvest Festival at Idaho Botanical Gardens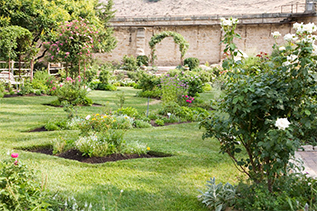 The Idaho Botanical Gardens hosts the Fall Harvest Festival every fall, an amazing time of the year in the Garden. This popular family-friendly event features wagon rides, live music, activities and great food! Local beverage vendors are also on hand serving drinks and local artists showcase artwork to browse and purchase. Pick out a pumpkin, get lost in the straw maze, or amble through the Scarecrow Stroll, a tradition at the Garden for over a decade.
The Scarecrow Stroll features our community's artistic talent with decorative and creative scarecrows throughout the Garden. With a map as your guide, you can see the Garden in one of its most beautiful seasons and enjoy the creativity of many artists. Be sure to cast your vote for the best scarecrow! The Fall Harvest Festival takes place every Saturday through October.
Go Apple Picking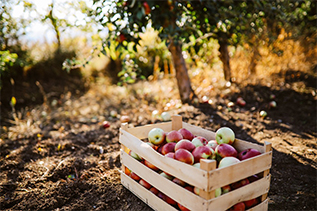 With an easy drive from Boise, you can head to Emmett to enjoy picking your own apples. Pick your own delicious apples while going "U-pick" apple picking at Candy Apple Orchard, Tyler's Rocky Point Orchard, or Williams Fruit Ranch in Emmett.
And while you're in the area, celebrate the harvest season at the Emmett Harvest Festival and Street Fair. This event features food vendors, art vendors, and entertainment. Also, the opportunity to pick local orchards is available at this street fair!
Cherry Hill Farms in Caldwell, is open to the public, and another location to bring your family out for a fun day on the farm this fall! See who can navigate the corn maze the quickest, or head over to the orchards to pick your own fruit right from the source.
These orchards produce apricots, tart cherries, peaches, nectarines, and apples. You can also buy tomatoes, peppers, squash, corn, cucumbers, flowers, and pumpkins.
For a list of all the in-season options, checkout the Cherry Hill Farms website.
Visit wineries during harvest season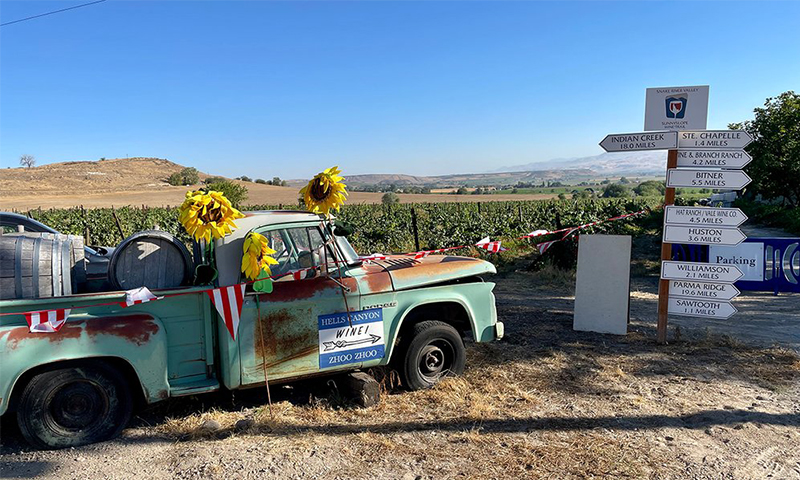 Any sunny, slightly brisk fall afternoon is perfect for a trip to the famous Sunny Slope Wine Trail. The tour company Snake River Wine Tours delivers a wonderful tour experience. Many of the wineries have fall harvest events and promotions, so keep an eye out!
Spooktacular at Zoo Boise
Zoo Boise's annual not-scary Spooktacular runs evenings throughout October. This fun-fest allows you the chance to see the zoo animals for a night and enjoy Halloween-themed activities! Special entertainment, animal encounters, costumes, and vendors make Spooktacular a yearly treat and it's great for all ages.
See Spot Walk at Julia Davis Park

Get out and support the Idaho Humane Society for its biggest fundraiser of the year! The Idaho Humane Society loves to celebrate this annual See Spot Walk fundraising walk.
As brightly painted leaves canopy the park, you and your furry four-legged friends can get in on the fun of this community tradition! You will have the opportunity to engage with other dog enthusiasts, sample dog-related goodies from the vendors, purchase a tasty beverage and delicious eats from local establishments, and set out on the 1 mile dog walk – all while helping the Idaho Humane Society in its mission to advocate for the responsible care and welfare of animals in the Treasure Valley and beyond.
This is a vital part of Idaho Humane Society's fundraising efforts, allowing them to serve over 10,000 animals in need every year. Don't miss this opportunity to share in the energizing experience with your pawsome pets and family members of all ages.
Rake Leaves for a Good Cause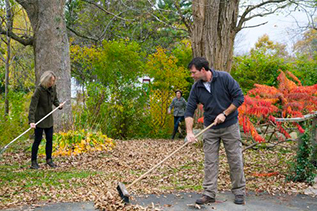 Volunteer to help rake neighbors' yards, serve your community, and have fun! You can create your own team of 5-20 people or they can help find a team for you.
Thousands of volunteers rake yards for veteran, disabled, and senior neighbors each November. Rake Up Boise™ is a beloved fall tradition for many families and one of the largest volunteer events in the Northwest.
Fall is in full effect here in Boise and there is no shortage of events in the Treasure Valley to enjoy every bit of Fall. From the foliage, to the pumpkin patches, to the cool, crisp weather, there's no denying Boise is an amazing place this time of year. We hope these activities give you fun ideas for spending the upcoming beautiful fall days!