With the calendar changing to September, fall in Boise is approaching when the leaves change color, and the oppressive summer heat becomes a distant memory. Fall in Boise brings many festivals, haunted houses, corn mazes, pumpkin patches, and more for Boise area residents to enjoy. It also brings the return of Boise State University football.
Let's look at some of the annual fall events taking place in the Boise area.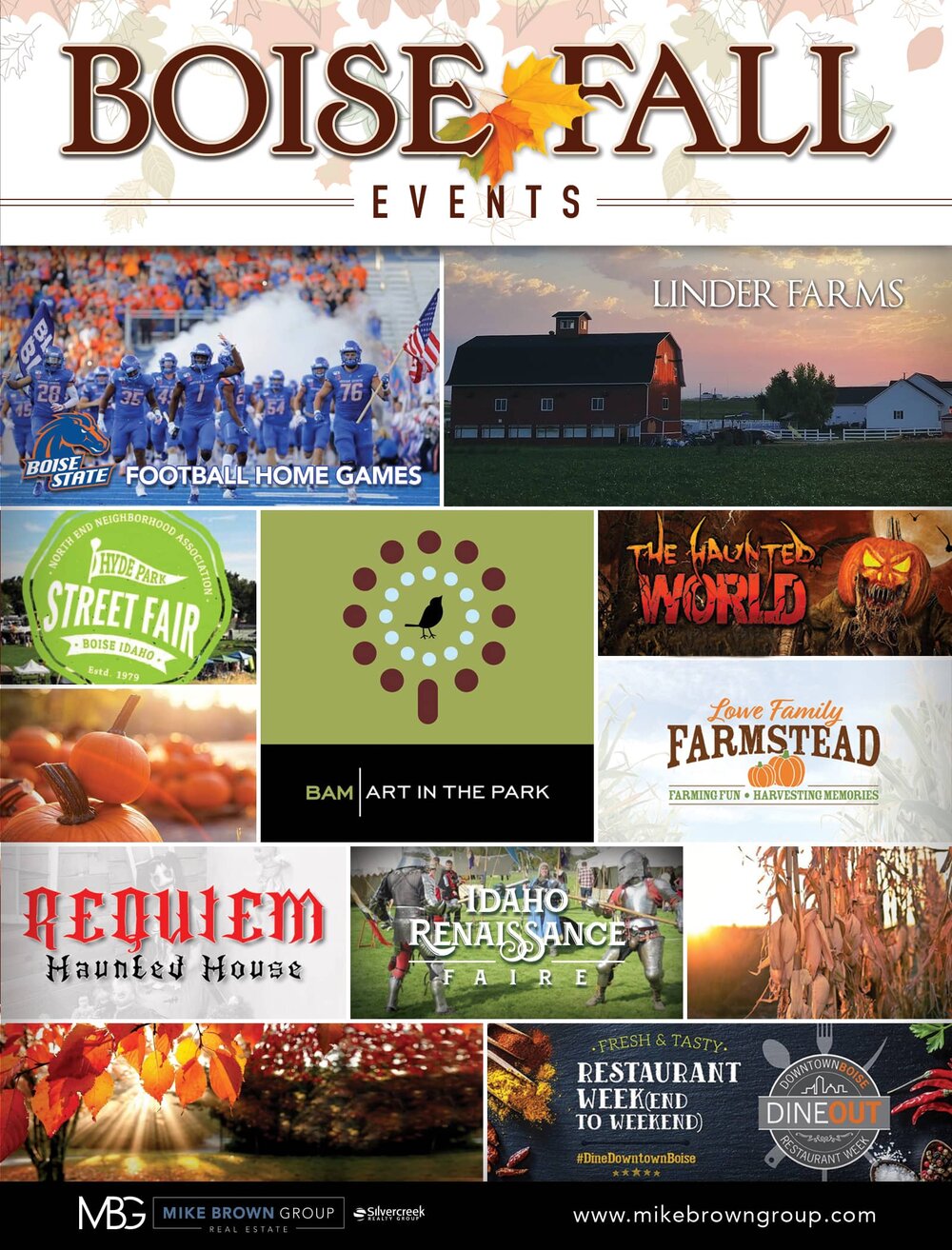 Festivals / Street Fairs / Other Events
The most well-known event and brand in Idaho are the Boise State University Broncos football team. The 12-game schedule starts in early September and runs through November, unless a conference championship or major Bowl game is involved, in which case the season stretches into January.
If you haven't been to a Boise State Broncos Football game, it is an experience, and TV doesn't do their trademarked blue turf justice.
The Boise Art Museum hosts "Art in the Park," an open-air art exhibition that brings together more than 250 art and craft vendors and food trucks to Julia Davis Park. The event includes not only art exhibits and vendors but also features live music and other performances. There are also a variety of hands-on activities for children.
The event is held the first weekend after Labor Day in September.
The North End Neighborhood Association hosts the annual Hyde Park Street Fair, scheduled for September 17 – 19. Unfortunately, due to COVID-19, this year's event has been canceled.
The Hyde Park Street Fair typically features artisans, entertainment, and food vendors as people from all over the valley visit this historic Boise neighborhood.
The annual Old Boise Oktoberfest was scheduled for September 18 but has been canceled due to the pandemic. The event features lots of German cuisines, entertainment, and of course, food.
The annual Emmett Harvest Festival Street Fair returns for its 28th year. Celebrating everyone in Emmett who grows and harvests crops is a yearly tradition with live entertainment, food vendors, crafts, and lots of kid-friendly activities.
The event kicks off on Friday, September 24, from Noon to 7 p.m. and runs Saturday, September 25, from 10 a.m. to 7 p.m.
And for those looking to support local orchards in Emmett, they also have a map to local orchards where you can pick your own fruit or buy direct.
Linder Farms will be hosting a Fall Festival beginning September 24 through October 31. The event will feature concessions, local vendors, wagon hayrides, games, and an evening bonfire.
Step back in time at the Idaho Renaissance Faire, happening Saturday, October 9, and Sunday, October 10, in Kuna. Enjoy classic Renaissance Faire foods such as turkey legs, sausage on a stick, and ribs by the handle! Lots of entertainment, including sword and dance demos and a tournament of knights. There will also be several vendors peddling their wares as well.
The event takes place from 10 a.m. to 7 p.m. on Saturday and 10 a.m. to 6 p.m. on Sunday.
Boise Restaurant Week
Boise Restaurant Week returns Friday, October 29 through Sunday, November 7, 2021. Many restaurants in Boise participate in Restaurant Week, offering prix fixe menus for consumers to enjoy a sampling of their offerings.
As the event draws closer, participating restaurants and menus will be available on the website.
Haunted Houses / Ghost Tours
Located in downtown Caldwell, Idaho's newest haunted attraction is Requiem, a haunted house that's not for the squeamish. Featuring several floors of terror, visitors find themselves dying to leave.
Requiem opens on Saturday, September 18, and is open weekends through October 2. It is open Thursday – Saturday, October 7 – 16, and Wednesday – Saturday, October 20 – 30, with a special Sunday opening on October 31.
The attraction is open from 7:30 p.m. to 10 p.m. on weekdays and from 7:30 p.m. to midnight on weekends.
The Boise area's most well-known commercial "haunted house" is the Haunted World, located in Nampa. Open Fridays and Saturdays beginning September 10 and Mondays through Saturdays starting October 1, the Haunted World has terrorized visitors for over 20 years.
Ticket sales begin at 7 p.m. and conclude at 10 p.m. on weeknights and midnight on the weekends.
Billing itself as the northwest's largest haunted attraction with five historic buildings, the Haunted Mansions of Albion is sure to be a scream for anyone looking to be scared.
Located about three hours east of Boise, The Haunted Mansions of Albion open September 30 and run Thursdays through Saturdays in October, concluding on October 30. The venue is available Thursdays from 7 p.m. to 10 p.m. and Fridays and Saturdays from 7 p.m. to 11 p.m.
An annual tradition put on by the Idaho State Historical Society, Frightened Felons allows visitors to visit the haunted Idaho Penitentiary at night and experience ghost stories and history presentations at the facility. Open nightly from 7 p.m. to 11 p.m.
Information and tickets for Friday, October 29, 2021
Information and tickets for Saturday, October 30, 2021
Pumpkin Patches / Corn Mazes
Probably the most renowned pumpkin patch and corn maze in the Boise area is the Lowe Family Farmstead, located in Kuna. With lots of attractions, including a candy blaster, Rusty, "the very big beast," corn poppers, and more, there's something for everyone lest we forget to mention their corn maze and pumpkin patch.
This year, The Farmstead opens on September 17 and runs through October 30. Monday through Thursday, it will be open from 4 p.m. to 9 p.m., Fridays and Saturdays from 10 a.m. to 10 p.m.
The Berry Ranch is at the corner of Franklin and 20/26 in Nampa. The farm has various pumpkins and gourds available to pick daily, beginning the last Friday in September and running through October 31.
Open daily from 10 a.m. to sunset, Twin Oaks features a hayride to pick a pumpkin from their robust patch.
The Last Word
While many Idahoans enjoy Idaho's outdoors during the Spring and Summer months, autumn offers many fun things to do in Boise and beyond. You're bound to find something fun to do this fall in Boise, from pumpkin patches to haunted houses to college athletics.