As dawn breaks and low clouds settle just above the banks of the river, you get your drift boat prepared with your fishing gear, bait, and enough snacks and drinks to last throughout the day. Catching the biggest fish of the day is what you're setting out for, but enjoying time on the river among the beauty of the mountains is what always makes trips like this an exciting adventure.
If you're looking for a fun day of fishing, you don't have to travel far. The lakes, reservoirs, streams, and rivers of Idaho are packed with a variety of fish and a unique opportunity for you to experience an afternoon in the great outdoors while fishing calm, cool rivers or sitting along the bank teaching the basics to your young angler.
GRAB YOUR REEL. LET'S GO!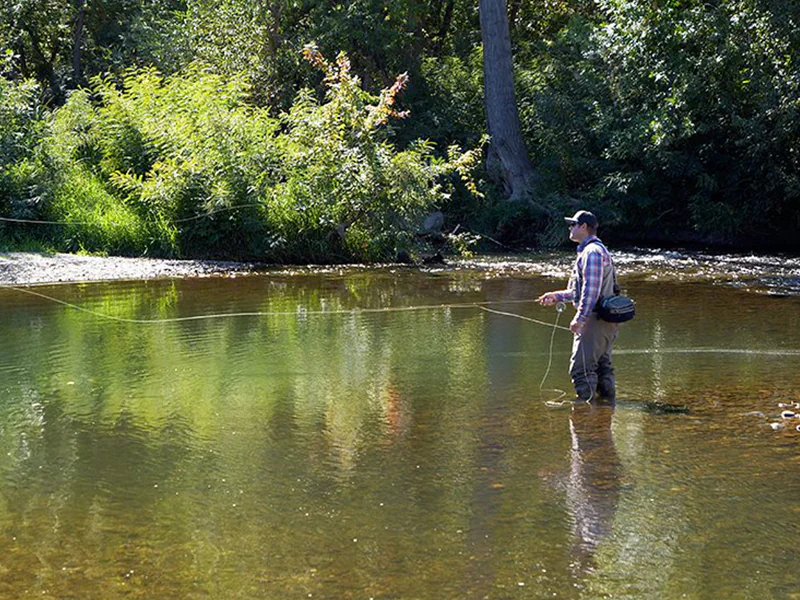 For anglers who love fishing, Idaho provides a variety of fish to sling your bait from beginners to experts. In the lakes, rivers, and expansive reservoirs of Idaho, you'll find smallmouth bass, white sturgeon, carp, bream, rainbow trout, steelhead, and even Chinook salmon.
Across the state, you'll find plenty of great water to cast your bait and snag a story. Here in the Treasure Valley, you'll find plenty of lakes and streams to keep you busy all year. Before you grab your gear and head out for that big catch, you want to know where to find different fish and what to bring along for the perfect fishing trip.
WHAT YOU NEED TO FISH IN IDAHO: 
To fish in Idaho, anglers 14 years and older must have a valid fishing license. Residents under 14 years of age do not need a license unless they are fishing for salmon and steelhead or fishing with two poles.
Anglers with a valid fishing license from the State of Idaho may have limits for specific fish, so check the limit with the local Idaho Fish and Game. Also, be sure to check to see if those limits as fish caught by children 14 and under count towards the limit. So, if your young angler wants their own fish limit, getting a fishing license will keep them happy and your freezer full of fish to enjoy all year long.
Beyond the fishing license, you'll want to check your gear. The waters of Idaho can be fairly cold, and although the summer temperatures can reach into the triple digits, the waters can be cold enough to numb your toes if you're wading the waters for rainbow trout.
You just need your fishing rod and bait for most fishing along the shore of any water. Local anglers can help you choose the bait to snag a fish along the, or you can check the Anglers Guide to the Gem Statefrom the Idaho Fish and Game for fishing tips to plan your next trip.
If you want more tips on bait, rods, or finding the elusive honey hole, you can talk with anglers at big sporting goods stores or connect with a guide for a one-of-a-kind experience.
Fish Idaho can help you plan your trip and find a guide for almost every body of water. Fishing Guides know the lakes, reservoirs, streams, and rivers well, and depending on the types of fish you are looking for, can give you all the help you need to snag that big fish. They will ensure you have the right gear and resources so you can catch rainbow trout or a Chinook Salmon.
FINDING FISH IN IDAHO
Now that you know a little about what you need to set out on your fishing trip in Idaho, it's time to decide what types of fish you are looking to reel in.
You'll have your pick of the famous blue-ribbon trout to Chinook salmon that travel across the ocean and as far inland as Idaho.
Here are some of the fish you can catch along the banks of the Boise River and the streams in the Treasure Valley.
RAINBOW TROUT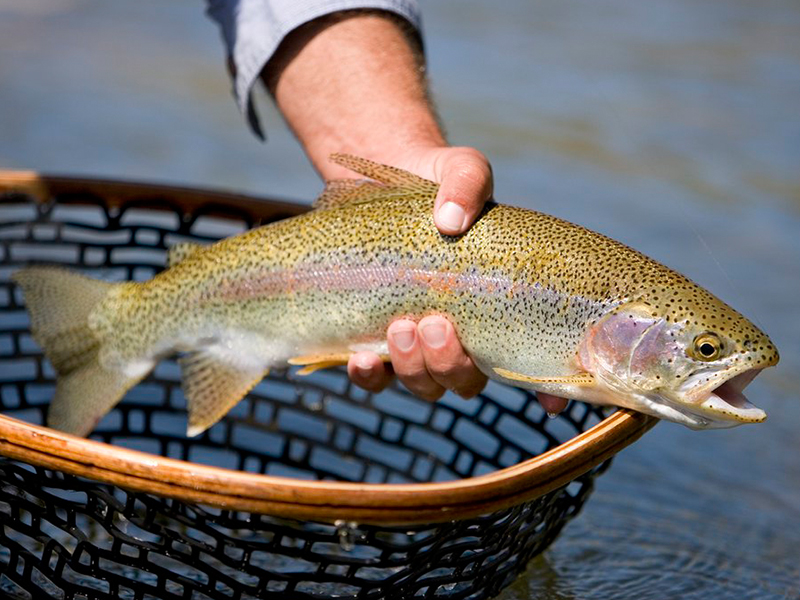 Lakes, reservoirs, rivers, and streams. If you are looking to tie your fly and hook a trout, you'll have luck in almost any body of water in the waters along the Treasure Valley in what the Angler Guide designates as the Southwest Region Southern Fisheries. Tie your own flies or pick up some new ones from any bait shop in the area to ensure the trout you're fishing for is eager to take a bite.
CHINOOK SALMON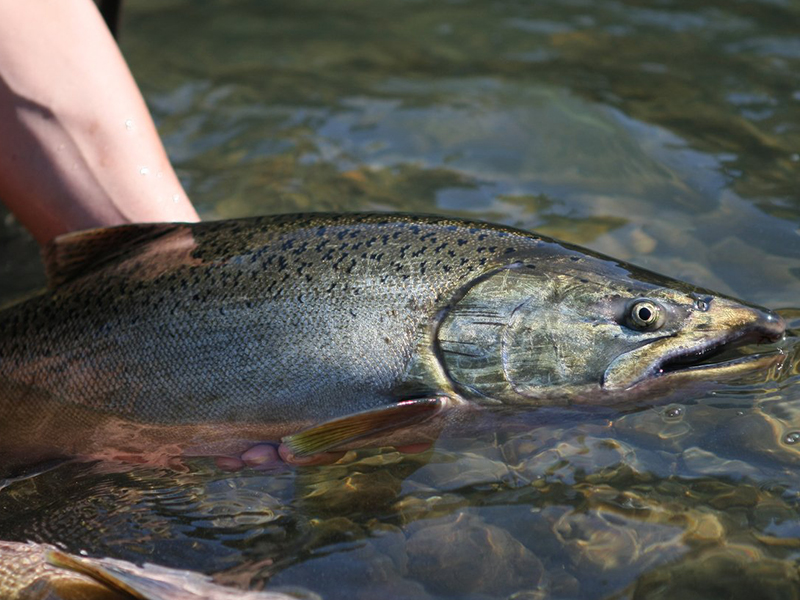 If you're looking for salmon in Idaho, these deep-water fish can be caught between May and October. You'll find them in the Deadwood Reservoir or Lucky Peak Reservoir. You'll want to check this season for Chinook salmon since the number returning to the waters of Idaho varies yearly. They love sardine, but somelocal anglers love using herring, anchovy, albacore tuna belly, or shrimp wraps.
WHITE STURGEON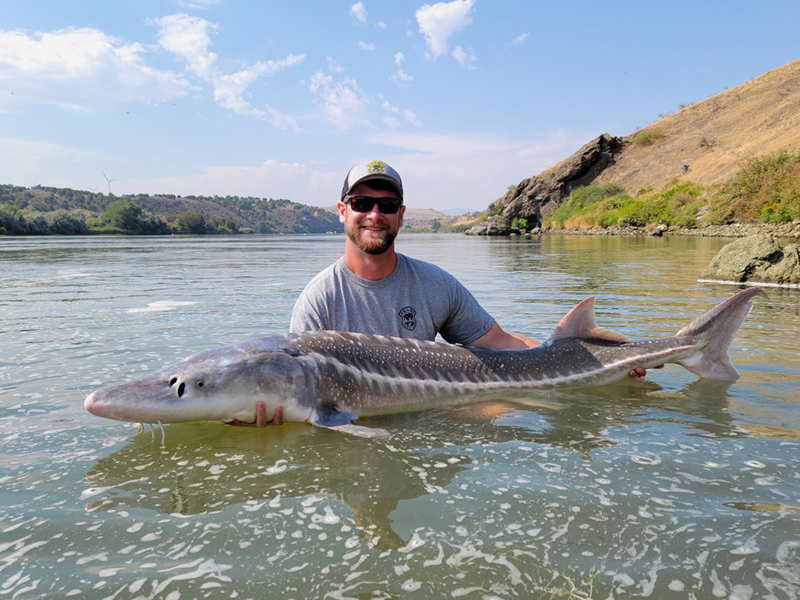 If you're looking for an epic fight snagging one of the largest fish found in freshwater, head out to the area of the Snake River between the Bliss Dam and the upper end of C.J. Strike Reservoir. Ranging from a foot to over 13 feet long, catching a White Sturgeon will make your fishing story the envy of your angler friends. White Sturgeon are highly regulated in Idaho, so if you reel in the big one, you'll be able to snap a few pics and then gently return it to the river or reservoirs to grow and thrive. White sturgeon are pretty particular when it comes to fish, so be sure you check to see what they are hitting when you are on the hunt for this massive fish.
SMALLMOUTH BASS
These beauties can be found in the warm waters of Idaho lakes and reservoirs. Smallmouth bass can also be found along the Boise River around Star, Idaho, along with different areas along the Snake River. If you've got Blade Baits, small soft plastics, jigs, jerk baits, spinnerbaits, or even topwater lures, you will have luck reeling in smallmouth bass. Blade Baits are great for cold water and warm water fishing for smallmouth bass, so they might be the most versatile. Talking with a local angler will let you know what is biting, so you'll have success.
LARGEMOUTH BASS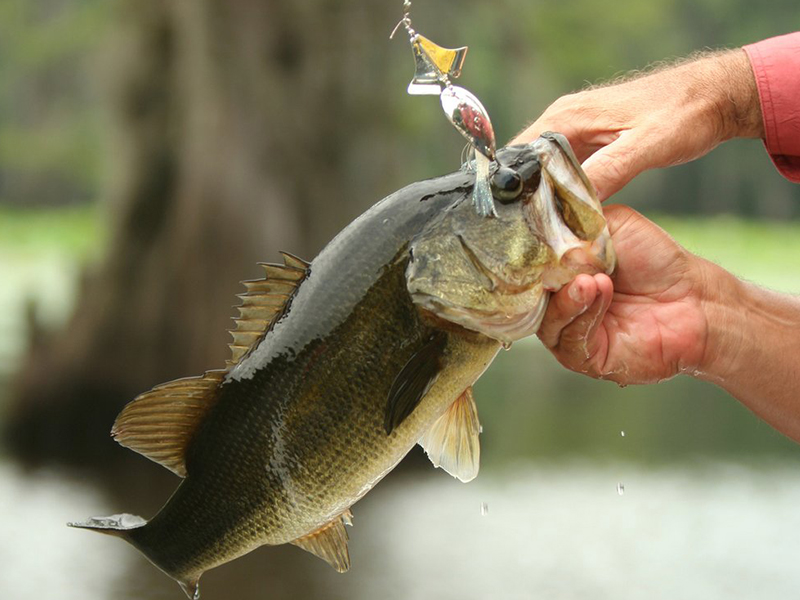 If you find a body of water, chances are you can pull in largemouth bass. If you find a body of water, chances are you can pull in largemouth bass. You can try spinnerbait, crankbait, or stick bait when the bass is shallow. For more tips on catching largemouth bass, check out Top Place for Bass Fishing in Idaho from GameandFishmag.com.
BLUEGILL
A great fish for kids, Bluegill fishing in Idaho is a great way to instill the love of fishing in your little angler and a great way to enjoy the afternoon fishing on your own. Since bluegill prefer the shallow edges of lakes and ponds, tossing out a line on a lightweight pole can make for a faster and easier catch. Since Bluegill is mainly close to shore, using worms and nightcrawlers is easy to pick up where you snag a fishing pole. If you're fishing with a little one, remember that although you need your license, they can fish without one, making fishing the perfect outing with your little angler. 
FIND YOUR FISHING ADVENTURE IN IDAHO
Whether launching a boat, walking the cool streams of the river, or getting a guide to venture into the deep waters, Idaho provides some of the best fishing in the country. From Chinook Salmon to Largemouth bass, there is sure to be a big catch and an exciting fishing story to accompany it, all found here in the waters of Idaho.
We've got you covered if you're looking for more information to plan your fishing trip. Check out these resources below: