The Idaho Housing Market and Real Estate News
We've reached the dog days of summer in Idaho, and with people spending time in the great outdoors on vacation, the rush for housing has cooled slightly. The housing supply has modestly crept up the past five months, but home values have continued to rise as available properties continue to go pending quickly.
Home values continue to escalate across the state and the nation, and contrary to what many pundits are saying, housing will continue to be in hot demand.
In this month's Idaho Housing Market Update, we're going to look at the continued appreciation of home values here in the Boise area. And, like last month, the Boise housing market once again found its way into the national spotlight.
We'll discuss those stories and more in this month's real estate market and news update. Let's dive in.
Boise Real Estate Market Update
Ada County
The Intermountain MLS has released the Idaho Housing Market numbers for July, and in what shouldn't come as a surprise, home values continued their record-setting ascent in Ada County. The median home value for Ada County rose to $540,000, a modest 2.86% gain from the previous month, but is a 38.46% increase year-over-year.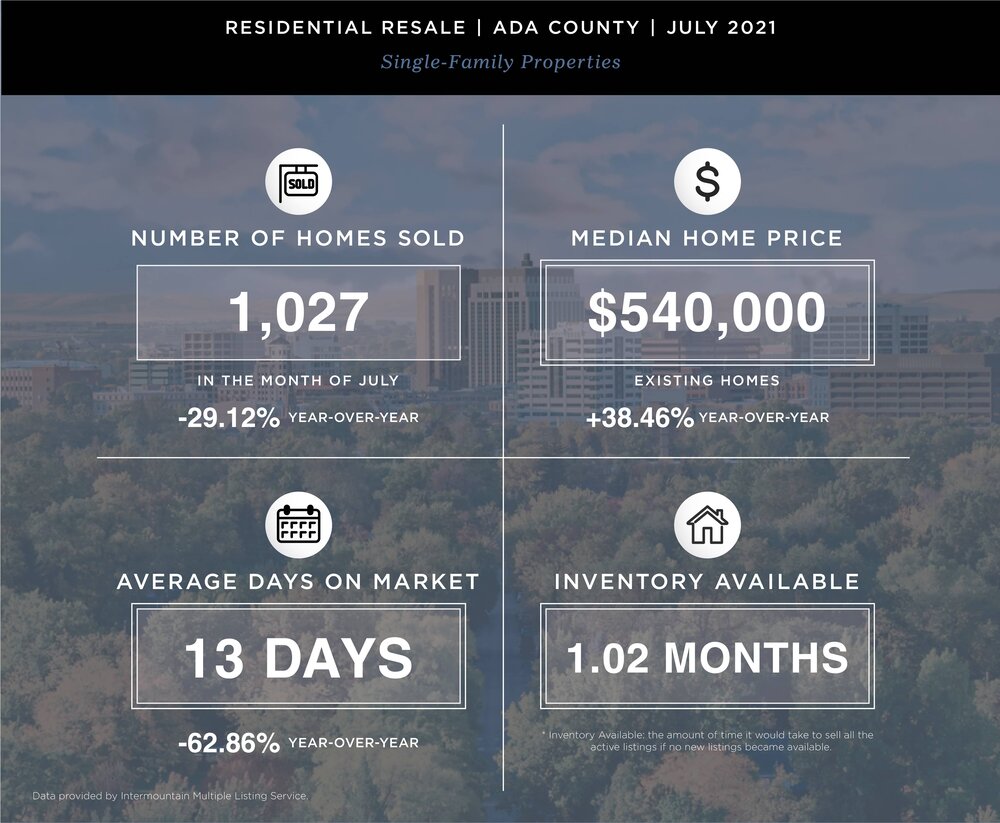 As we mentioned in the introduction, the supply of homes continues to rise as the ratio of homes sold versus those on the market shows Ada County now has slightly more than one month supply of homes. This is the fifth consecutive month that supply increased.
While Ada County had 1,027 homes sold in July, that number is still down 29% from a year ago. Also, homes remained on the market for only 13 days, matching the same duration for June, but down nearly 63% from a year ago in July. There's still massive demand for homes here in the Capital County.
Canyon County
While Ada County saw another record fall for home values, Canyon County saw its median price drop a modest 2.18% between June and July, but $414,750 was still 38% higher year-over-year.
Like Ada County, homes were purchased quickly, remaining on the market an average of 13 days. This represents a 66.67% change year-over-year and is the same pace as it was in June.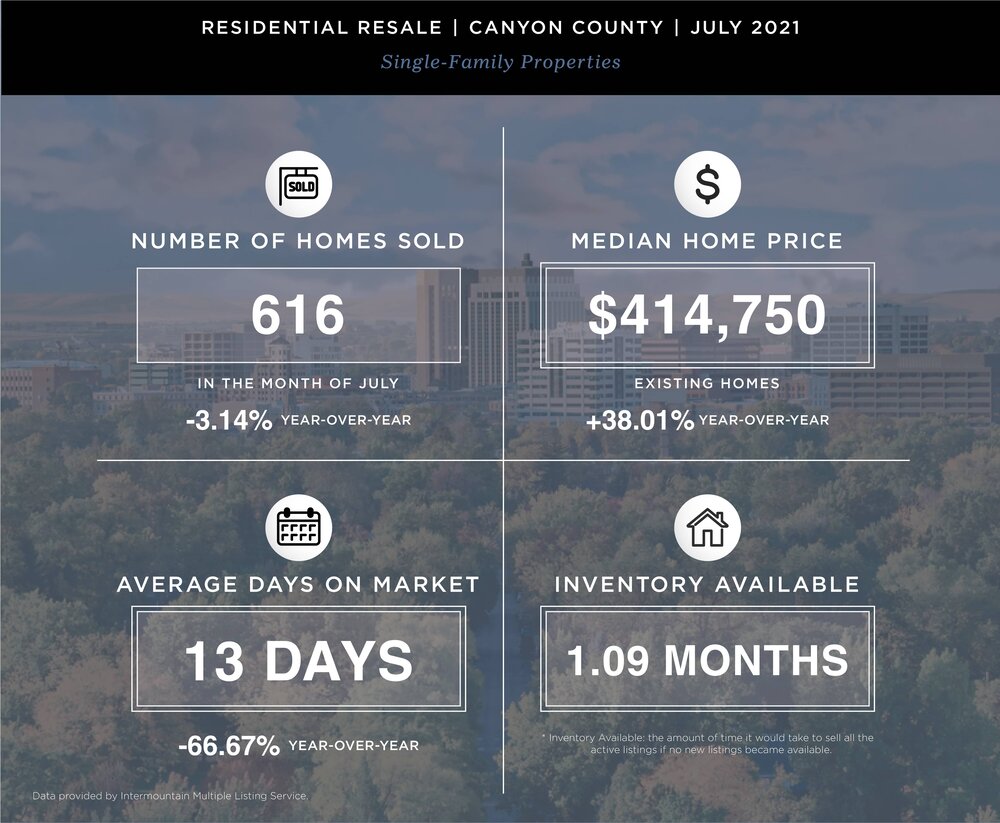 Total home sales were down modestly from 2020, with only 616 homes sold – a 3.14% decrease. However, supply has risen to just more than a month's worth of housing available, which mirrors Ada County with a third consecutive month of increased supply.
Nationally, there's been talk of the housing bubble bursting, but the reality is values may cool a little, they're not going to plummet as they did in 2007-2009. As we get beyond the dog days of summer, especially once school resumes, Idaho's torrid housing market will again accelerate as demand continues to outpace supply. And with mortgage interest rates remaining low, people will continue to look for opportunities buy Idaho real estate.
Both counties are in extreme seller's housing markets, meaning they'll continue to provide excellent opportunities for people looking to sell their homes for top dollar.
More National Media Attention for Boise
Following up on last month's visit with NBC's Today Show, Boise can't seem to escape the national media spotlight. Earlier this month, the PBS News Hour paid a visit to Boise with correspondent Paul Soloman speaking with locals about the local housing boom and the competitive housing market.
While the reporting paints Idaho's home prices as on fire, it also portrays living in the Treasure Valley in a very positive light showcasing the recreation and quality of life. It's no wonder so many people from out of state are looking to move to Idaho.
Speaking of Out of Market Interest
The Realtor.com Cross Market Demand Report for the second quarter of 2021 shows nearly 56% of property views are from out of state for Ada County. Six of the top ten counties looking at Ada County for houses are in California.
While Los Angeles is the top viewing out of state county, Salt Lake County in Utah and King County in Washington (Seattle area) are close behind. Maricopa County (Phoenix area) in Arizona and Essex County in New Jersey are also among the top ten locations looking at Ada County homes.
Canyon County saw a lot of out-of-state interest as well, with 56% of its views being outside of Idaho. King County was the top viewer, followed by Salt Lake, Los Angeles, Essex County, and Orange County.
Like Ada County, most interest comes from California, with six of the top ten out-of-state counties looking at Canyon County residing in the Golden State. While Maricopa County residents were eye-balling Ada County, it's Clark County (Las Vegas area) in Nevada representing the desert southwest in terms of top ten views for Canyon County.
Home Values Rapidly Rising in Other Markets, too
The Homebuying Institute published a piece discussing how Austin, Salt Lake City, San Bernardino, and San Diego also see skyrocketing home prices in 2021.
While Boise saw an increase of over 41% year-over-year, according to data obtained from Zillow, Austin saw a 35.7% increase. SLC saw a 21% increase, with San Bernardino and Riverside seeing a 22% increase in values. San Diego saw a 23.3% increase in home values, bringing its median price to around $775,000.
These markets are seeing massive demand for houses and, like Boise, don't have the available stable of homes to accommodate the droves of buyers vying for homes. As a result, prices are soaring, with no cooldown expected anytime soon.
Eight Idaho Cities Among Fastest Growing in the U.S.
A recent study shows eight of Idaho's cities were among the 200 fastest growing cities in the U.S. between 2019 and 2020. There are eight Idaho cities with populations over 50,000 in 2020 compared to only four back in 2000.
The Top 8 Cities in Idaho (position out of Top 200) with growth rates ranging from 3.5% to 7.5%:
Kuna (43)
Post Falls (46)
Star (55)
Eagle (65)
Meridian (70)
Nampa (151)
Ammon (167)
Caldwell (171)
The Last Word
While we're only a few weeks from school starting, people are enjoying vacations and the last days of summer. As we alluded to earlier, the dog days of summer are when the local housing market – and even the national real estate market – slow, giving false hope that the market is shifting. Unfortunately, that's not the case. Once school is back in session, the market will rebound and will get busy once again.
This month we saw more news that the Boise market is on fire, and it will be interesting to see how the numbers play out for August. We anticipate August being a little slower than usual, but come September, more homes will arrive on the market through the balance of the year. However, there won't be enough housing available to satisfy demand, and prices will continue ticking higher.
Main Cover Photo Credit: iStock.com/anilakkus