Thanksgiving is a couple of weeks away, and as cold weather is starting to settle in, homeowners may have other things on their minds besides buying and selling a home.
Although the Boise area real estate market may not be as hot as it was mid-summer, we continue to see overall growth year-over-year with increased housing prices and lower than average interest rates.  This means it's still a seller's market in the Treasure Valley, which means growth for your area and potentially your pocketbook.
Beyond our area's real estate market, home values continue to rise nationwide as home buyers look to take advantage and relocate to new homes or regions for various reasons.
On this October Market News Update, you'll get a snapshot into real estate in the Treasure Valley and what you can anticipate through the end of the year and into 2022.
Idaho Housing Market Update for October 2021
The Treasure Valley housing market continues to slow as homes stay on the market longer, and home value appreciation has waned. The time of year influences our local market as fewer buyers are shopping for property, and sellers tend to take the holidays off, even though theholidays are an excellent time to sell a home.
Interest rates have ticked up, so the buying power of some people has lessened. The area continues to be a strong seller's market, with some homes still receiving many competitive offers.
Local real estate agents are also peppering desirable neighborhoods with letters asking people if they'd be willing to sell their homes as the REALTORS® have clients looking for property. Demand continues to be high for the area, and inventory is limited, so prices will continue to climb.
Ada County
Although there are shifts in the Idaho housing market and Ada County, signs show the market overall is up over the previous years.

October saw the median price slightly decrease to $533,950 from the previous month. Year-over-year, housing prices are still up a considerable amount at 30.23%
The average home was on the market less than a month for an average of 23 days. This leaves about 1.16 months of inventory available, which still depicts a solid seller's market. Nine hundred eighty-six homes sold last month in Ada County alone, which is excellent for homeowners still looking to take advantage of the hotter-than-average market.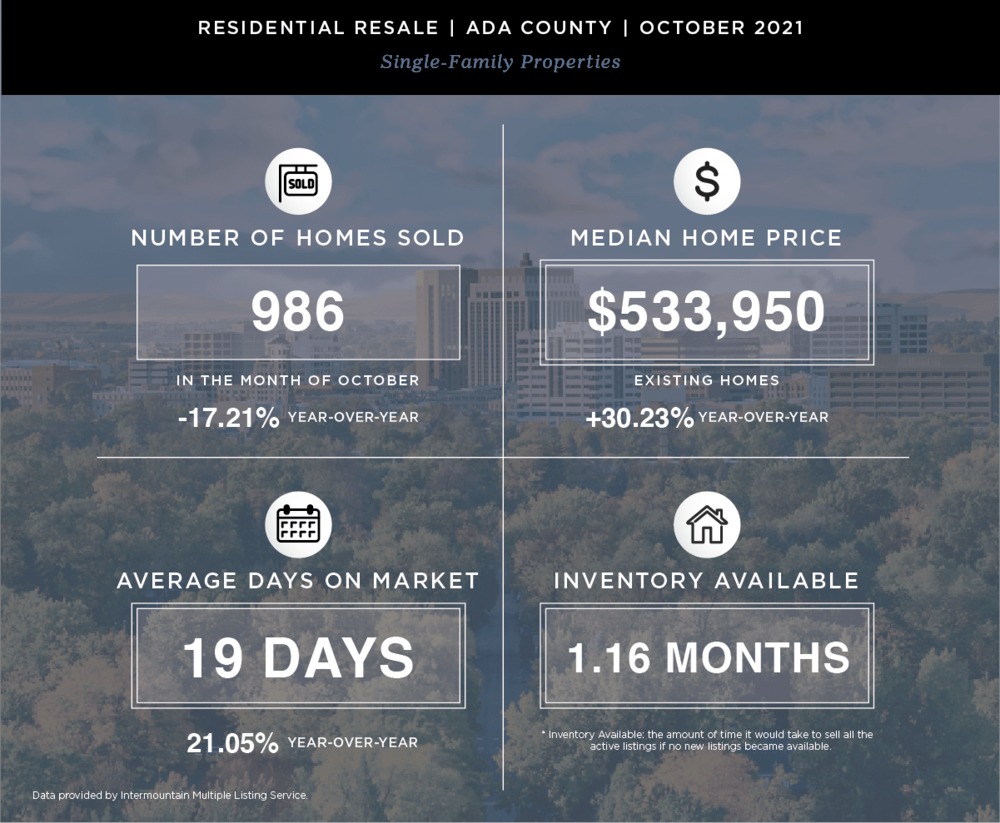 BOTTOM LINE: As the holidays approach and sales historically tend to slow,  the numbers show a strong housing market in Ada County. With homes still on the market and buyers using the holidays as a time to house shop, it is still an excellent opportunity to buy or sell your home. The continued interest in the area will cause prices to creep higher, and expectations are that the new year will bring an even hotter market for homeowners looking to sell.
Canyon County
Just like Ada County, homes in Canyon County are still selling well and are in high demand. The average home selling price slightly increased by $445 over the previous month, with an average home price of $422,445. Although the increase was slight, Canyon County has seen an incredible 31.23% increase compared to October 2020.
Homes also sat on the market slightly longer than previous months, but the number of homes still sells faster, up 44% compared to October last year. Like Ada County, Canyon County also showed a slight drop in home sales, but still an impressive 556 homes sold in October.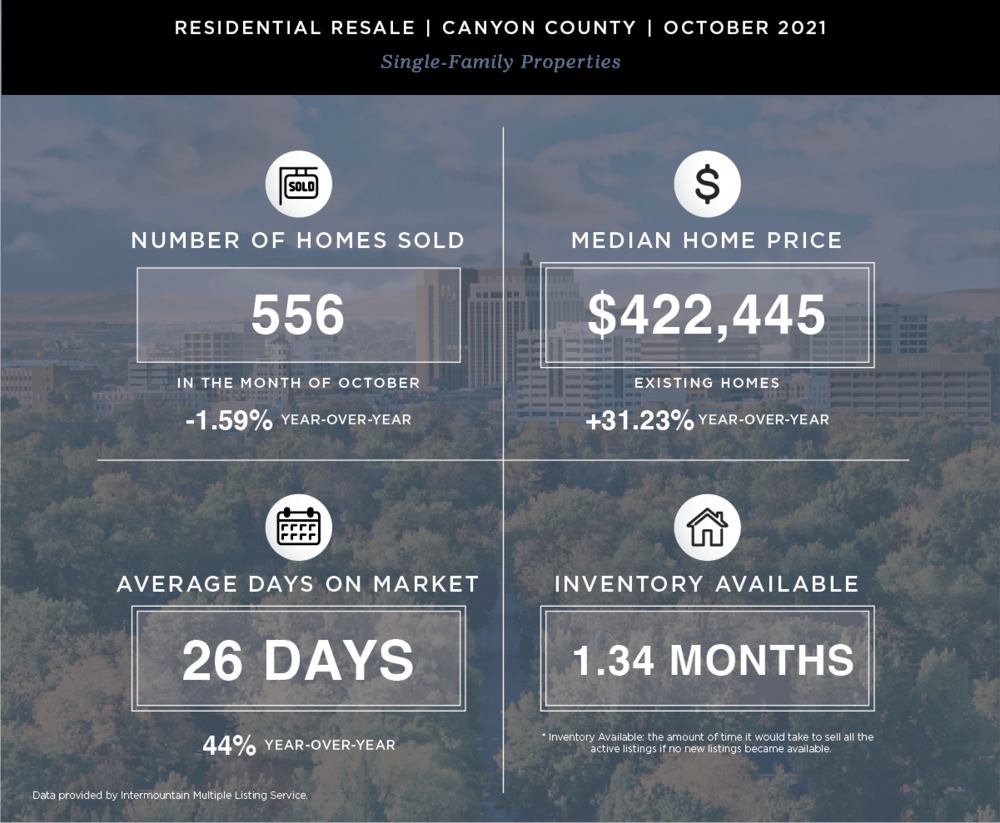 BOTTOM LINE:  Like Ada County, as we get closer to the end of the year and the holidays, homes may be on the market slightly longer than homes in the peak summer months. With significant demand and not as many houses or buyers in the market, eager home buyers may pay a little more for what they want due to the demand on the market.
The Treasure Valley housing market in Idaho is still the place to live, with inventory available for homebuyers looking to move.  Ada County and Canyon County have homes ready for buyers looking to relocate to Idaho and take advantage of the Idaho Housing Market.
Home Values & Demand for 2022
With the end of the year approaching quickly, speculation about the housing market for 2022 is beginning to be released.
Real Estate data tracking firm CoreLogic has released itsHome Price Insights Report with data through September 2021 and forecasts for September 2022. Home prices have increased 18% year-over-year through September, and the firm anticipates home values to grow a modest 1.9% between now and next September. The national housing shortage continues to drive prices higher, and competition for entry-level homes is fierce, forcing some would-be buyers to sit on the sidelines.
According to CoreLogic, Idaho once again had the highest year-over-year price growth, with homes appreciating 30.1% year-over-year. In addition to Idaho, four out of the top five states for home value appreciation are in the West, including Arizona, Utah, Nevada, and Tennessee. No state experienced declines in year-over-year values.
Realtor.com recently updated their Cross-Market Demand report for the third quarter, and nearly 55% of property views in Ada County are coming from out of state.
Canyon County is in the top three metro areas for house hunters looking to relocate, with Los Angeles County being number one and King County in Washington a close second.
The top views for Canyon County are in Ada County, with nearly 31% of views originating there. The Idaho housing market demand is still busy as people look to relocate to the Boise area from across the state and the surrounding states.
As we head into the winter months, house hunting in Idaho is still in demand, making it the perfect time to put your house on the market. With fewer houses on the market, your home could receive more views and potentially sell at a higher price, giving your more buying power.

If you consider selling your home over the holidays, be sure you read "Sell Your Home For the Holidays." You'll get tips on what you can do to make your home more attractive during the winter months.  You can also visit with one of our REALTORS® who can provide you the information you need to take the stress out of putting your home on the market this winter.