With the calendar changing to October, we've officially entered the fourth quarter of the year, racing toward 2022. As the Treasure Valley settles into fall, which includes cooler temperatures, will there be a cooling of our area's scorching hot housing market?
Indications from the last month have shown some signs of the market slowing, but given the continued demand for housing, this seems to be more of a temporary cooling than something that will be more permanent.
We'll dive a little deeper into the numbers shortly. But first, Boise found itself on another "Best of" list, which shouldn't come as a surprise. Idaho is also among the top states on a somewhat troubling list, especially if you're a homeowner.
Let's dive into this month's real estate news roundup.
Idaho Housing Market Update for September 2021
As we alluded to in the open, we're starting to see the housing market cool a bit here in Boise. Demand remains incredibly strong, but more homes are on the market for sale, helping alleviate the lack of inventory we've had for the past several months.
Interest rates are also starting to rise, which is affecting the buying power of potential homeowners.
We're still in the midst of a solid seller's market with some homes still receiving offers over asking, but the days of frequent bidding wars seem to be behind us, at least temporarily.
The next six weeks will be steady, but they won't be as frantic as the spring housing market. Speaking of which, once we get beyond the holidays into 2022, the expectation is that the market will take off again.
Home values will continue to appreciate, but not at the torrid pace they've been on the past couple of years.
Ada County
The latest housing market update numbers show Ada County home values climbing, once again, but not reaching the record they set back in July. Year-over-year, the median price settled at $534,950, which is up 31% from a year ago. It's still down just under one percent from the record high of $540,000 set in July.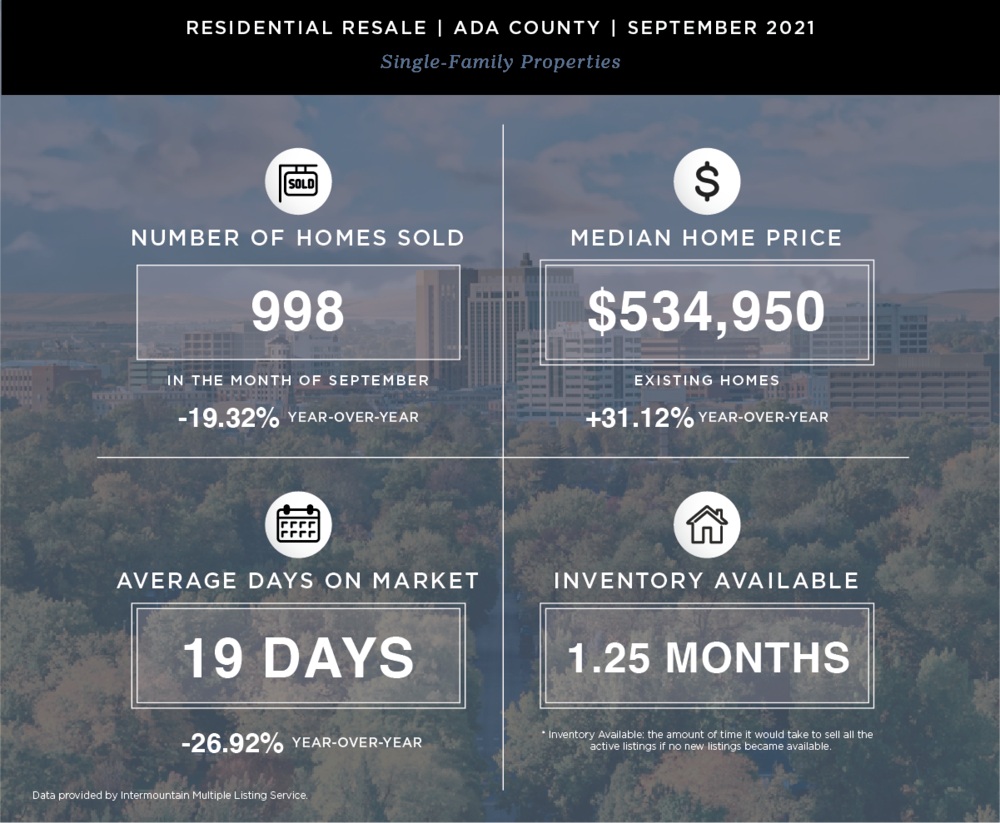 The average days on the market ticked up to 19 days, down almost 27% from last year, but up five days from last month. The total number of homes sold is down 19% from a year ago but is modestly higher than August.
For the sixth consecutive month, the supply of homes also increased, showing that the market is moderating as more sellers are offering their homes for sale. More homes on the market mean less competition, so the act of buying a home isn't as competitive as it was mere months ago.
The latest market report shows that only one-third of homes sold over the asking price, the lowest level since June 2020. Fewer bidding wars mean home prices will have a chance to moderate.
Ada County is still in the midst of a strong seller's housing market, even as inventory increases. We're still several months away from having a balanced market, but if trends continue, there's undoubtedly good news for people looking to buy a home. The one downside is that home values are expected to continue climbing, albeit at a slower pace than what we've seen in the last year.
Canyon County
Like Ada County, Canyon County also saw its median home price increase, but it too was short of the record high of $424,000 set in June 2021. The median price rose to $422,000, up 36% year-over-year, and is only down less than one-half of one percent of the June high.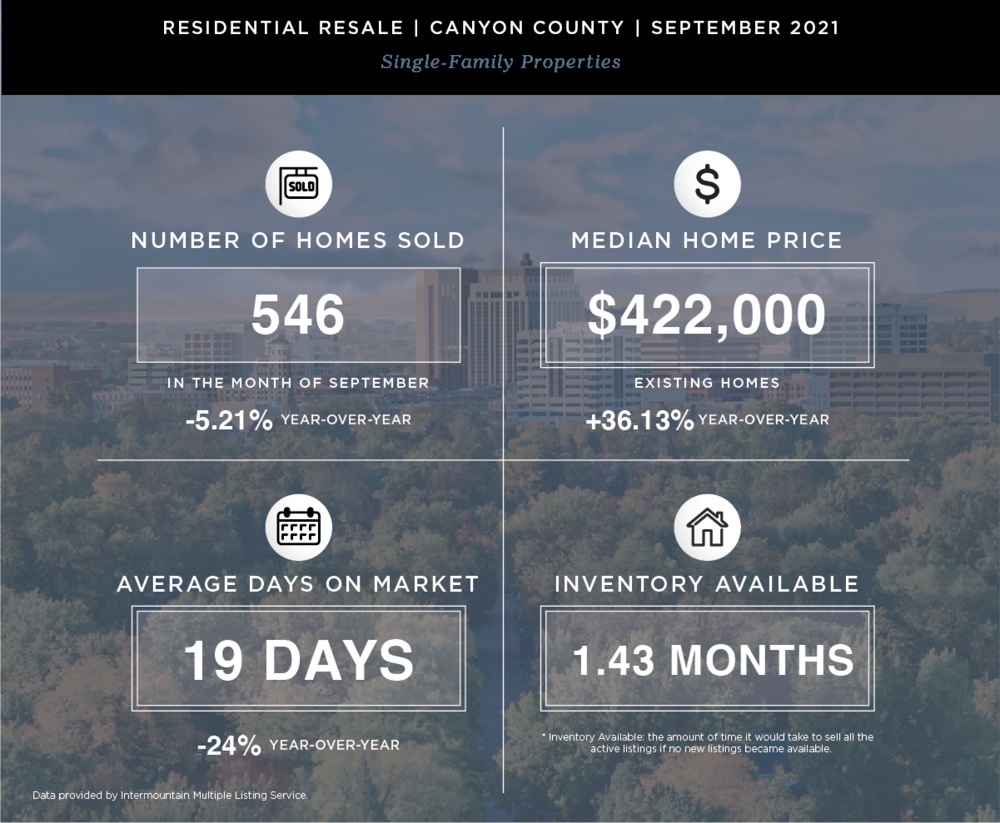 Like the Capital County, homes stayed on the market five days longer than last month, but the days on the market are still down 24% from last September. Homes continue to sell fast, but the pace has slowed. The total number of homes sold of 546 is down modestly from last year, but the number is an increase over August's numbers.
More inventory is finding its way to the market, and that's affecting buyers looking for homes. For one, there's not the frantic bidding that took place during 2020 and this year's spring months.
While both counties saw supplies increase as well as home values, the expectation is that more homes will become available, helping to slow the rapid price appreciation we've seen in recent months.
Best Places to Live in the U.S. for 2021-2022
Money Magazine has released its 50 Best Places to Live in the U.S. Surprisingly, Boise didn't crack the top ten in this year's survey. Even more interesting is that Meridian, which ranked third in last year's 50 Best Places to Live list, didn't make this year's list. However, according to the report's methodology, last year's top five cities were automatically disqualified, which explains Meridian's absence.
Money's editors and writers explored over 300,000 unique data points from Cost of Living to Quality of Life in nine different categories to arrive at the 50 best. The top city of Chanhassen hails from Minnesota. Syracuse, Utah (6), Centennial, Colorado (8), and Scottsdale, Arizona (9) are the only cities to represent the Western U.S. in the top 10.
Boise did manage to crack the top 15, checking in at number 13 on the list, ranking for its economic opportunity (it has an unemployment rate of just 3%), and its access to abundant recreational pursuits.
Idaho Among Top States at Risk for Wildfire
CoreLogic recently released its annual wildfire report (pdf), which details wildfire risk. This year, Wyoming and Idaho are the top two states nationally, with the most significant housing stock at risk of wildfire.
We see California in the headlines annually for its wildfires, and it is generally the first state that comes to mind when someone thinks about wildfires. Wyoming and Idaho are on top of the list due to the percentage of homes that could be damaged or destroyed because of a fire.
One thousand homes lost in California, a state with nearly 40 million people living in it, is a minuscule number by comparison to Idaho losing 1,000 homes with its 1.7-million-person population. Losing any homes is a tragedy, but a smaller state like Idaho with limited resources would face various challenges recovering from a devastating blaze.
The infographic paints a sobering picture of what could be, especially in Ada, Bannock, Blaine, Bonner, and Canyon Counties.
The report does say that the likelihood of a fire wiping out our region is minimal but does provide pause to consider the ramifications if a disaster were to occur.
The Last Word
Home values continue to remain near record highs. While the days of high competition for homes are dwindling, values are still expected to increase modestly over the next several months. With mortgage interest rates rising, buying power is starting to be affected, which may be responsible for some buyers exiting the market.
The final quarter of the year is going to be interesting to watch.
Main Cover Photo Credit: iStock.com/Seibel Photography LLC