The Idaho Housing Market and Real Estate News
The calendar has turned to September, and we're almost three-quarters of the way through 2021. As people have returned from vacations and schools are back in session, the Boise housing market will start to rebound, and we'll see the return of a busy residential real estate market.
August home values in the region still significantly increased year-over-year but fell modestly compared to July's record-setting numbers. Also, national home values set a record in July.
In this month's Housing Market Update, we'll look at the August housing numbers for Ada and Canyon Counties, and we'll look at some other real estate headlines making news in the last month.
Boise Real Estate Market Update
Ada County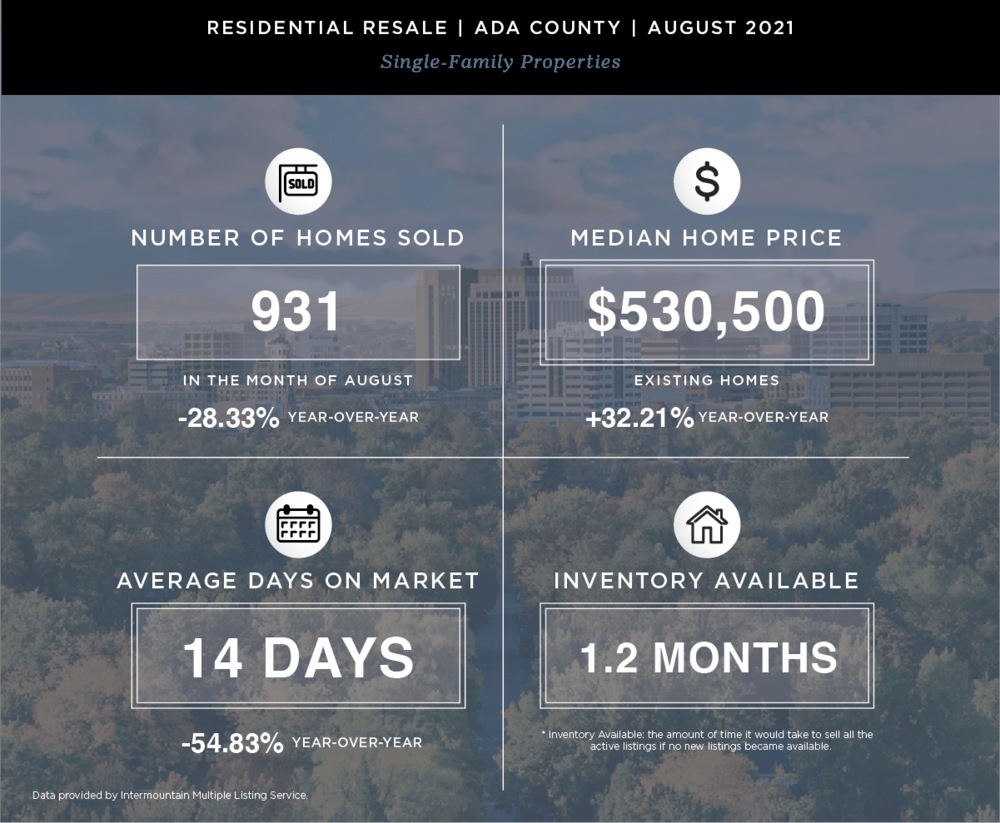 The Intermountain MLS released the Idaho Housing Market numbers for August, and home values for the month were up 32% compared to August of 2020 but were down 1.76% from the record-high of $540,000 in July. August's median price was $530,500.
For the sixth consecutive month, the supply of available homes continues to increase as the ratio of homes sold versus those on the market has almost one and a quarter months of supply. More people are putting their homes on the market, and builders are working feverishly to add new construction supply for the area, so there's optimism that this trend will continue.
Unfortunately, homes that are going on the market are still selling incredibly fast, lasting about two weeks before they go pending. That's up a day from July but is down nearly 55% from a year ago.
Ada County had 931 homes that sold which are down just over 28% from a year ago.
Demand will continue to be high for the region, and now that summer vacations are done, we're expecting to see continued price growth.
Canyon County
For the second month in a row, Canyon County saw its median home price drop from the record high set in June. The median home price was $410,500, down a modest 1.02% from July and down 3.18% from June, but was up nearly 33% since August of 2020.
Like Ada County, it also saw supplies increase, but homes continue to sell rapidly, remaining on the market for only 14 days. This is up a day from July but down 60% year-over-year. Competitively priced homes will continue to sell fast.
The number of homes sold in Canyon County was down nearly 21% year-over-year, a significant drop in sales between July and August. There's minimal concern as this is probably a seasonal issue, especially since we're seeing housing supplies increase.
As with Ada County, now that summer is over, the expectation is that people will return to the housing marketplace en mass.
Demand for the entire Treasure Valley continues to outpace supply, so homes will continue to sell fast, and values will continue their ascent. While the number of available homes continues to rise, there's still significant demand for housing that just isn't available. The area continues to be a strong seller's market, which isn't expected to change anytime soon.
And no, this isn't a housing bubble. Experts on CNBC also agree.
Census Data Shows U.S. is Getting More Diverse, and People are Heading West
As you're aware, the U.S. completed its Decennial Census in 2020, and the Census Bureau is slowly releasing its findings.
Recently, the Census Bureau published data that shows the nation's population changes and its racial and ethnic diversity growth. The U.S. has gotten more diverse in the past ten years, with the "Two or More Races" population (also referred to as the Multiracial population) growing significantly. In fact, it went from just 9 million people in 2010 to 33.8 million in 2020, a 276% increase.
The White population remained the largest ethnic group, with just over 204 million people identifying as White alone. According to the Census, this population has decreased 8.6% since 2010.
Hawaii, California, and Nevada are the most diverse states, having many residents of different reported ethnicities. Vermont, West Virginia, and Maine are the bottom three states in terms of diversity.
Meanwhile, in Idaho, nearly 79% of the state's population is White, with 13% being of Hispanic or Latino descent. There's a great chart that breaks down the ethnic groups on the Census website.
As for the population growth, western states and Texas had the most significant change in the past ten years. And no, we're not talking about west coast states.
Utah saw the largest population growth, seeing 18.4% growth in the last decade. Idaho was second at 17.3%. Interestingly, Texas was third with 15.9%, North Dakota at 15.8%, and Nevada at 15%.
According to the data, Idaho's population is over 1.8 million residents. If growth were to continue at the same pace, we'd have over two million residents by the next decennial census.
The Rise of the "Mountain Lion Economies"
Full Stack Economics had a good write-up about nine of America's 100 largest metropolitan areas that have experienced more than 50 percent home price growth since 2017. According to the article, "a combination of two events–the 2017 tax law and the COVID-19 pandemic–led to a change."
It continues, "First, the 2017 tax law cut taxes overall while limiting tax breaks for owning expensive housing. Then the COVID-19 pandemic changed peoples' lifestyles and thereby shifted their housing preferences.
These seemingly unrelated events both made housing in the most expensive metropolitan areas less attractive relative to housing elsewhere. That created an opening for a second group of cities that provided attractive amenities at more reasonable prices."
Boise was tops on the list, with home values doubling since 2017 and rent prices growing 45% since then. Since March of 2020, rent prices in Boise have jumped 39%.
Zillow's 2021 Consumer Housing Trends Report
Real estate titan Zillow has released their 2021 Consumer Housing Trends report, providing fascinating insights into national housing trends. The company's analytic division surveyed more than 2,000 homebuyers between March and August of this year.
Their findings show that the median household income for buyers was $86,000 nationally, which is higher than the overall national median income of $65,700 (2019). Buyers are also more educated than the general U.S. population, with 45% having at least a four-year degree, higher than the 34% of the overall U.S. household decision-makers.
More than half of the homebuyers are married or partnered (57%), with 40% having children under 18 in their homes.
Interestingly, most buyers are dog owners, with 57% having at least one dog.
32% of those buying a home paid for it in cash without a mortgage.
The report is an interesting read loaded with various facts and figures about the national housing market.
Home Values Rise Nationally
The CoreLogic Home Price Insights report (CoreLogic HPI) for July was released, showing home prices have risen nationally 18% year-over-year for July 2020 to July 2021.
Its report also shows Idaho as having the highest home value appreciation among all states at 33.6%. Arizona and Utah round out the top three states in appreciation, checking in at 28.4% and 25.7%, respectively.
The CoreLogic HPI predicts a modest 2.7% year-over-year gain from now until next July for national home values.
Frank Martell, the President and CEO of CoreLogic, says, "Home price appreciation continues to escalate as millennials entering their prime home-buying years, renters looking to escape skyrocketing rents and deep-pocketed investors drive demand."
The Last Word
As we march toward the fall season, we anticipate the return of a busy real estate market, with limited inventory pushing home prices higher. We know that demand will continue for housing here in Idaho, but there are a couple of things to keep your eyes on that could affect the local housing market.
First, the outcome of California's Gubernatorial Recall election may affect people's desire to leave the Golden State for Idaho and other states. We've already seen an abundance of interest and moves from California to Idaho, but if the status quo continues–the recall fails–there's a strong likelihood the exodus would increase.
The other thing is, what's going to happen nationally? As inflation is rising and interest rates are ticking higher, buying power is starting to diminish. So will more people rush to buy a home, or will they sit on the sidelines hoping home values moderate? Time will tell.
Main Photo Credit: iStock.com/Zephyr18