October 9th is International Beer and Pizza Day, and while this delicious celebration might have its origins outside our borders, the Gem State brings its own twist to the table! From coal-fired brick oven pizza to specialty beers, we asked our agents at the Mike Brown Group, the best place to grab a slice and sip on a pint!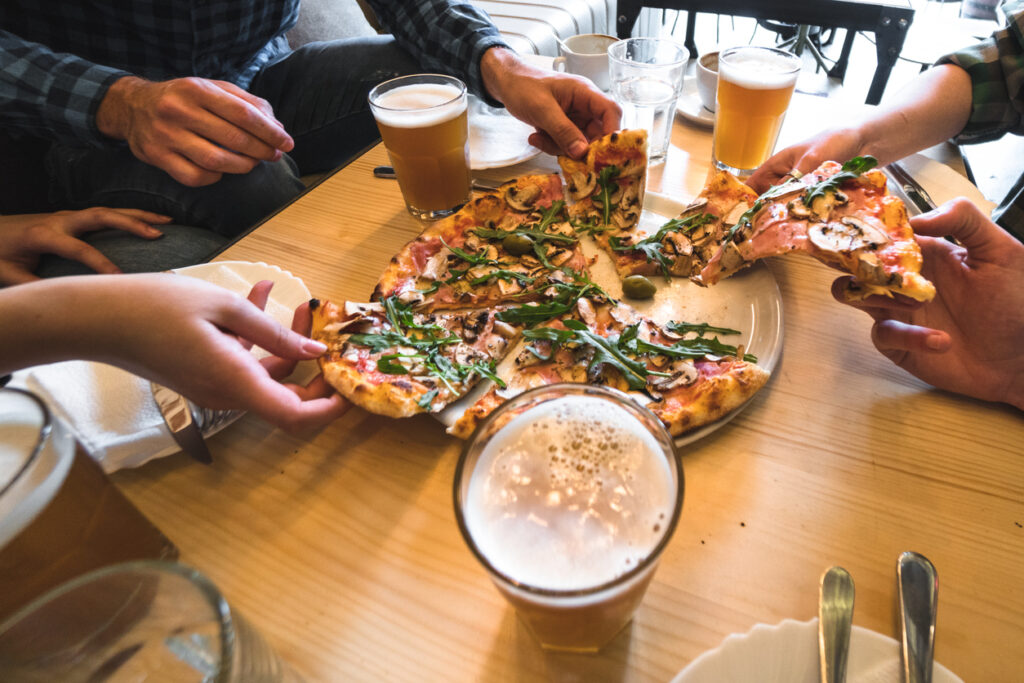 "The combination of our 72-hour aged dough, our red sauce made daily using the finest vine-ripened tomatoes we can find, and locally made sliced mozzarella make for an amazingly great pizza."
On the Menu
Zorba
Fresh Pesto Sauce • Shaved Gyro Meat • Artichoke Hearts • Kalamata Olives • Feta • Fresh Mozzarella
"Launched as a pie-in-the-sky idea in 1978, Flying Pie is now a much beloved homegrown institution with hot spots in Boise, Meridian, and Nampa. Our pizzas may go in a box, but we think outside of it (and inside of it, too, of course, because that's where the delicious lives). This out-of-the-box mindset has made us whirled famous."

"We think outside the boring to offer you a wide range of always-rotating craft, specialty & straight-up great beer."
On the Menu
Denver Pie
Canadian Bacon • Green Pepper • Mushrooms Onions • Fresh Diced Tomatoes • Mozzarella • Sharp Cheddar • Alfredo Sauce
"Grimaldi's Pizzeria serves traditional coal-fired brick oven pizza using pizza-making traditions originating in Brooklyn over 100 years ago. Using only the freshest ingredients and our 'secret recipe' dough that's hand-tossed and made in-house daily, our pizzas are prepared in our signature coal-fired brick ovens, which helps us deliver an authentic taste that's not found in conventional oven pizza. We are a family-friendly, casual yet upscale, New York-themed restaurant. It is our passion for pizza that has made us a "must-eat" for pizza lovers everywhere!"
On the Menu
Quattro Formagi
Mozzarella • Asiago • Parmesan • Pecorino Romano • Gorgonzola Cheese
"Growler's Pizza Grill is a family-owned restaurant in beautiful downtown McCall, Idaho. We specialize in pizzas with a homemade crust, made daily."
"6 beers on tap, and three are from local McCall breweries!"
On the Menu
Taco Pizza
Refried Beans • Taco Seasoned Ground Beef • Lettuce • Onions • Black Olives • Jalapeńos
"If you're craving the perfect combo of hot pizza and cold beer, come to The Front Door Taphouse. We partner with microbreweries in the area to make sure our taps are always flowing with the latest local beer."
"With over 13 taps that are always changing, The Front Door Taphouse is dedicated to bringing you the best in local craft beers. Whether you're an IPA or sour enthusiast, you can count on us to make sure you have all the options Boise, ID has to offer."
On the Menu
Wise Guy
Italian Sausage • Geno Salami • Tomato Sauce • Red Onion • Mozzarella • Grana Padano • Fresh Arugula
"What makes Red Bench Pizza unique is our combo of fast cook times, scratch ingredients, and our dedication to quality. Our thin, Neapolitan-style crust bakes in just over two minutes in our authentically crafted Marra Forni brick oven.  And at RBP, we prepare everything in-house. We grill our chicken, make our own Italian sausage, and make all of our sauces under our roof.  We use the gold standard for our crusts (organic OO Flour), our sauce (San Marzano Tomatoes), and our cured meats (Creminelli Bros Italian Meats). We source locally. You can taste the difference from using local Italian family Ferranti Pasta, local bread maker Acme Bread, and Eden Creamery Goat and Chevre cheese."
On the Menu
Diana Ross
Mozzarella Pepperoni • Housemade Italian Sausage • Green Peppers •  Cipollini Onions • Mushroom Medley • Black Olives • Red Sauce
"PROOF's owner, Bryan Forcina, is passionate about curating exceptional dining experiences at affordable prices. As the former general manager at Eureka in downtown Boise, Forcina watched the rapid growth in Meridian, Eagle, and Star and saw the need for a unique, upscale but approachable restaurant, the kind of place that could serve everything from business lunches to happy hour snacks to special occasion meals, at an affordable price. After graduating from the San Francisco Culinary Academy in 2000, Forcina spent several years working in San Francisco Bay Area high-end kitchens, then traveled to Europe to hone his culinary skills. Forcina, his wife, and their four children relocated to the Treasure Valley almost a decade ago. Forcina opened the Meridian Yard House as their Executive Kitchen Manager before serving as Executive Chef at Ruth's Chris Boise location. Forcina is passionate about local ingredients, which he incorporates into unique flavor combinations in his craft pizzas."
On the Menu
Bee Sting
Spicy Italian Sausage • Mozzarella • Herbed Ricotta • Garlic Sauce • Hot Honey Drizzle
"We couldn't find a company that allowed for powder days and charging the Gorge, so we started our own. Turns out, when you organize a beer and pizza company around ripping Cascade powder turns and riding Columbia swell with your friend, you end up creating something special and uniquely Northwest. That was 1993, and we are still as stoked as the day we started."
On the Menu
Legion of Shroom
Olive Oil aBse • Mozzarella • Italian Sausage • Goat Cheese • Fresh Garlic • Shiitake, Button, and Portobello Mushrooms
While International Beer and Pizza Day is a global festivity, Idaho knows how to put its distinct stamp on the celebration. Whether you are a vegetarian or a meat lover, prefer thin crust or deep dish, alfredo sauce, or vine-ripened tomato sauce– the perfect pizza isn't hard to find. From McCall to Boise, pair your favorite slice with your favorite beer, kick back, and enjoy one of the most internationally embraced traditions!