Have you had your fill of winter snow adventures and spending time indoors with the family trying to keep everyone entertained? Although we may not have seen the last snow for the season, spring is just around the corner here in the Boise area. Cold winter days will soon turn warmer, and with daylight savings time beginning March 13th, it will soon be time to shed the winter coats and get excited about our area's spring events and activities.
With longer hours of daylight and warmer temps, there is a renewed energy that comes along with springtime. The list of fun activities to attend in March is something we can all get excited about! March kicks off spring events for festivals, music, art, and family-friendly events all across the area. We've outlined several of the events happening in Boise in March, so you can find the perfect adventure for you and your family!
Update your Home 
As the snow melts and the trees begin to bloom, it signals a new beginning and we often feel the urge to create something new or hit the refresh button, oftentimes, within our homes. As you look around your house, you may want a fresh start with some spring cleaning and organizing, or you may find yourself wanting to make some updates and improvements. If you are looking for inspiration to spruce up your home this spring, don't miss the Boise Spring Home Show, March 17th-20th.
Idaho's biggest Home Show is a must-see for gathering ideas to spruce up your home and breathe new life into your living spaces. The Boise Spring Home Show showcases companies that specialize in helping your home look its best. Be inspired by a backyard oasis or get trendy new ideas for updating your kitchen.
If you're new to the area or need inspiration for what to plant in your garden this spring, be sure to attend the Boise Flower and Garden Show, March 25th-27th. Peruse new products, gather creative ideas, and get expert advice on what to plant in your yard that will thrive in the Boise climate. You'll get inspiration for everything you need to make your yard and garden beautiful this year. There are over 100 vendors attending this event, and wine tasting and live music will add to the entertainment.
More Festivals & Events! 
Grab Your Green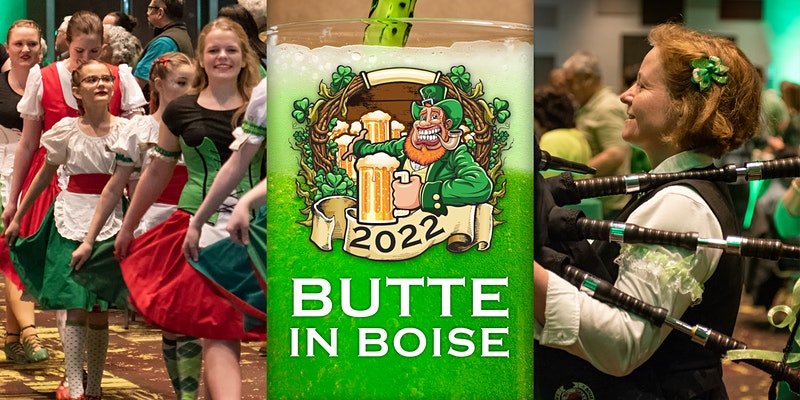 If you can't make it toButte, Ireland, for the biggest St. Patrick's Day celebration in the world, then attend the Butte in Boise St. Patrick's Day Celebration on March 17th. The festival will have pipes and drums from the Boise Highlanders, dancers, and chefs cooking traditional Irish meals for you to enjoy. You can also grab a pint of green beer as you kick back and watch all the fun.
If you want a family-friendly St. Patrick's Day celebration, be sure to sign up for the YMCA St. Patrick's Day Run and the St. Patrick's Day Fun Run on March 12th. Dress up as a Leprechaun or get decked out in your green gear and have fun walking or running in Downtown Boise. Proceeds of the run help kids at the YMCA and this event teaches kids the fun and excitement of running and track and field events.
More St. Patrick's Day Activities: 
The Biggest Musical Festival in Idaho
Treefort Music Fest is the premier festival in Idaho packed with five days of music, new films,  food, and fun for the entire family. You'll hear a variety of music from local musicians as well as unique artists from around the country. This festival isn't just for adults. Children 12 and under get in free to the music fest when accompanied by an adult with a Treefort pass.
In addition to live music on multiple stages, Treefort Music Fest has different events offering entertainment and education for artists, storytellers, and entertainers. Here are a few activities you can attend with your Treefort Music Fest pass.
MORE ART AND MUSIC: 
Treefort Music Fest is the biggest music and arts festival in Idaho, but there are even more events offering art and music in Boise this month. Check out these different events!
Family Fun in Boise
Many families will be enjoying spring break near the end of March, and while many vacation or take a trip outside of the state, there are a variety of opportunities for local fun in the Boise area.

Disney Princesses-The Concert is sure to enchant the entire family with music from all the Disney movies. Broadway performers will sing various songs and behind-the-scenes stories from playing characters on stage and film. Although the performers will not be dressed in costume, this event will have you singing Disney hits all weekend long.
Are you looking for something with a little more grit? Be sure to grab your tickets to Monster Jam on March 11th and 12th. You'll see tricks, speed battles, and high-flying stunts as these trucks battle it out! Big wheels and tricked-out trucks compete to be competitors in the Monster Jam World Finals®  and hopes of becoming the World Champion.
Are you looking for a Spring Break Camp in Boise for your kids? If your child loves animals and would like to learn more about them and their habitat, then the Zoo Boise – School Break Zoo Campwill be a perfect way to spend spring break. Zoo Boise lets your child have fun learning about animals with close-up encounters, zoo tours, nature walks, and games to teach and entertain.
More activities for the Family in Boise
Stay Active
It's time to get out and enjoy more than the slopes this spring. Attend the Treefort Festival, attend a St. Patrick's Day party, or just sit back and relax while you listen to music from the Boise Philharmonic Symphony Orchestra. No matter what you choose, there is an activity for you to enjoy with warmer days and fun nights of spring in Boise and the Treasure Valley.