Without a doubt, most of us have a love affair with burgers. From the classic cheeseburger to more innovative creations like the peanut butter burger (yes, you read that right), burgers have become integral to our national cuisine. And what better way to celebrate this love than by dedicating a whole day to our beloved burgers?

That's right, National Hamburger Day is here, and we asked our agents at the Mike Brown Group what their favorite burger joint/ burger is! So before you fire up the grill and flip a burger of your own, let's explore the beloved burgers of the Treasure Valley and beyond!
---
Making burgers since 1953! A staple on Caldwell Blvd, this burger joint is known for its unique long burger patties. Think hot dog length, with a burger inside the bun!

Wheeler Dealer Burger
Double bacon, pickles, special sauce, cheese, and tomatoes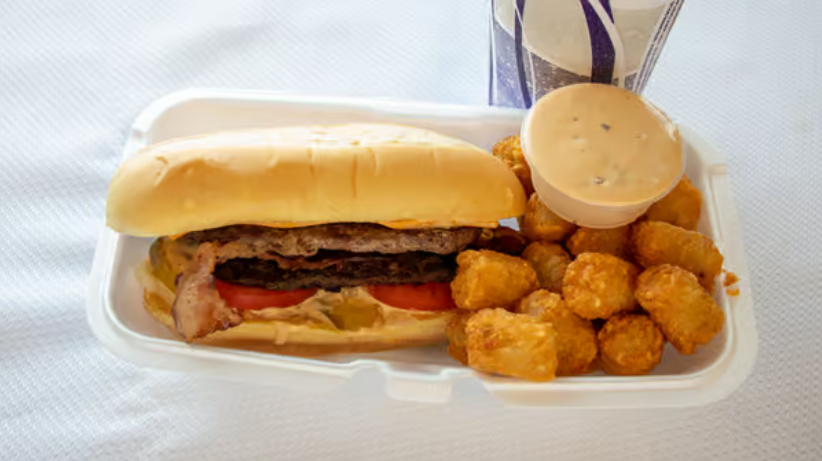 ---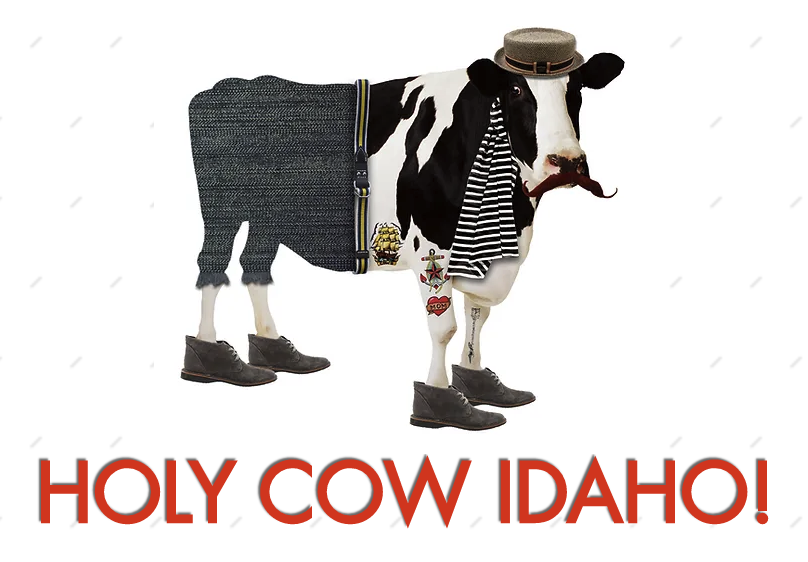 HOLY COW! An ode to their love of the burger. Their delicious burgers are made from the best local meats, topped with the freshest ingredients, and placed in a toasted brioche bun!


Sam Elliot(pictured)
Third-pound grass-fed local Wagyu beef. Hickory smoked pulled pork, bacon, American & cheddar cheese, bbq sauce, cowboy mayo. Served on a Toasted Brioche Bun. Photo: @holycowidaho
Rude Boi
Third-pound grass-fed local Wagyu beef patty, charred jalapeño, house-made pimento cheese, bacon, roasted jalapeño aioli, and a toasted brioche bun.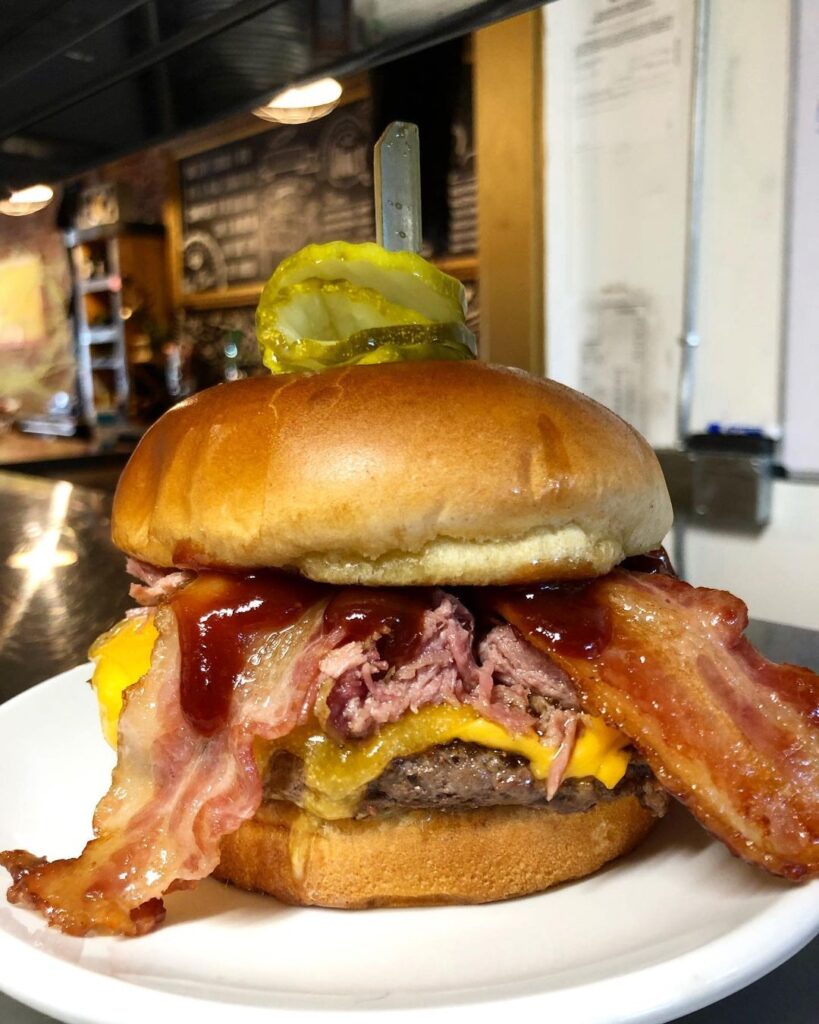 ---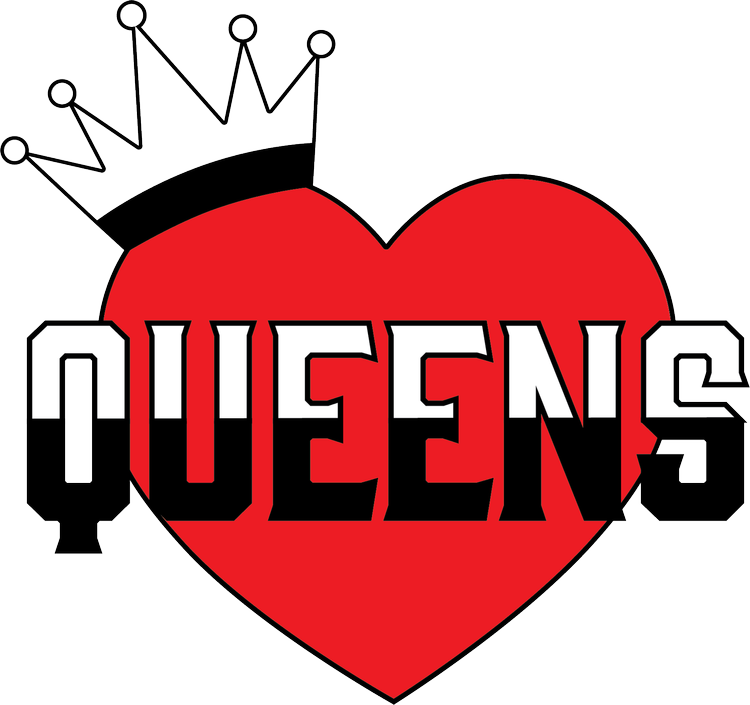 Chef Michael's in-house, all-from-scratch, and local ingredients cooking trailer is the talk of the town! Chef Michael has worked in restaurants, hotels, and catering events in California, Texas, and Louisiana. After 3 years as the Executive Chef of Chandlers Steakhouse & Seafood, he established Queens Food Trailer, and it's been a hit ever since!
Queen Burger
4-ounce Angus beef, cheddar cheese, romaine, tomato, pickle, and fry sauce.
Western Queen Burger
4oz Angus beef, onion rings, bbq sauce, cheddar cheese, and smoked pork belly.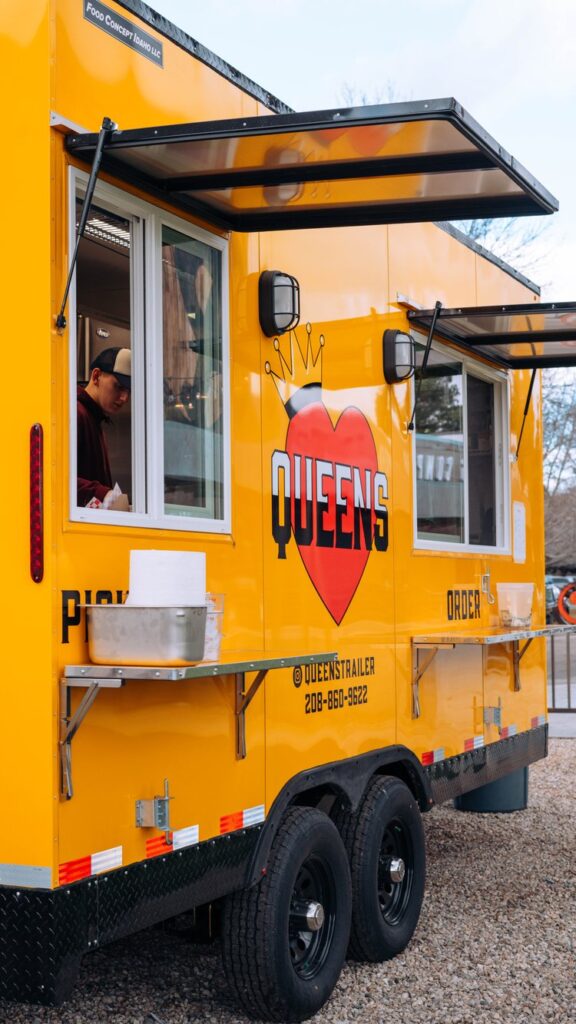 ---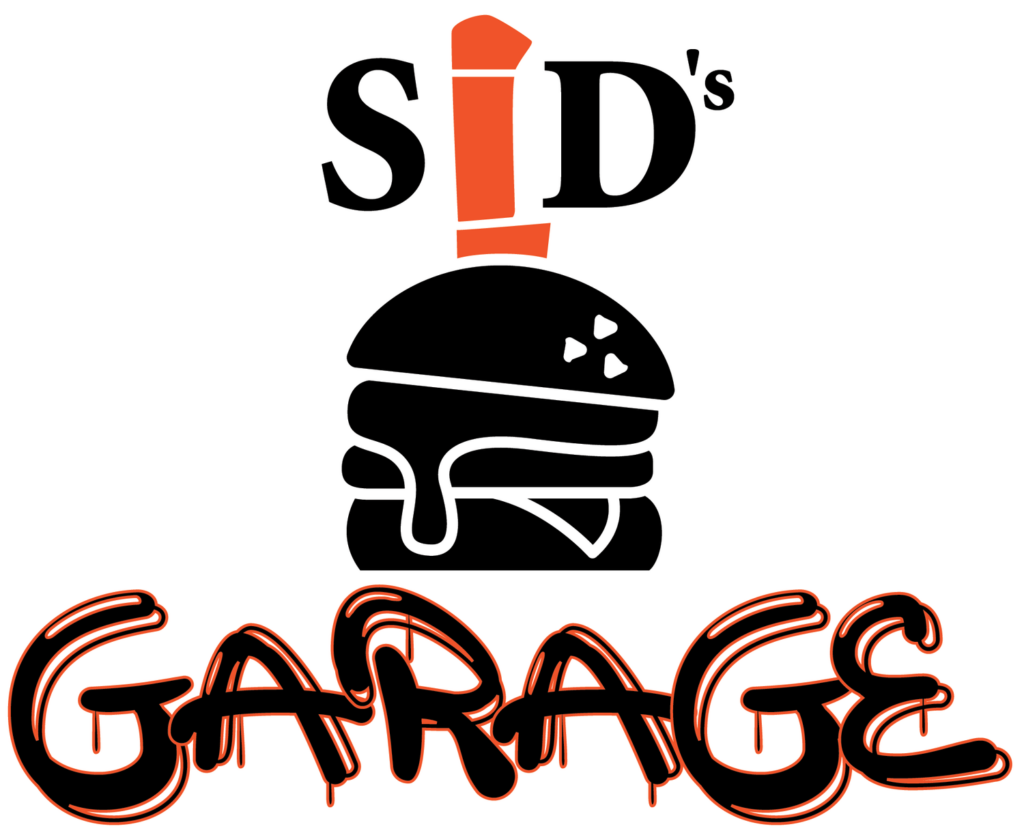 The 1/2 lb Wagyu and Black Angus burger blend is locally sourced from Snake River Farms & Double R Ranch.
Jekyll & Hyde Burger
1/2 lb. signature patty, swiss cheese, caramelized peach, stone ground mustard, bacon, onion jam… all on a toasted Brioche Bun! Photo: Sid's Garage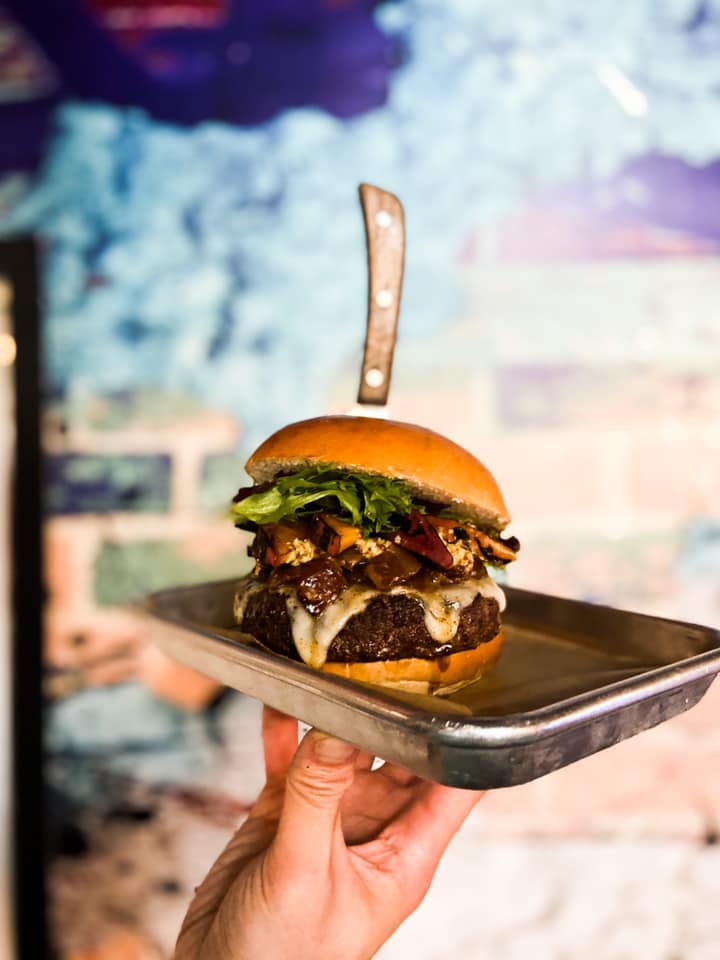 PBB&J Burger
Creamy Peanut Butter, Raspberry-Cayenne Jam, Candied Bacon, Cheddar, and Lettuce. Photo: Sid's Garage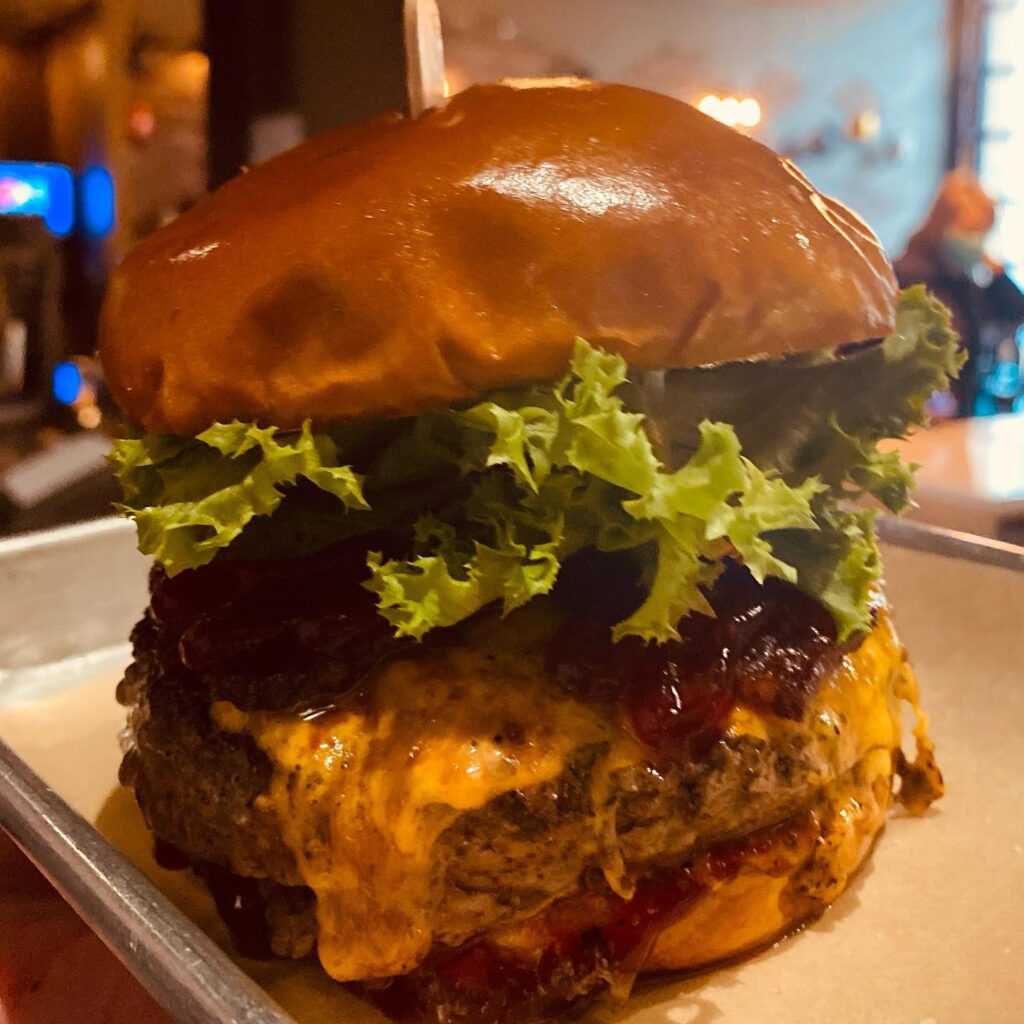 ---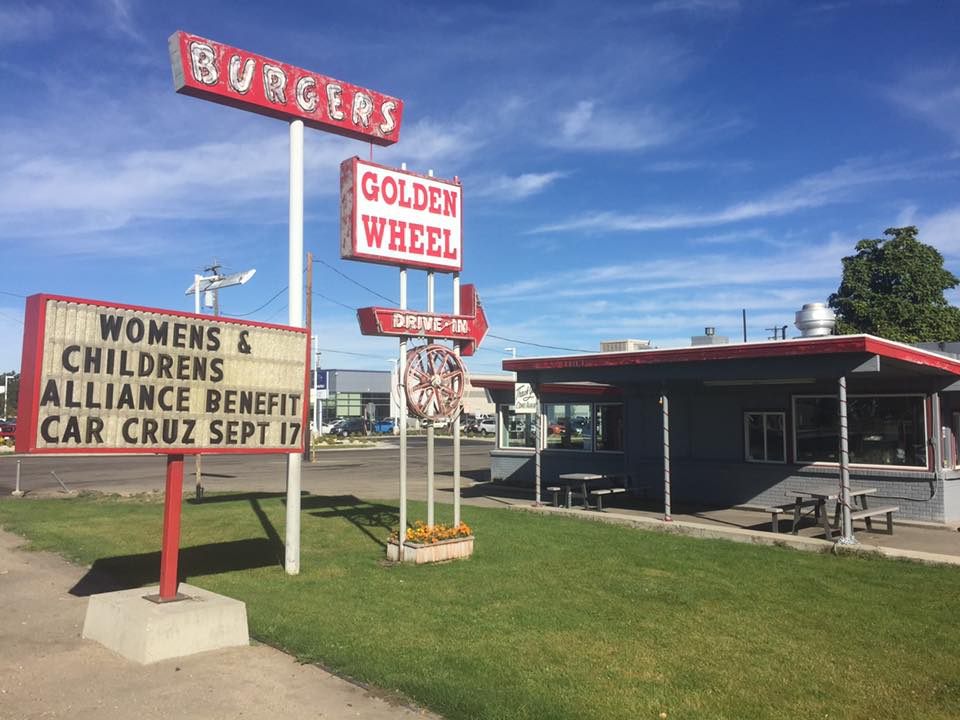 Serving burgers since the '60s. Jim and Ele Desaro transformed the Golden Wheel into a family business– flipping burgers, manning the till, and welcoming guests for 46 years!
Hawaiian Burger
Beef patty, ham, swiss cheese, pineapple, lettuce, teriyaki sauce, sweet & sour sauce, and their special sauce!
Western Burger
Beef patty, bacon, cheddar cheese, onion rings, bbq sauce, mayo
---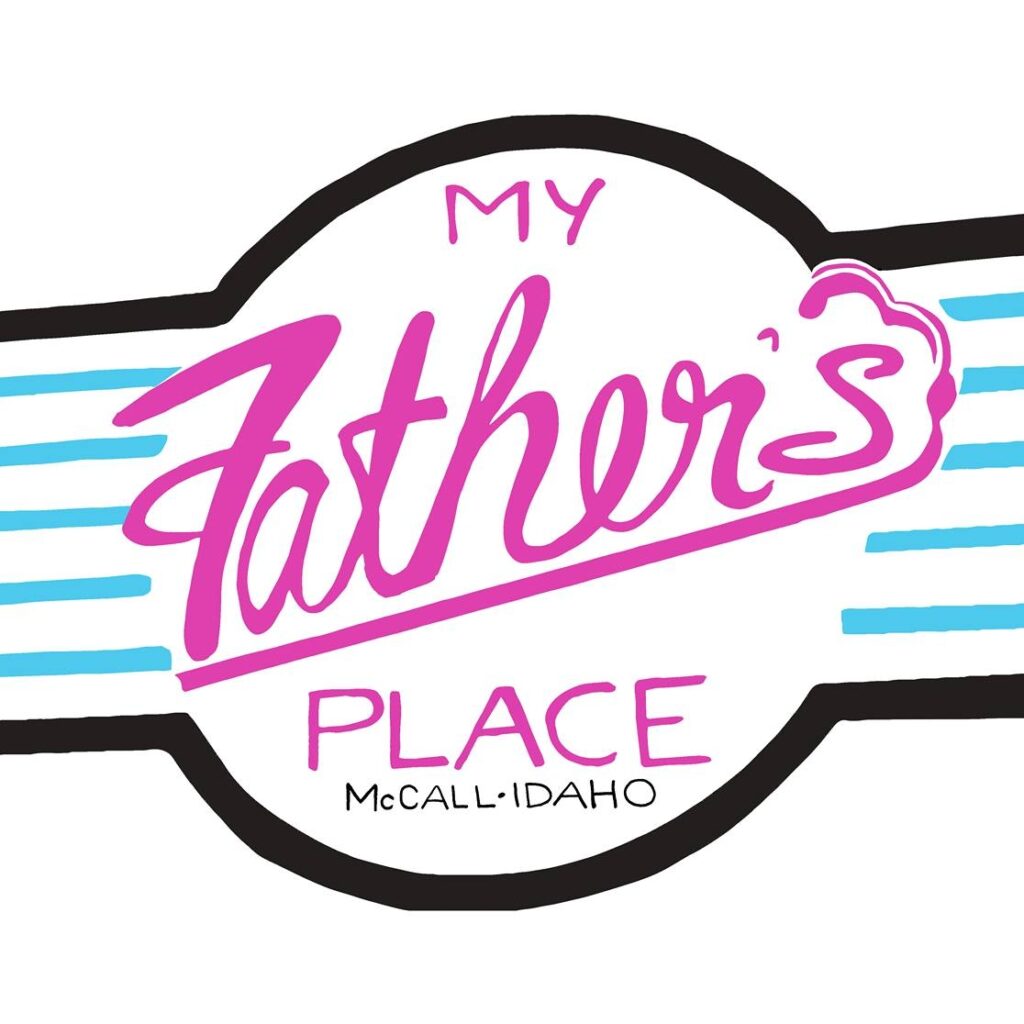 Family-owned and operated in McCall since 1989! Artisan burgers that are true to their roots and pay tribute to local influences. Whether it's a Smokejumper, Helitack, or Hotshot, there is certain to be a taste for everyone to enjoy. Burgers are cooked medium well served on a toasted bun with in-house sauce, lettuce, pickles, onions, & tomatoes.
Helitac
1/4lb blue cheese, bacon, bbq sauce, and topped with an onion ring! Photo: @myfathersplace
SmokeJumper
Double 1/4lb with bacon, Ham, and Cheddar! Photo: @myfathersplace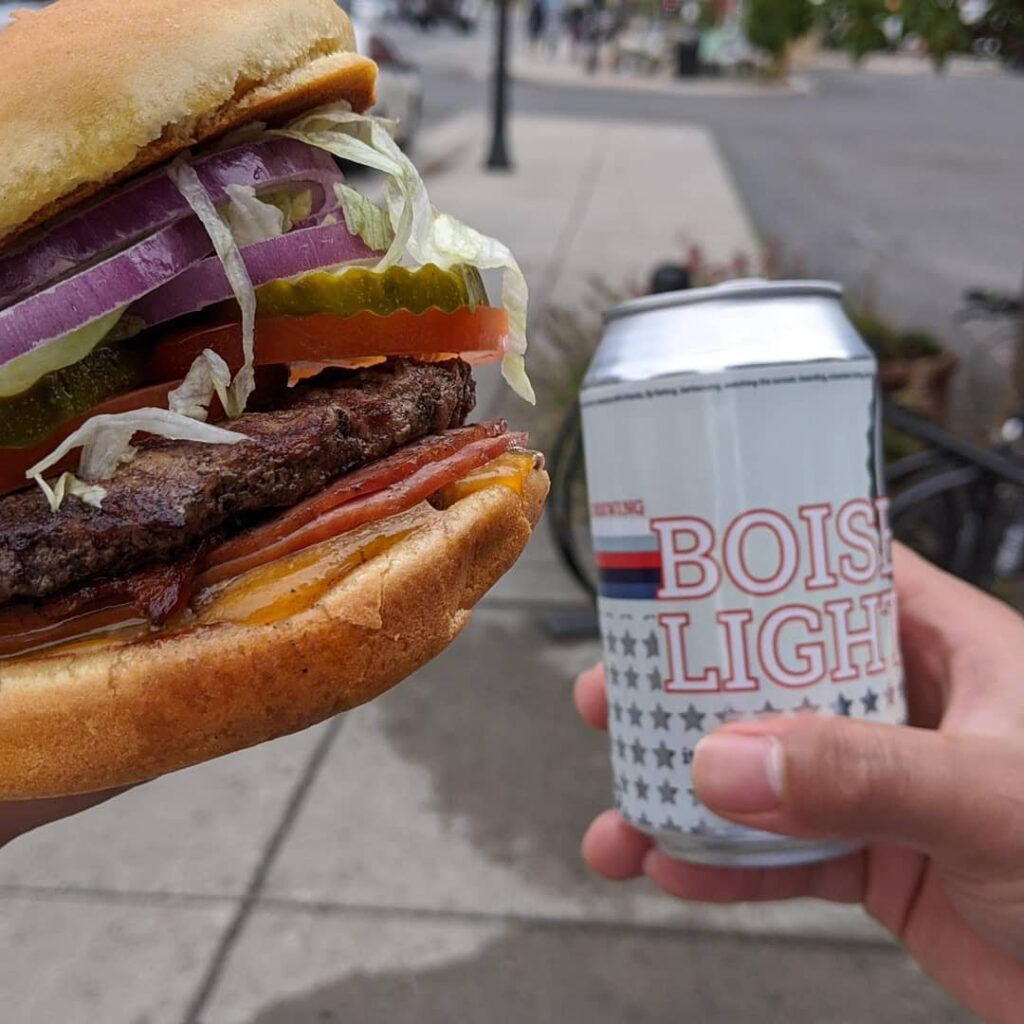 ---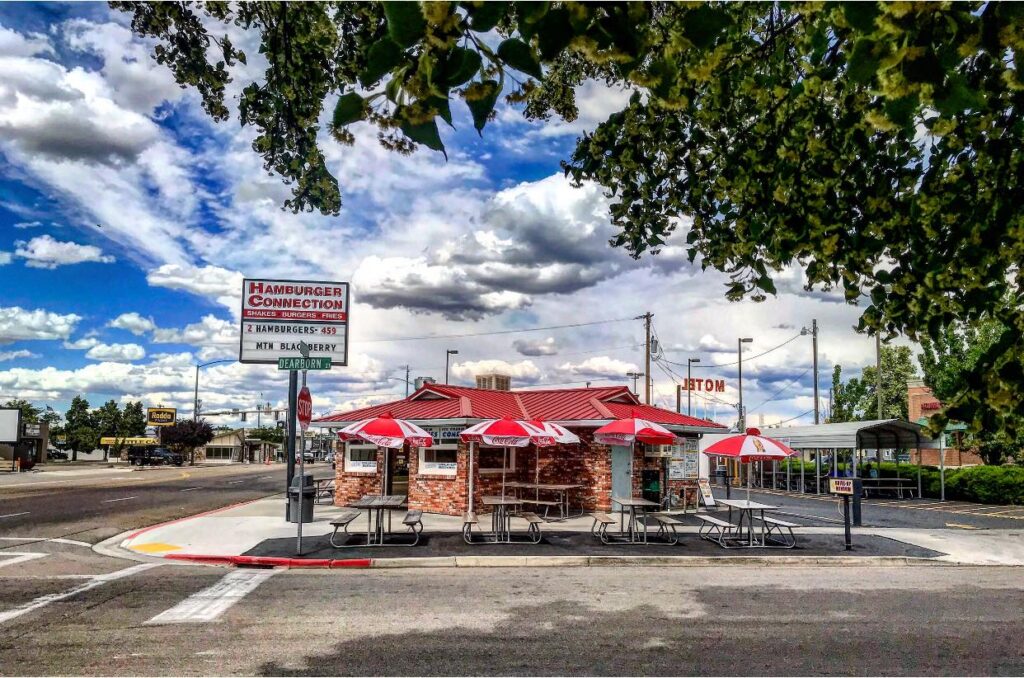 Gaining fans since the 80s, you won't want to miss out on the best burger joint in Caldwell! Many Hamburger Connection fans say that you won't find a better burger in Canyon County, and that's partially because their "special sauce" isn't just for the fries!
Steak Sandwich
1/4lb, special sauce, pickles, onion, and lettuce
---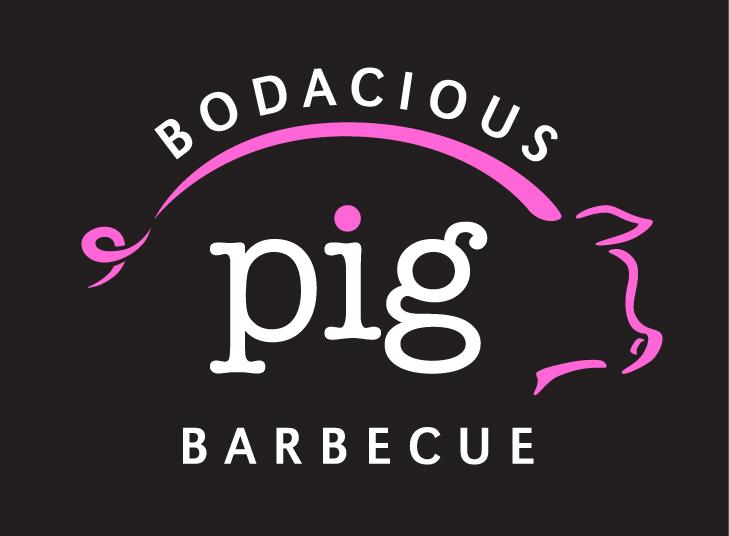 Pit-master Joel brings over 15 years of experience to the table cooking Bodacious Pig's barbecue. Joel gets up early to smoke the meats fresh each day! But BBQ isn't the only thing the Bodacious Pig has mastered!
Bodacious Burger
Freshly ground brisket & sirloin blend with mayonnaise, cheddar cheese, lettuce, onion & tomato, served on a freshly baked brioche bun. Photo: @bodaciouspig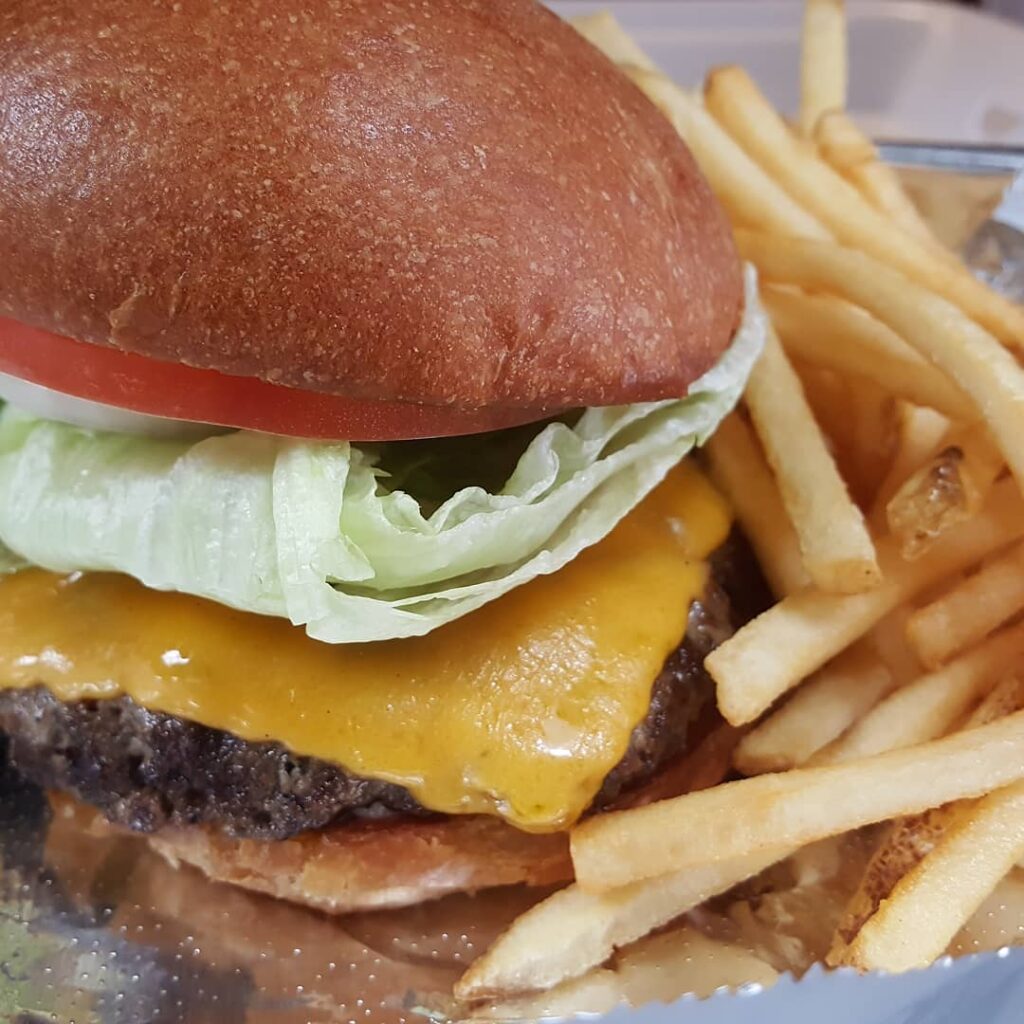 ---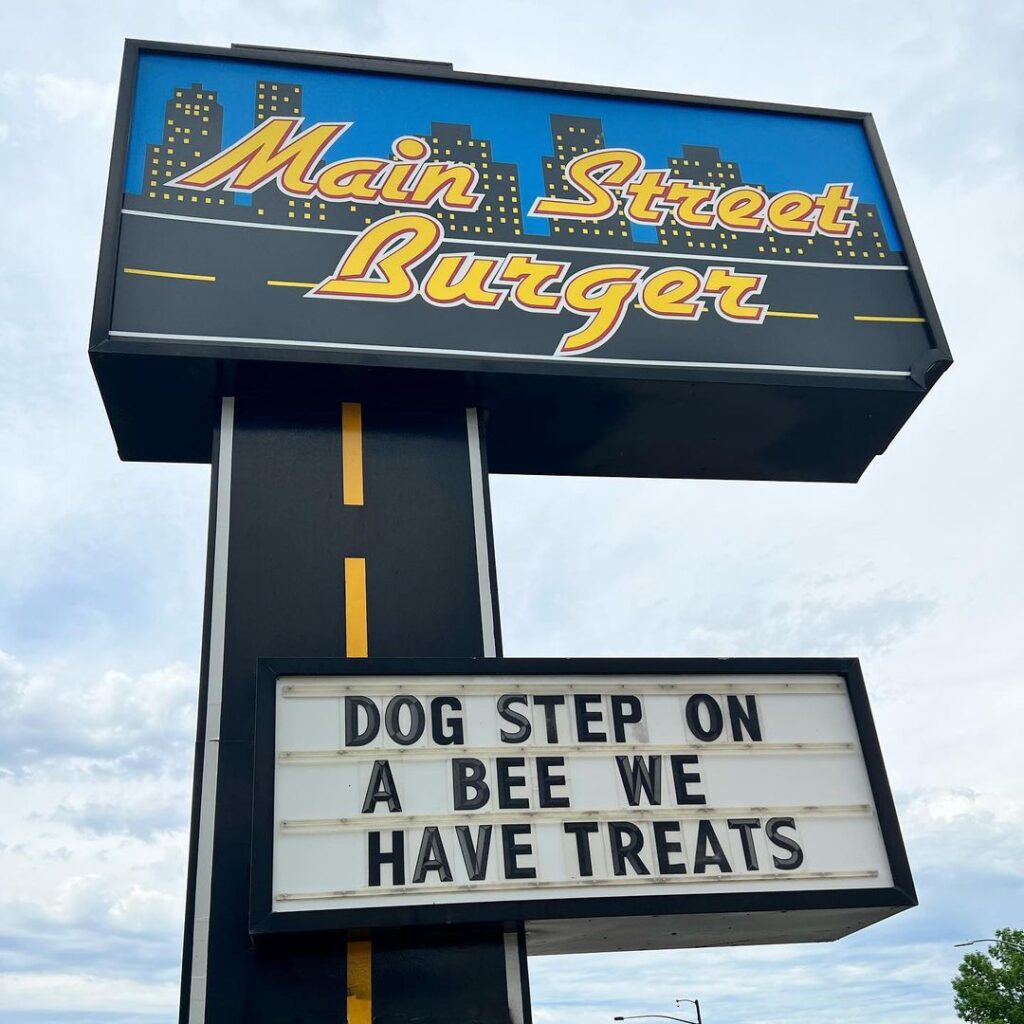 Not your average fast-food burger joint. All burgers are made with all-natural beef! Burgers are grilled fresh, served on a cornmeal-dusted bun, with green leaf lettuce, real 1776 mayo, sliced pickle, fresh red onion, and tomato!
Guacamole Bacon Cheese
Organic ⅓ lb burger, real 1776 mayo, sliced pickle, fresh red onion, tomato, a layer of guacamole, and bacon cheese– served on a cornmeal-dusted bun!
---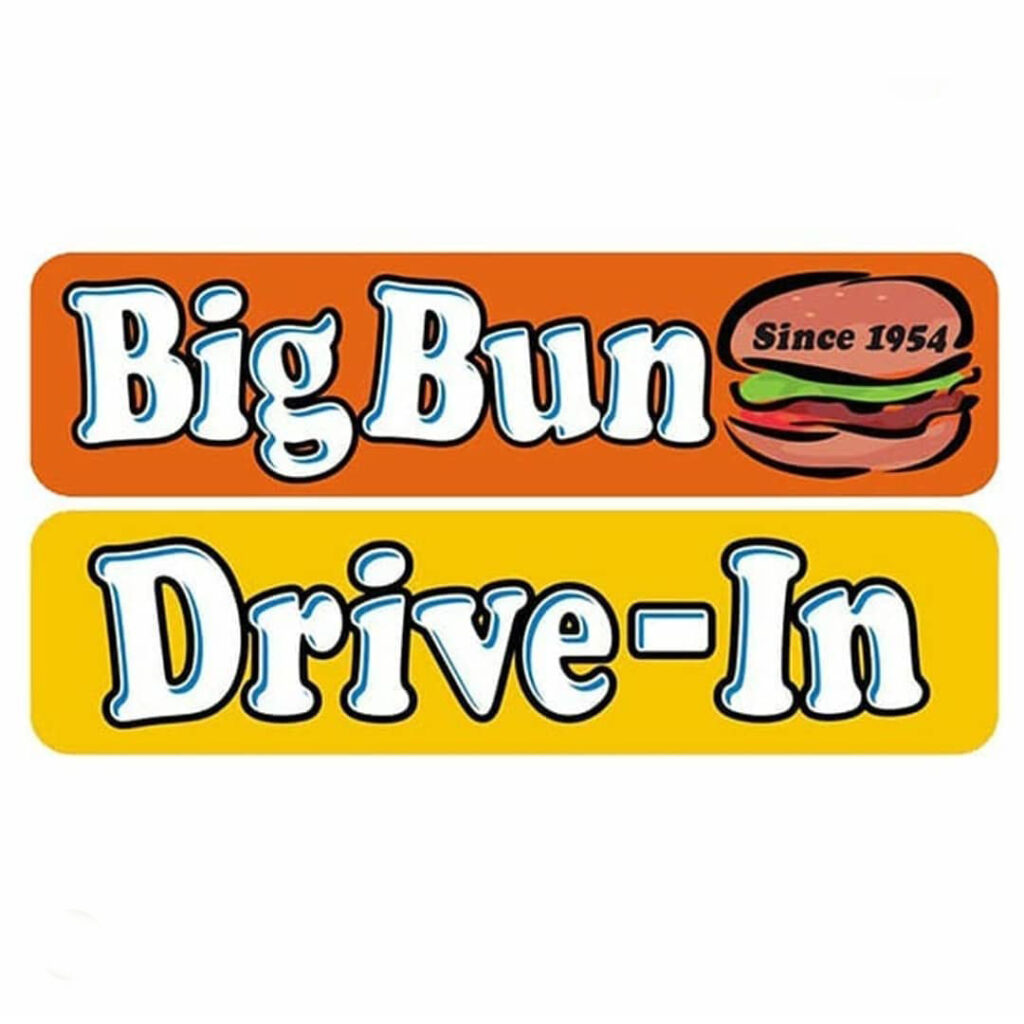 Top-of-the-line, never frozen, beef comes from family-owned ranchers located in the northwest and is raised without antibiotics or hormones and fed a 100% vegetarian diet. Everything is made to order, so you're guaranteed fresh, tasty food every time.
Garrett Burger
¼ lb burger, lettuce, mayo, and tomato
Huckleberry Bacon Bleu Cheese
Huckleberry, pepper jelly, bacon, bleu cheese, lettuce, and red onion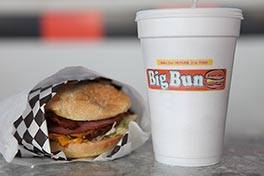 ---
---
National Burger Day is the perfect opportunity to showcase the variety of delicious and juicy burgers in and around the Treasure Valley! From gourmet creations to a simple classic cheeseburger– there is a burger with all of your favorite ingredients waiting for you to enjoy!
If you have a favorite burger that you would like to share, we would love to hear about it! Happy National Burger Day!