National Potato Day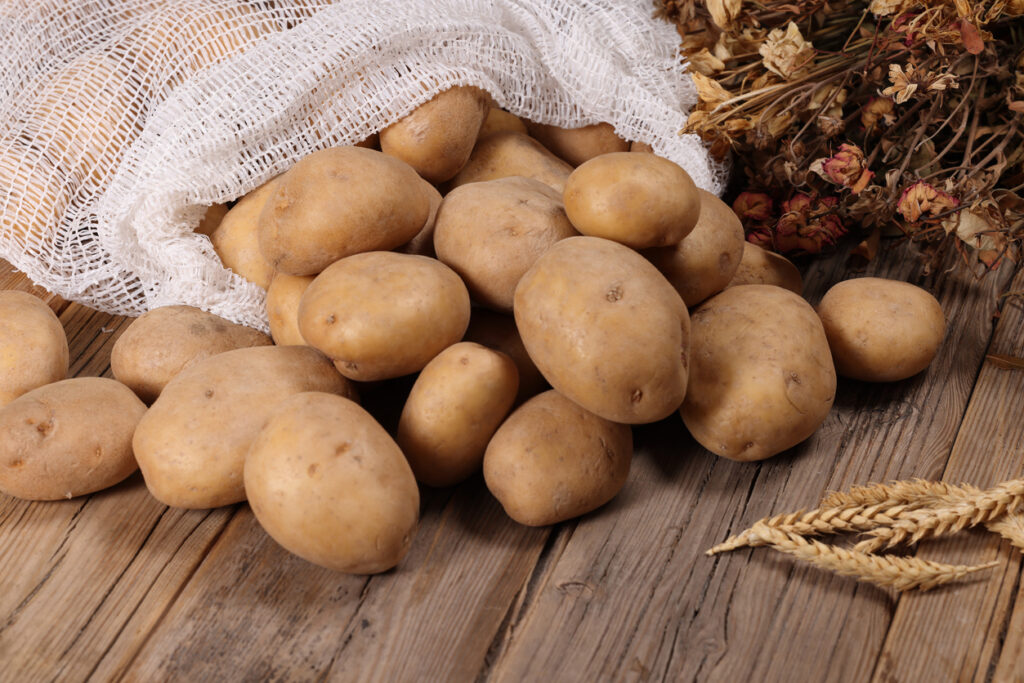 Potatoes. Those humble and versatile tubers hold a special place in the hearts and kitchens of people around the world, but in the state of Idaho, they are more than a delicious multi-purpose vegetable; they are a treasured cultural icon.
With National Potato Day approaching, we couldn't NOT write about the rich history and flavorful journey of the potato. After all, Idaho is the heart of potato country!
In the Beginning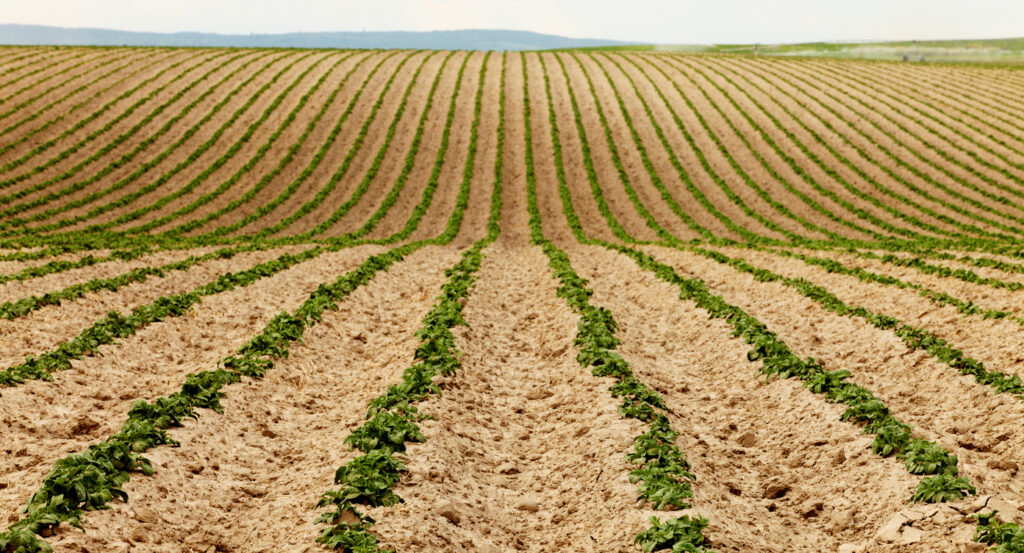 Idaho's association with potatoes is as timeless as the rolling fields that stretch across its landscapes. From the volcanic-rich earth to the crisp mountain air, every element of Idaho's geography conspires to create the perfect conditions for growing some of the finest potatoes in the world. As we celebrate National Potato Day, we pay homage to the hardworking farmers who have tended to these fields for generations, nurturing the soil and cultivating a legacy that stretches back to the pioneer days.

The potato made its way to what is now Franklin County by way of William Goforth Nelson. He recorded in the summer of 1860: "We all camped in our wagons the first summer, but we all got homes built by winter; these houses were built in the present meetinghouse lot in a fort. I spent the summer working on ditches and canton roads and hauling poles and wood from the canyon. I raised thirty-three bushels of potatoes, which is all that was raised in Franklin that summer except for a few onions."
Kings of the Potato!
Joe Marshall, often hailed as the "Idaho Potato King," made significant contributions to the potato industry after moving to Idaho in 1902. He diligently monitored every stage of potato production, from cultivation and harvest to storage, marketing, and shipping. Marshall eagerly shared his extensive knowledge with fellow farmers, earning him wide recognition as an authority on potatoes.
Thanks to Marshall's foresight, seed producers in Idaho's high-altitude regions now appreciate the significance of certified seeds.
Recognizing Idaho's distinctive Russet Burbank potato, other distributors were quick to emphasize quality, making it the cornerstone of Idaho's potato industry.
John (Jack) R. Simplot is another name deeply associated with the potato industry. Simplot held multiple titles, including the state's most prolific fresh potato shipper, the top Idaho potato grower, and the leading processor. His remarkable ability for innovation, trailblazing efforts, and daring approach to exploring uncharted territories in production and marketing set him apart.
Simplot started building his potato dynasty in the 1930s as a fresh shipper, aggressively expanding his customer base and acquiring competitors. By 1940, he emerged as Idaho's leading potato shipper, boasting thirty-two packing warehouses stretching from American Falls to Jamison, Oregon. That year, he dispatched 10,000 cars of Idaho potatoes to various destinations across the U.S.
All Things Potato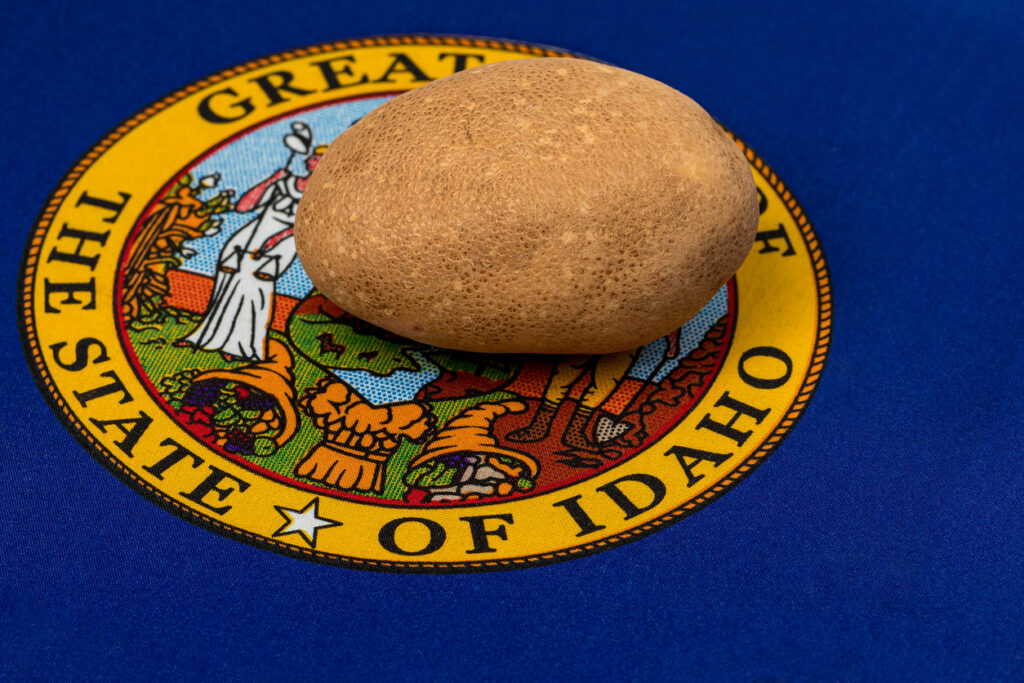 National Potato Day is a feast for the senses in Idaho, where the potato takes center stage, not only for culinary creations but a vacation destination, a symbol of celebration, and even a traveling truck!
Idaho Potato Hotel
This 6-ton faux potato has traveled over 175,000 miles across the country. It would take 10,000 years for it to grow, two years and nine months for it to bake, and it would produce over 1,000,000 fries!

Yes, it's a real hotel, and no, it doesn't come with butter and sour cream. Perfect for potato lovers and those who just fancy unique digs! And we can't fail to mention this unique hotel comes with a furry resident! Dolly, the Jersey cow, loves the company of her human guests, and she would love it if you could come for a visit! So, peel away from the hustle and bustle and have a tuber-rific stay!
The Potato Drop
Ditch the glittery NYC ball drop on NYE and make way for Boise's GlowTato! Every New Year's Eve, Boise hosts its iconic Idaho Potato Drop, where crowds eagerly await the descent of this glowing spud as the clock strikes twelve. This isn't just any potato—it's a dazzling replica of the mighty Idaho potato spruced up for the occasion. With fireworks and festive events as its backdrop, the GlowTato offers an unforgettable twist to welcome the new year.
Famous Idaho Marathon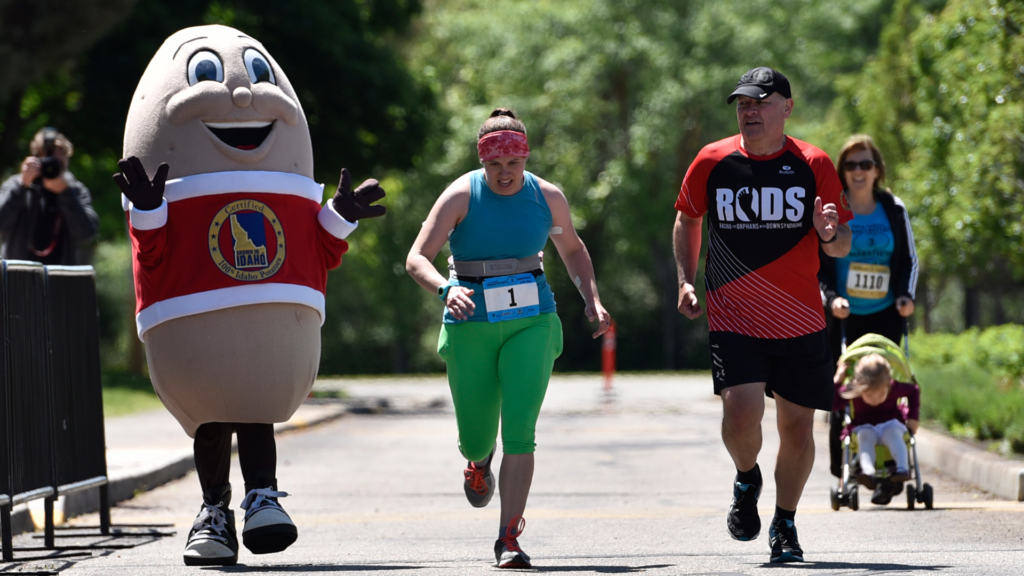 Every year at Boise's Famous Idaho Potato Marathon, over 2,000 participants dash across the finish line across all events. This iconic race offers a full marathon, half marathon, 10K, and 5K. Notably, the half marathon alone boasts over 1,000 finishers annually.
Famous Idaho Potato Bowl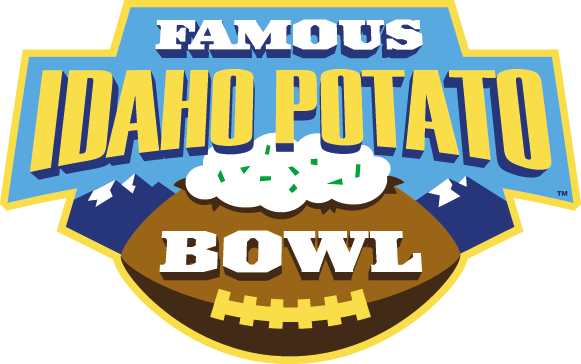 The Idaho Potato Bowl is a collegiate postseason bowl game, championed by the Idaho Potato as its prime sponsor. While the bowl isn't directly overseen by the Idaho Potato Commission, their sponsorship ensures a bounty of potato delights at the match.
Annually staged at Albertsons Stadium within the Boise State University grounds, one can always anticipate a visit from Spuddy Buddy. The event's sponsorship is designed to showcase Idaho's pride and joy to the global audience: the unmistakable Idaho potato.
Idaho Potato Tour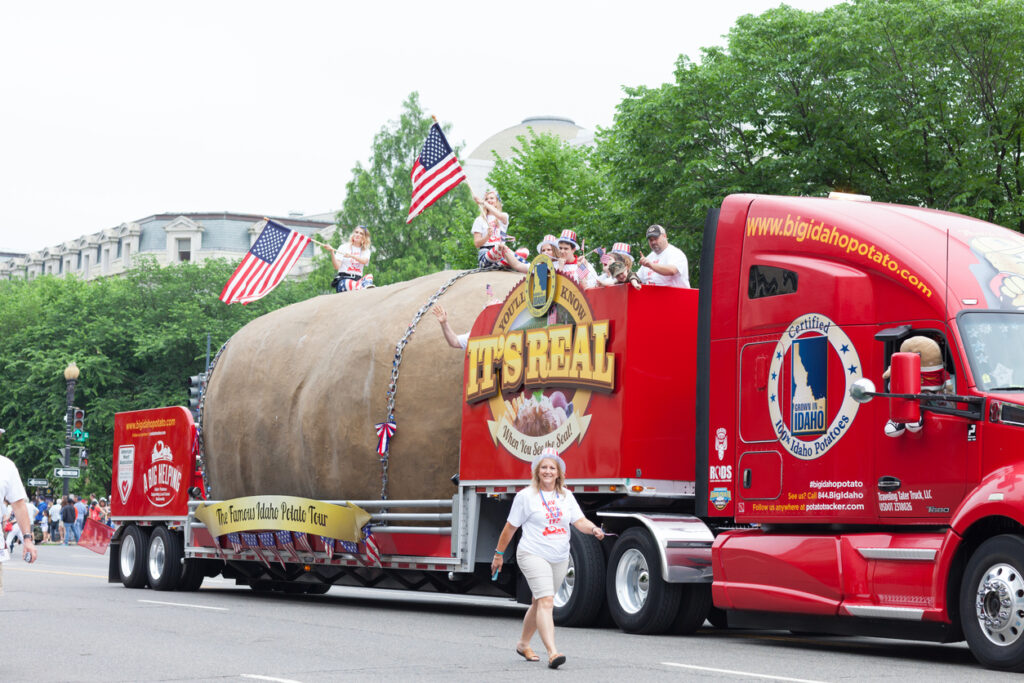 The Idaho Potato Commission spearheads the Big Idaho Potato Truck initiative. Originally crafted in 2012 to mark the commission's 75th anniversary, its success led to its continuation beyond the inaugural year.
Journeying across the nation, the Idaho Potato Truck advocates for the iconic Idaho potato, spreading its legacy from coast to coast.
Idaho Potato Museum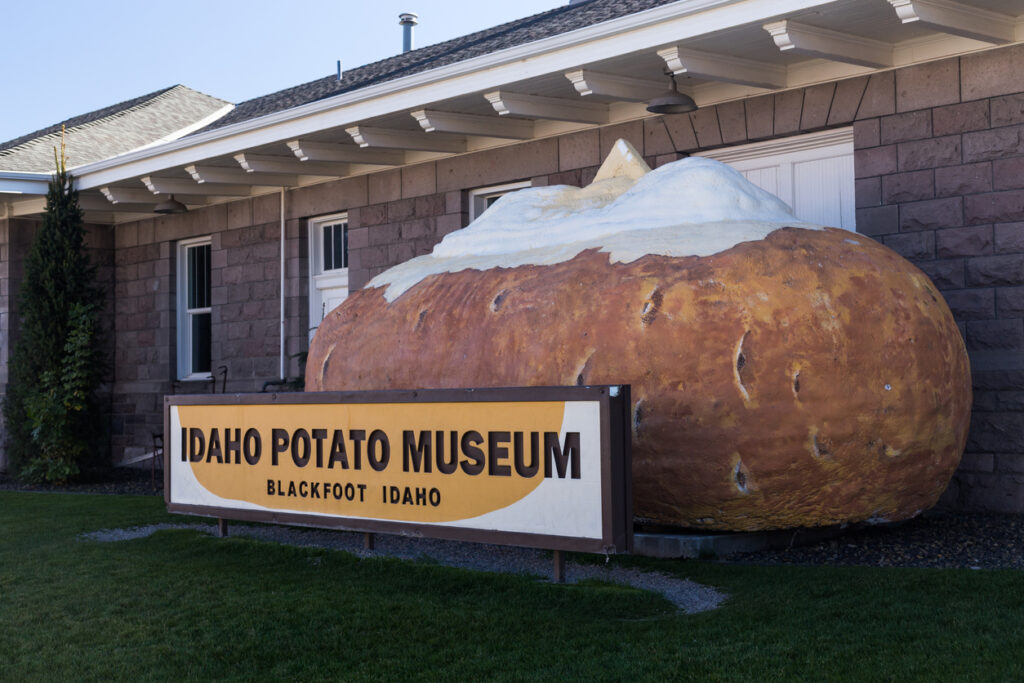 Catering to the visitors and locals, the Idaho Potato Museum strives to educate people about the Idaho potato. And if you are an out-of-stater, they will give you a free tater!
Farm to Table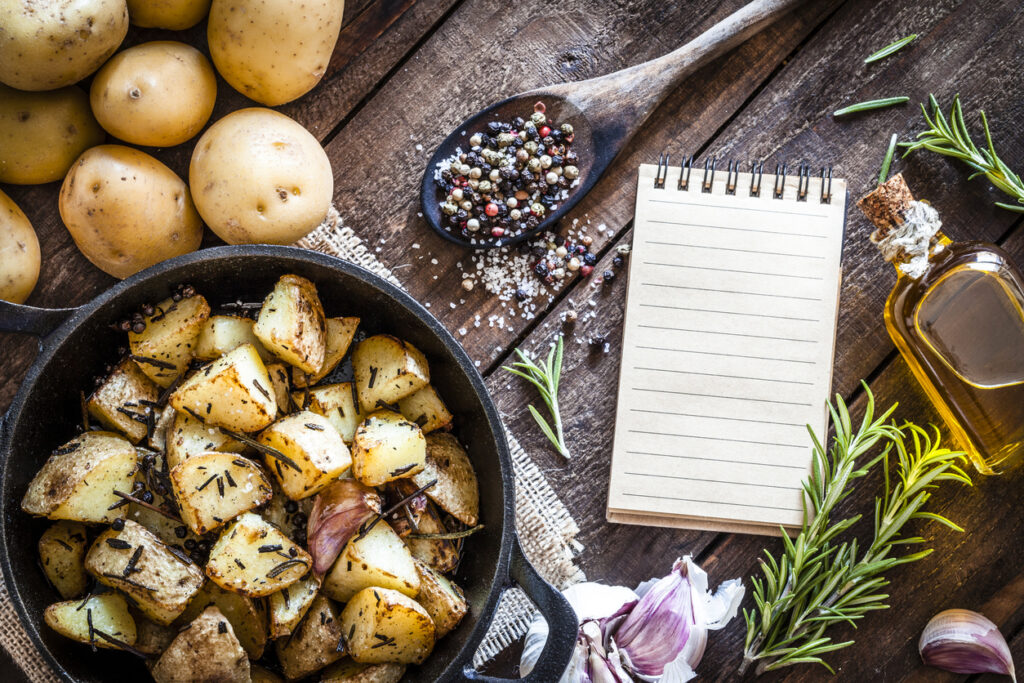 Join us on a gastronomic adventure as we explore the vibrant menus of Idaho's eateries, savoring dishes that celebrate the potato's versatility and inviting us to reimagine its potential.
Westside Drive-In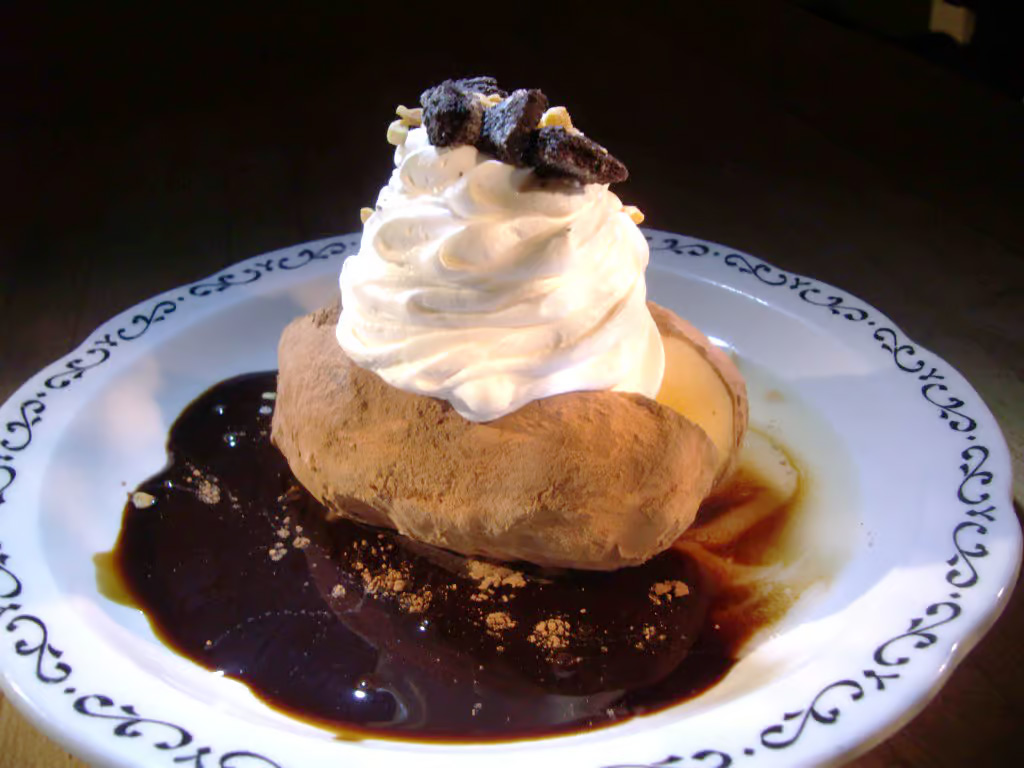 The ice cream potato is a unique dessert of ice cream resembling a loaded baked potato.
Parrilla Grill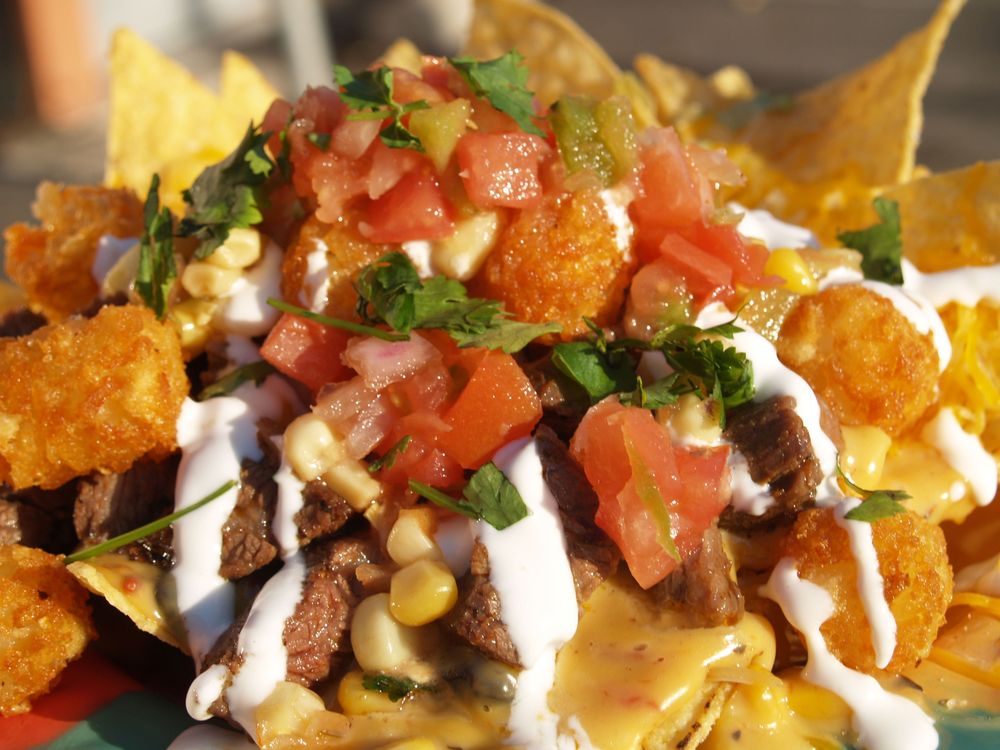 Parilla Grill has a unique take on using potatoes! Their renowned Idaho nachos feature classic snack elements such as tortilla chips, a gaucho cheese sauce, black beans, and cilantro. What makes the dish stand out are the in-house crunchy tater tots, crafted from Idaho-sourced potatoes, making it a community hit.
Smitty's Pancake and Steakhouse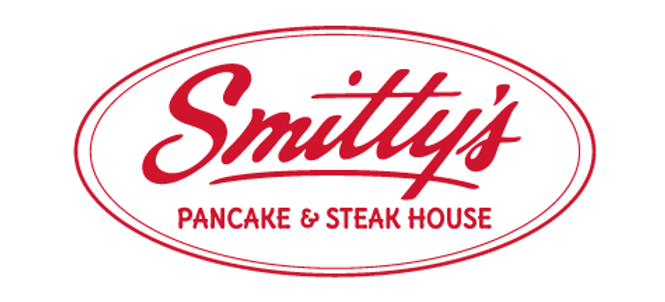 Smitty's potato pancakes set this Idaho establishment apart from other breakfast spots. Their signature Idaho hotcakes incorporate grated potatoes directly into the mix, giving them a hint of crunch on the outside. Yet, these aren't your usual latkes; they boast a soft, traditional pancake center. While many prefer them with applesauce or sour cream, others might opt for the classic drizzle of maple syrup. They make for a delightful and savory meal, whether it's morning, noon, or night.
Diablo & Son's Saloon
The crushed potato taco is a sophisticated twist on a regional favorite, packed with Idaho russets and charred chiles. It's topped with a zesty horseradish lemon BBQ dressing and garnished with Manchego cheese, green onions, and tangy pickled onions.
Pie Hole
Pie Hole boasts a range of distinctive slice varieties, each featuring that delectable New York-style slender crust, yet the Potato & Bacon pie stands testament to its Idaho roots. This particular slice is a favorite among many at the Idaho Falls outlet. The potato masterpiece is layered with velvety Alfredo sauce, delicate roasted potato slices, a melty cheese mix, and crowned with bacon chunks. Essentially, it's a potato's pizza incarnation.
Barbacoa
Barbacoa's garlic mashed potatoes are a customer favorite side dish. The mashed potatoes, grown in Idaho, are full of garlicky goodness and are served in a mini iron skillet, presented in an aesthetically pleasing swirl, and topped with fresh herbs.
More than a Potato
National Potato Day offers a unique opportunity to experience the farm-to-table connection firsthand. Join local farm tours and get your hands in the soil as you dig up your own potatoes— there's a certain magic in witnessing the journey of a potato from the fields to your plate that deepens your appreciation for the food that sustains us. Engage with farmers and learn about their dedication to sustainable practices, ensuring that generations to come will continue to enjoy the bounty of Idaho's harvest.