As the summer months approach, it's the perfect time to transform your outdoor space into an inviting retreat for relaxation, entertaining, and enjoying the long sunny days and warm summer nights.

In a recent study, nearly 70 percent of homebuyers wanted a large backyard when hunting for their current home, followed by a back deck at 51 percent and an outdoor entertaining space at 46 percent. Outdoor spaces are timelessly popular!
Whether you have a small patio, a spacious backyard, or a balcony, you can undertake numerous outdoor upgrades to enhance your home's outdoor areas.
Create a Cozy Outdoor Lounge
Transform your patio or deck into a cozy outdoor lounge area where you can unwind and enjoy the fresh air.
Comfortable outdoor furniture, such as a sectional sofa or lounge chairs, with plush cushions and weather-resistant fabrics is a simple way to transform your patio completely!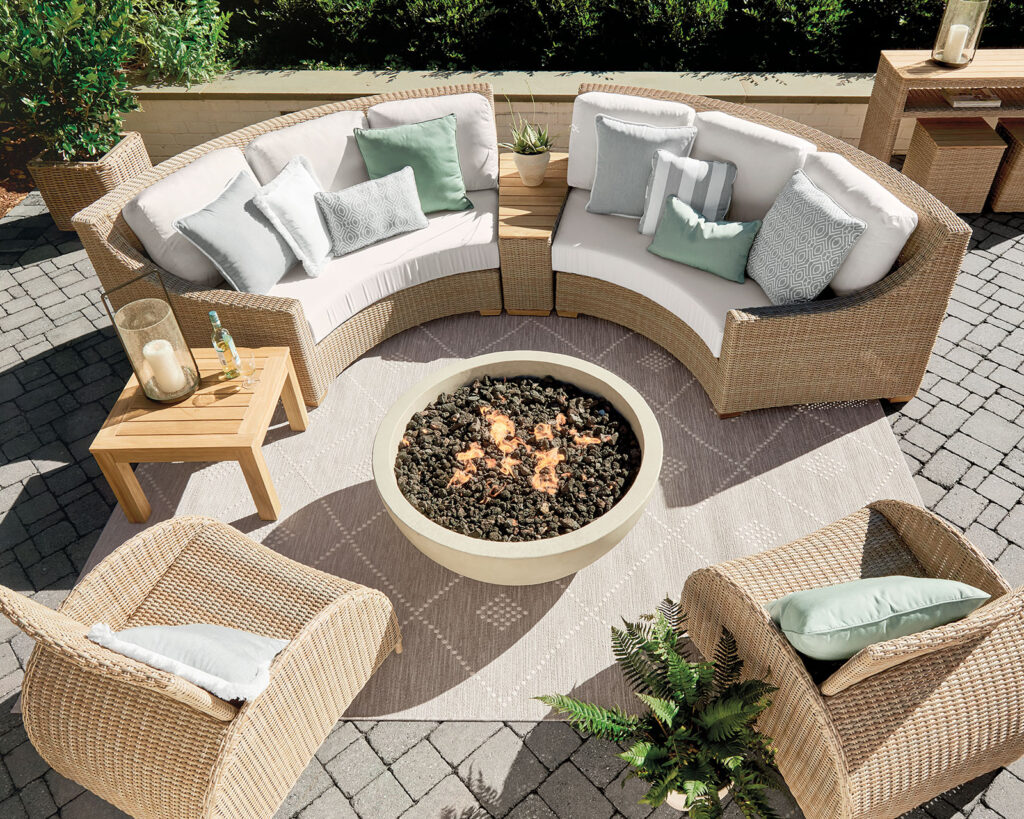 Consider adding a coffee table, fire pit, and side tables to create a conversational and cozy space! And define your outdoor space and add a touch of style with an outdoor rug.
Outdoor Kitchen
An outdoor kitchen may seem out of reach, but with these DIY ideas, you can take the cooking and the entertaining to the next level! We highly recommend thinking through your design and needs before building!
A grill, countertop space, and a few decorations can turn your backyard into an alfresco culinary paradise.
Less can be more, and a simple outdoor grill paired with a prep side table and dining room table can transform your average patio into a vibey gathering space!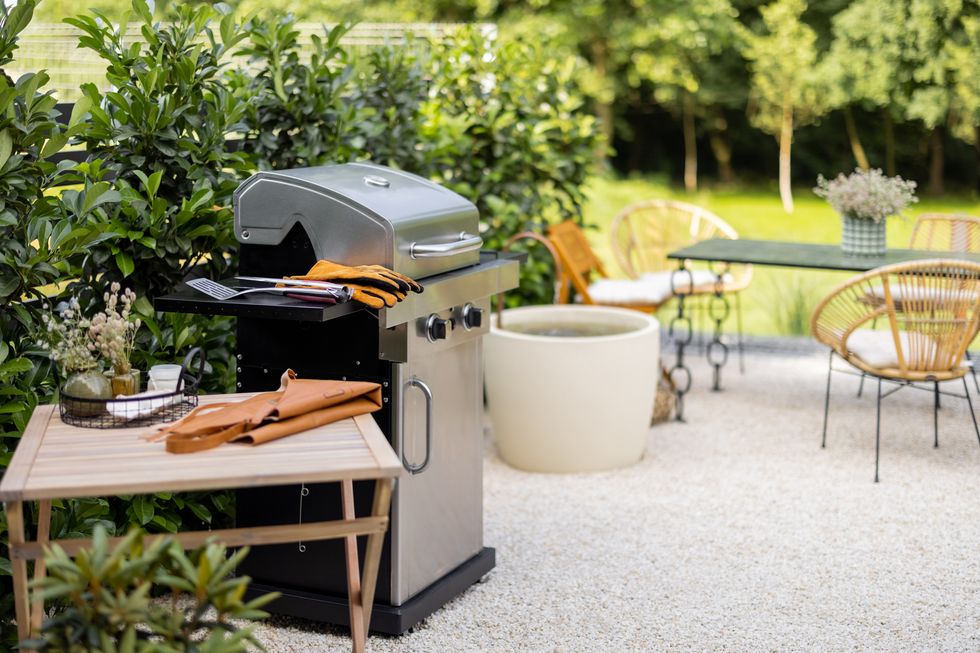 Outdoor kitchen cabinets can provide prepping space and storage for cooking tools and protect a small outdoor refrigerator! You can entertain while grilling up your favorite burgers and serving cold beverages!
Redwood Outdoor Kitchen Design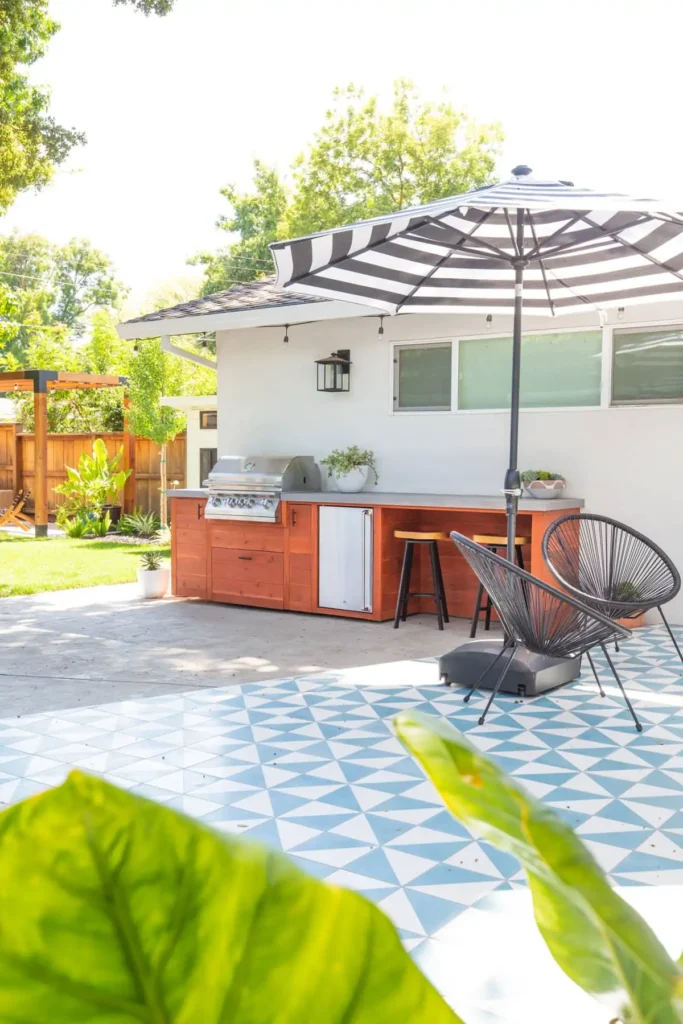 This simple outdoor island can turn your barbecue area into a functional outdoor kitchen with space to serve!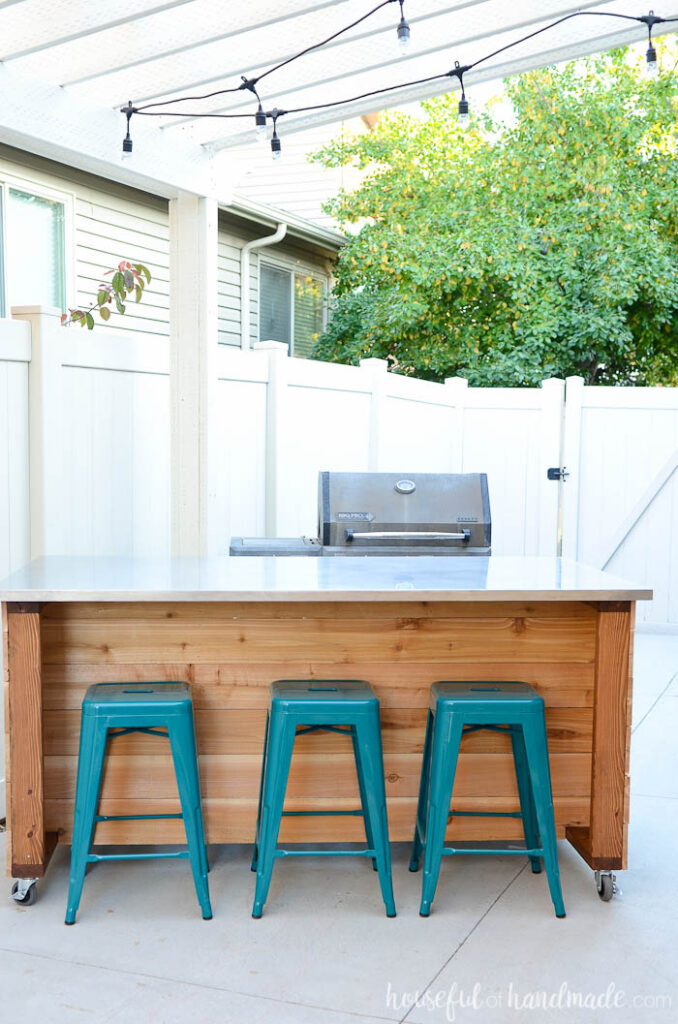 Outdoor Illumination
Outdoor lighting can feel a lot like Christmas lights on a tree– creating a magical feeling on those warm summer nights. A beautifully lit landscape not only creates a warm and inviting ambiance but will also enhance your outdoor space's aesthetic appeal.

Light can make all the difference whether you want to highlight specific features, improve security, or extend your enjoyment of the outdoors into the evening. Create a glowing backyard escape for very little expense!
String lights are an inexpensive way to bring life to your outdoor space! There is a wide variety of outdoor string lighting out there, which can be confusing… narrowing your search to glass or plastic, size, and style.
These traditional glass bistro/cafe lights during the day blend well with the landscape and can transform your backyard at night.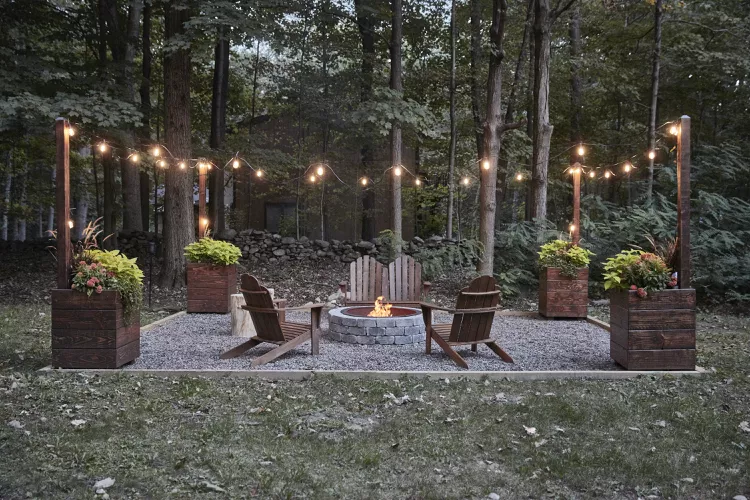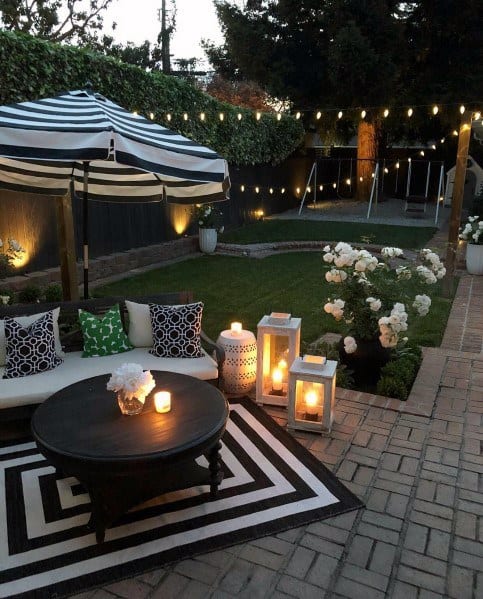 Landscape lights are another way to illuminate your backyard space and provide a welcoming ambiance!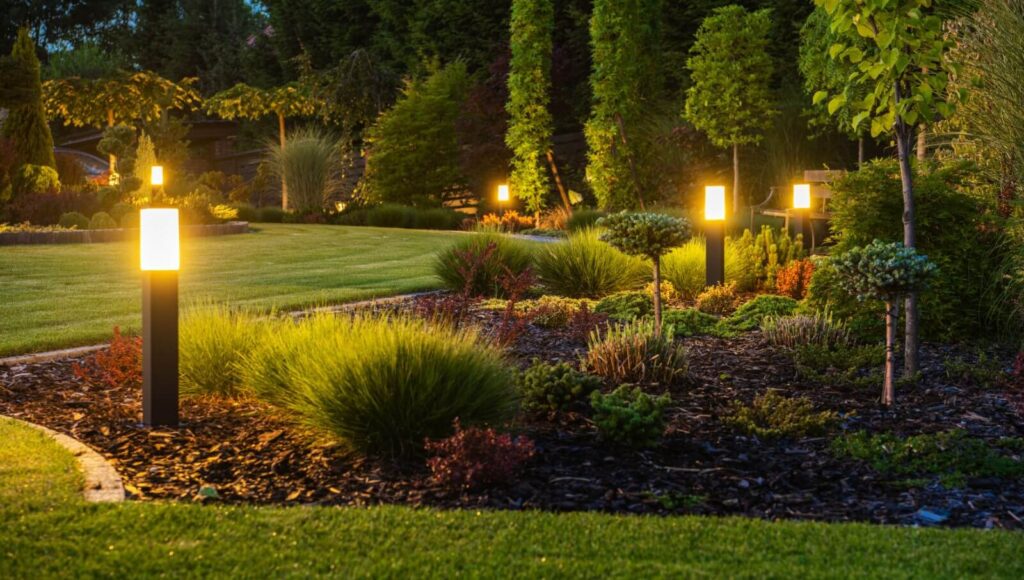 Solar-powered lanternsare powered by the sun, making them a budget AND eco-friendly way to light up your outdoor space.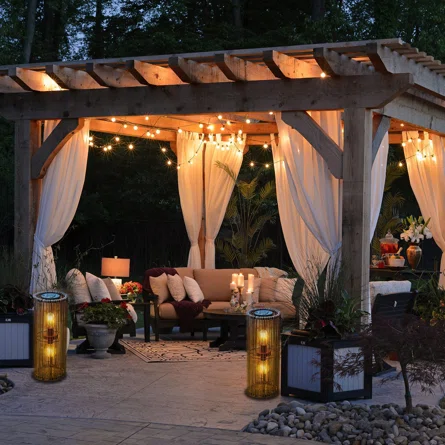 Incorporate Shade and Privacy
As much as we love summer and all the sunshine the season offers, shield yourself from the heat as well as create privacy with strategic shade structures. We have a few inexpensive ways to accomplish both!

Discover all the ways to create a secluded backyard, from gazebos and pergolas to hedges and privacy fences. You can grow your garden to new heights with planter boxes or retaining walls or gain some privacy from above by incorporating a patio umbrella or a shade sail.

Shade sails can provide an attractive and functional addition to your outdoor space, offering protection from the sun while creating a stylish and shaded area.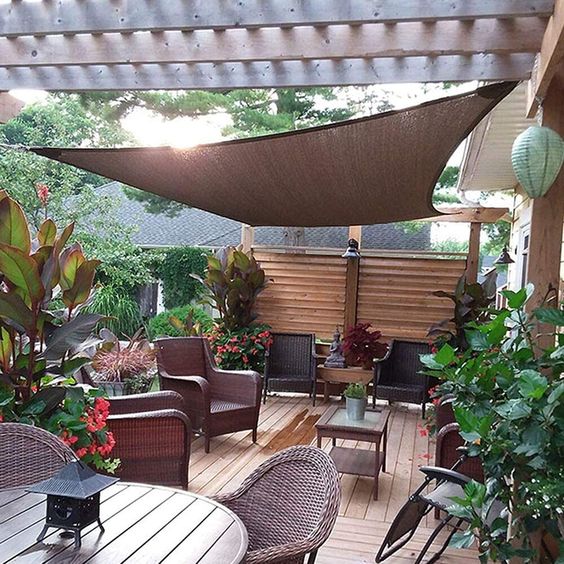 Pergolas are excellent for providing relief from the harsh, direct rays of the sun while allowing sunlight access to fill the space.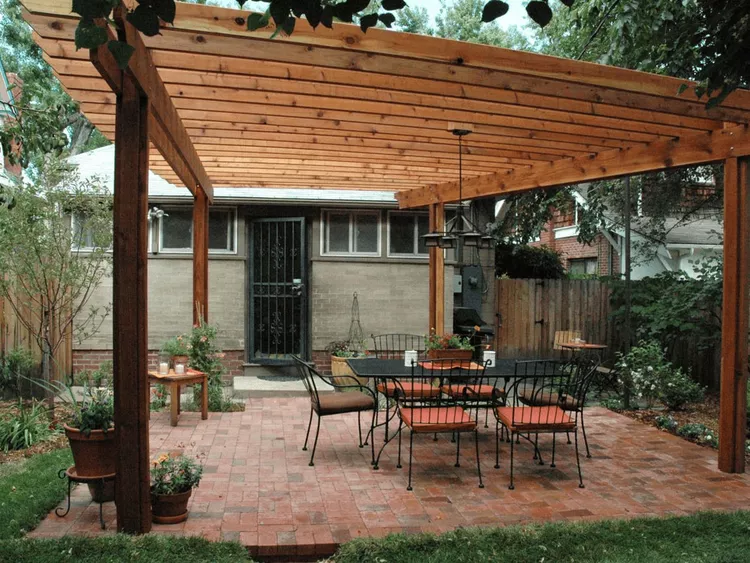 Outdoor patio umbrellas make it possible to use and appreciate your pool, backyard, garden, or patio area during all four seasons, shielding you from the sun, rain, high winds, snow, and more.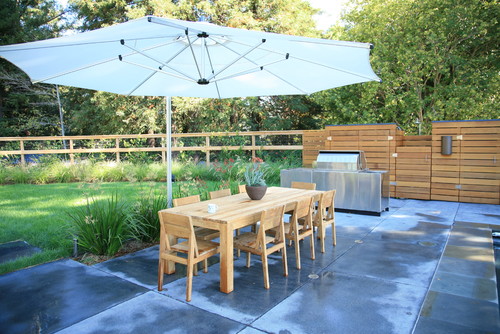 A privacy fencecan enhance your comfort and increase your security while creating an outdoor living space for you to enjoy!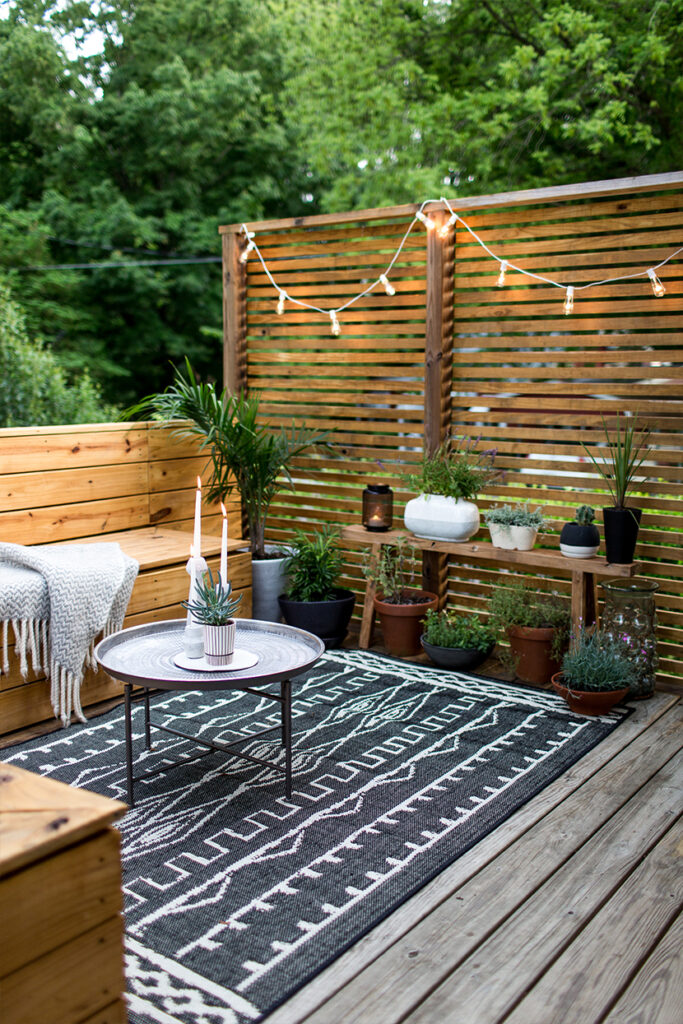 Revitalize Your Landscaping
Enhance your outdoor space by refreshing your landscaping. Plant colorful flowers, shrubs, and perennials that thrive in summer.
Karl Foerster Grass
Fountain Grass
Hosta
Purple Coneflower
Oat Grass, Blue
Guara
Dogwood Ivory
Juniper Taylor
Blue Globe Spruce
Black-Eyed Susan
Weeping White Pine
Iceberg White Rose
Consider creating a vertical garden or installing hanging planters for a unique, space-saving touch!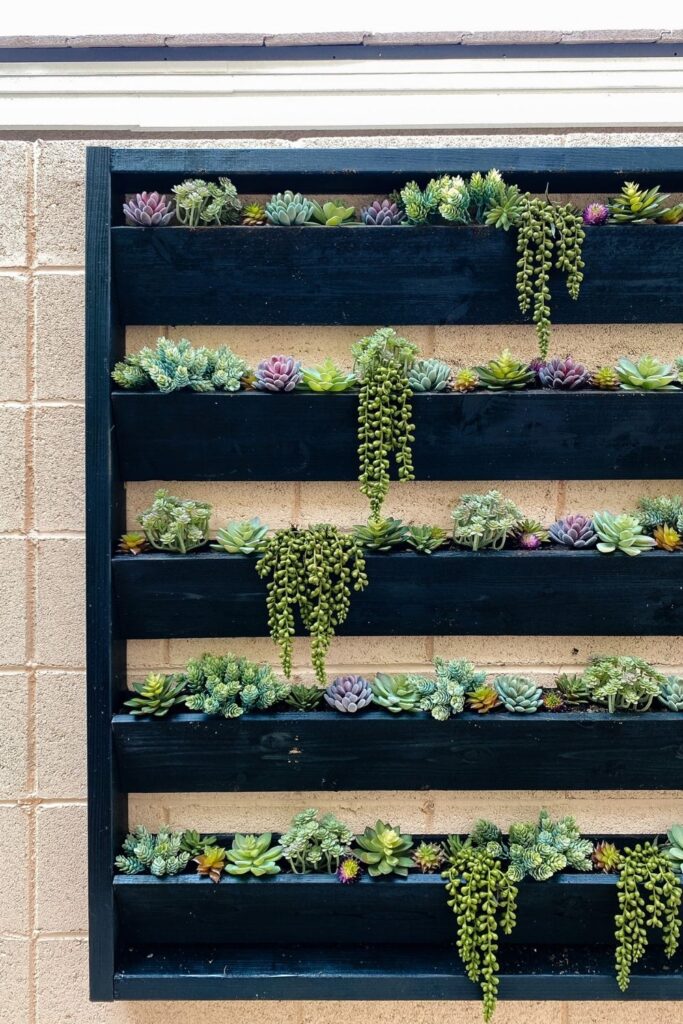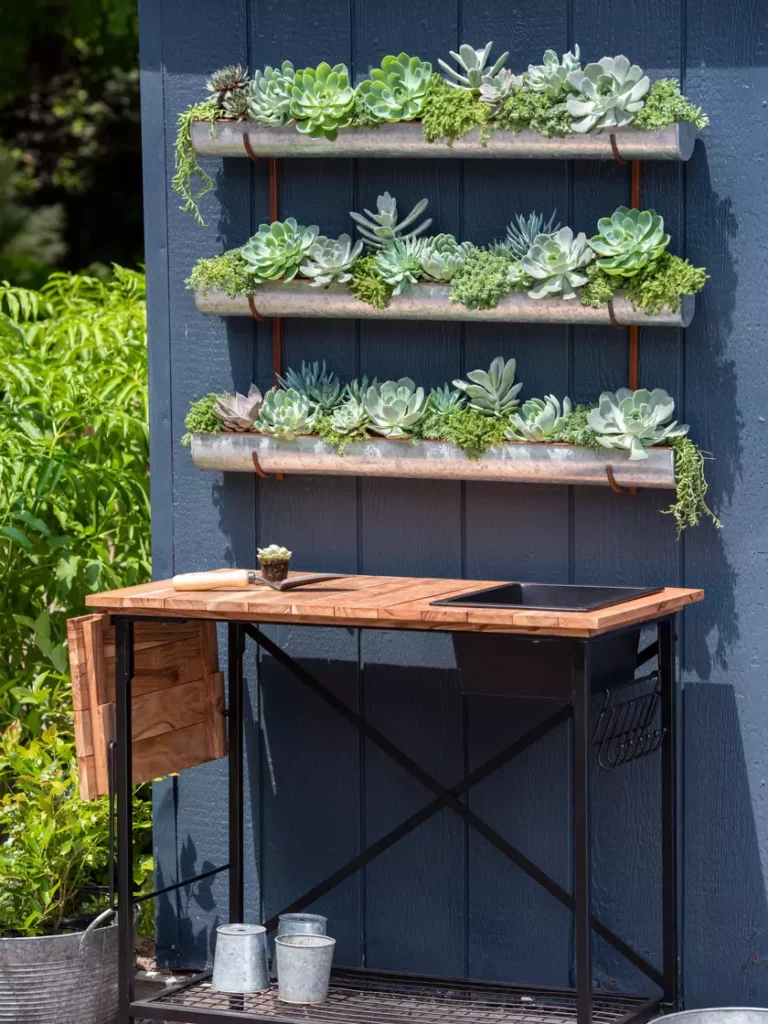 Set up an Outdoor Entertainment System
There are so many ways to work outdoor TV ideas into your backyard, providing entertainment year-round. You can snuggle down for a movie night under the stars, host a gathering for the big game, and thanks to Wi-Fi, link up the screen to your favorite vacation pictures to share those special memories with friends.
An outdoor TV can be the focal point of your backyard landscape idea, providing a cozy outdoor living room and bonus square footage!
Whether you are looking to expand your living space, spend more time outside during the warmer days of summer, or have a separate entertaining area for guests– enhancing your outdoor space is the perfect way to accommodate your lifestyle as well as increase the value of your home!