How to choose an agent, get a loan, and buy a house you'll love
In this guide, we'll help you understand the 3 most important steps to take when buying your first home:
Choosing a REALTOR®
Knowing what you can afford
Saving enough money
You'll also get key terms and a list of common mistakes to avoid at the end, so be sure to scroll all the way through!
Buying your first home is a big step, and you deserve to work with someone who makes it easy and gives you confidence. We believe everyone should love where they live and our team has spent the last 30 years helping people like you buy houses in Boise.
When you're ready to buy a home in Boise, give us a call at 208.278.4300.
Choosing A REALTOR®
You've probably heard "real estate agent" and "realtor" used interchangeably, but there is an important difference between the two titles.
Both have a professional license to help you buy, sell, or rent property in your state, but a REALTOR® commits to a higher set of ethical standards and is a professional member of the National Association of Realtors. (To keep things simple, we'll use the term "agent" since it includes both groups.)
So now that we know the difference, how do you choose the right person to work with?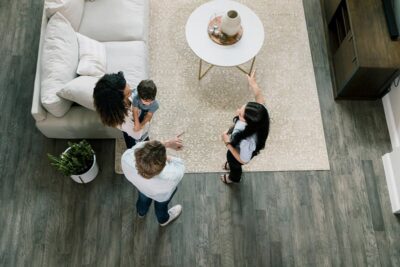 Simply put, a real estate agent represents your needs and negotiates a contract. Before trusting one, you need to know two things:
Can they solve real estate problems?
Do we communicate well?
The best place to find an agent is by talking to your friends and family. Who did they use? Did they like working with this agent? Is there anything they would do differently?
Statistically, 75% of people work with the first real estate professional they meet, and only 15% will go on to interview a second choice.
Because you'll work closely with this person for at least one month, we recommend asking a few interview questions first.
Interview Questions for Your Real Estate Agent
On average, how quickly do you respond to emails, texts, etc?
Would past clients say you're insightful, easy to work with, and good at closing deals?
What are the challenges in today's market?
Have you found ways to overcome those challenges?
If we aren't able to submit a winning offer by X date (or after X tries), how would you change our strategy?
Based on my goals, what will this process look like from start to finish?
These questions will help you evaluate an agent and decide if you trust them to represent your needs.
---
Do: Interview a real estate professional to determine how they communicate and solve problems.
Don't: Hire an agent without a recommendation or interview.
Knowing What You Can Afford
Do you have $300,000+ sitting in your bank account? If you're like most Americans, chances are good that you probably don't.
This means you'll need to apply for a mortgage. A mortgage is just another word for a home loan, and there are lots of great companies out there who can help you find the money you need.
Knowing what can you actually afford is the first step in the home buying process.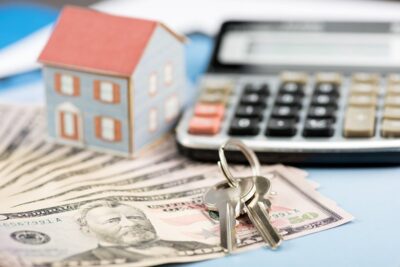 To figure this out, you need to meet with a mortgage lender to get pre-qualified.
A pre-qualification (or preapproval) letter is a document your lender provides showing you how much they might be willing to loan you. Lenders use information like your household income, monthly expenses, and current interest rates to determine this pre-approval amount.
Think of this like a soft-commitment from a lender. It's a quick way for them to provide a loan estimate so you can venture off into the market to find a real deal.
Once you've found a deal, the preapproval letter acts as a ceiling for the offer your agent will help you submit on a property. It also helps your agent find the best deals for your budget to avoid wasting valuable time.
Need a lender? We recommend Todd Shreeve with Movement Mortgage. He's based right here in Idaho and can help you get pre-qualified fast!
You can also check out our free Mortgage Calculator.
---
Do: Meet with a lender to get pre-qualified before you start looking at houses.
Don't: Attend open houses or interview agents without knowing how much you can afford.
Saving for Expenses
Everyone knows you need to save money in order to buy a house, but is there a magic number?
Yes and no. Let us explain.
Down Payments
Your first savings goal should be for a down payment. If you aren't familiar with the term, a down payment is a percentage of the purchase price that you would pay upfront when buying a home.
This percentage can vary based on the type of loan you qualify for, and a mortgage lender is the only one who can tell you what this percentage will be because there are lots of different loan products out there, all with different requirements.
In today's market, you should plan to set aside tens of thousands of dollars. This will take time and discipline, but the payoffs are worth it!
Once you've hit your goal, we suggest holding out just a little bit longer to build an extra cushion. Unexpected costs will pop up, and you don't want to get caught off-guard.
Repairs and Unexpected Costs
Ask any homeowner – unexpected repairs are going to happen. Everything breaks down and will need to be replaced over time, but surprises can happen too, like pipe bursts, broken windows, etc.
Do yourself a favor and start saving for repairs before it's too late. We recommend setting aside $2,000-$3,000 just in case.
It can be tempting to put all of your savings toward a down payment when a good deal pops up, but if you spend everything to get into the home, you could end up in a tight spot the next time your water heater goes out or air conditioning needs to be fixed.
---
Do: Start saving money for a down payment, repairs, and unexpected costs.
Don't: Spend all your savings on a down payment!
Avoid These Mistakes!
Today's real estate market is rapidly changing and buying a home is often more complicated than it seems. If you don't know what red flags to look for, you could end up overpaying or worse.
Thankfully, you have us. Read our Top 13 Mistakes To Avoid When Buying Your Next Home.
Ready To Get Started?
The easiest way to avoid home buyers remorse is by trusting a local real estate expert to guide you to the closing table.
When you're ready to work with an experienced, professional Realtor®, call our office at 208.278.4300.
We love helping people just like you find great places to live in Boise and can't wait to help you close on your new home!
Other Key Terms
Interest Rate – a percentage of the loan amount that the lender charges for borrowing their money
Debt-to-Income Ratio (DTI) – compares how much you owe each month to how much you earn. Specifically, it's the percentage of your gross monthly income (before taxes) that goes towards payments for rent, mortgage, credit cards, or other debt.
Credit Report – This report shows a record of your personal credit history. It's based on information that your previous lenders have submitted to reporting agencies. This public record is one of the most important documents used to determine whether or not you can be trusted to pay back future loans.
Private Mortgage Insurance (PMI) – a type of mortgage insurance you might be required to pay for if you have a conventional loan. Like other kinds of mortgage insurance, PMI protects the lender—not you—if you stop making payments on your loan.
Escrow – a legal arrangement in which a third party temporarily holds money or property until a particular condition has been met (such as the fulfillment of a purchase agreement).
Property Taxes – an annual government fee that is used to fund local and community services, schools, infrastructure and other projects. The amount of property taxes you owe can vary from location to location, but it's generally based on the property's value.
Homeowners Insurance – a form of property insurance that covers losses and damages to an individual's residence, along with furnishings and other assets in the home. Homeowners insurance also provides liability coverage against accidents in the home or on the property.
Equity – the difference between how much your home is worth and how much you owe on your mortgage.
Square Footage – the amount of flat space that covers an area, like the floor in a room
Seller – the party trying to sell a property
Buyer – the party trying to buy a property
Listing – when a property is put on the market for sale, it's referred to as a "listing"
Market – a term for all the properties currently listed for sale in a defined area
Comparable Market Analysis – This is an analysis done during the appraisal process. Properties with similar characteristics are compared to the property you want to buy to determine how much the home you want to buy is worth.
Appraisal – An appraisal is the estimation of a home's current market value. A licensed appraiser completes this estimation, which is calculated by comparing the recent sales of homes in the area as to the property that is being appraised. This is required by mortgage lenders to be sure that the money they are lending to a new homeowner or a current homeowner is a fair amount for the home.
Submitting An Offer – a conditional proposal made by a buyer or seller to buy or sell an asset, which becomes legally binding if accepted.
Commission – Real estate agents and brokers don't get paid until the property sells. A commission is paid based on a percentage of a property's purchase price
Property Inspection – a non invasive, visual inspection of a building, carried out by a fully qualified professional trained and experienced in evaluating buildings and their components. The inspection is designed to provide you with all the information you need to make an informed decision about your potential purchase. You will be able to walk away from the inspection with a clear knowledge of what major issues (if any) are involved with your property, and which items will need maintenance in the short and longer term.
Closing – also called the completion or settlement) is the final step in executing a real estate transaction. It is the last step in purchasing and financing a property.[1] On the closing day, ownership of the property is transferred from the seller to the buyer.
Closing Costs – processing fees you pay to your lender when you close on your loan. Closing costs on a mortgage loan usually equal 3 – 6% of your total loan balance. Appraisal fees, attorney's fees and inspection fees are examples of common closing costs.
Multiple Offer Situation – when the seller receives several competing purchase offers and informs the potential buyers that there are other offers "on the table."