The Mike Brown Group at Silvercreek Realty Group was named one of America's top real estate teams by REAL Trends and Tom Ferry, as advertised in The Wall Street Journal. The group continues as a member of "The Thousand Top Real Estate Professionals," a prestigious national awards ranking sponsored annually by REAL Trends and Tom Ferry International. The Mike Brown Group is ranked in the top one percent of the nearly 1.4 million REALTORS® nationally.
The 15th annual Thousand, real estate professionals, were announced on Friday, June 19, 2020, with 12 separate categories honoring the top residential agents and agent teams for excellence in a variety of categories including:
Individual Sales Professionals—Sales Volume
Individual Sales Professionals—Transaction Sides (in each real estate transaction, there are two sides (buyer and seller) that can be represented by a real estate agent)
Team Professionals—Sales Volume (Small Team, Medium Team, or Large Team).
Team Professionals—Transaction Sides
Agent-Owned Brokerages – Sales Volume
Agent-Owned Brokerages – Transaction Sides
Team-Owned Brokerages – Sales Volume
Team-Owned Brokerages – Transaction Sides
According to The Thousand rankings, The Mike Brown Group ranks #2 in the state of Idaho for "Large Team Volume" and ranks #36 in the entire nation. A large team is comprised of more than 11 agents.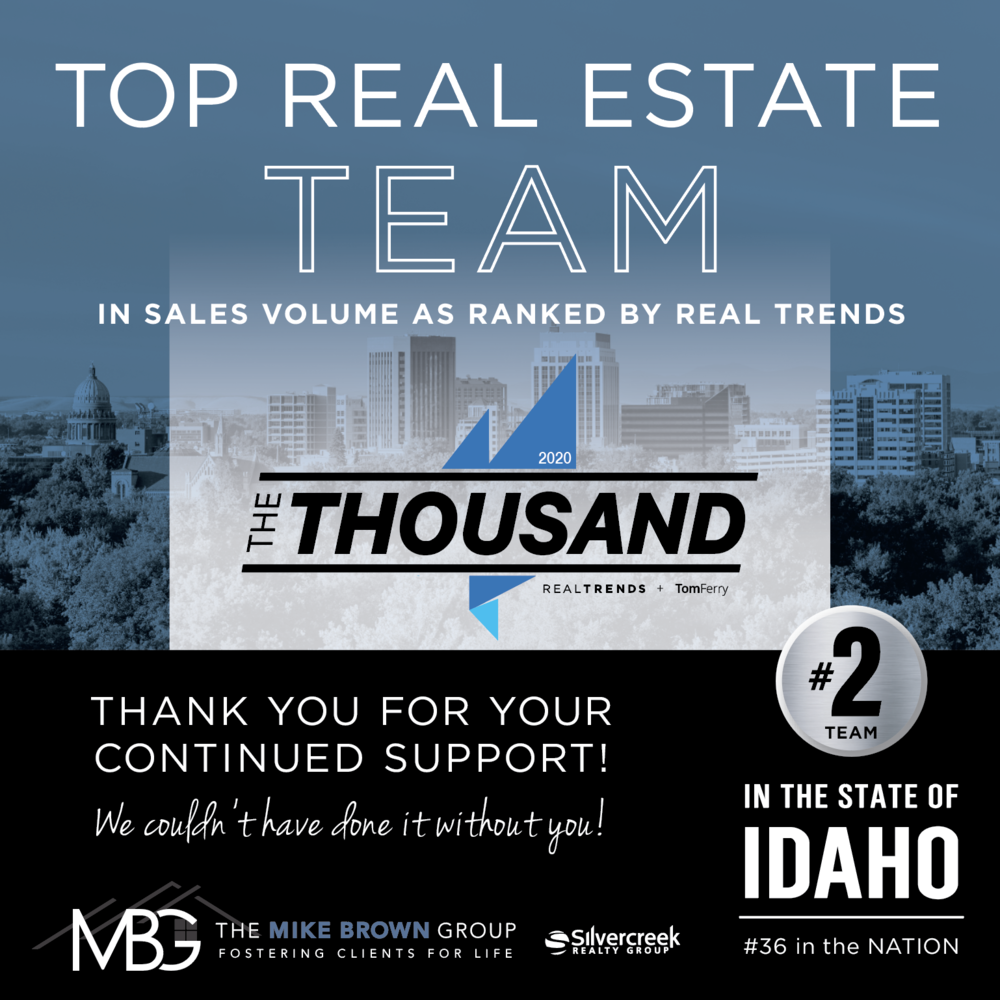 "Everything we do is based around our ethos, Fostering Clients for Life," says team owner Mike Brown. "We are very grateful to our clients, who helped us attain this prestigious award. It's incredibly gratifying to be recognized for assisting our clients in achieving all of their real estate goals." The Mike Brown Group excels at helping their clients buy and sell real estate.
People have a choice when it comes to choosing a real estate professional to help them buy and sell a home. The Mike Brown Group is a firm that puts significant emphasis on marketing as well as client service.
By employing a team of marketing professionals, from videographers to photographers, to graphic designers, copywriters, social media, and website experts, The Mike Brown Group can deliver a world-class experience to its clients looking to sell their property.
For Buyers, the agent team members of The Mike Brown Group work tirelessly to help their clients find or build the home of their dreams. After the sale, the team continues to provide value to its clients by delivering news, information, and resources that many of its clients appreciate.
"The Mike Brown Group is truly humbled and honored to receive this recognition, and we look forward to continuing to serve and exceed our clients' expectations," says Brown.