Idaho boasts some of the best soil around, making our corner of the nation a prime location for the farmers who grow fresh, mouth-watering ingredients.
We might be biased, but hey, they call it The Treasure Valley for a reason! After talking with our friends, these taprooms, breweries, and tasting rooms are the best places in town to find drinks worth raving about.
This list features craft beer, local wines, and hard ciders all made within driving distance of Boise. It doesn't matter if you like things sweet, sour, hoppy or dry. All these flavors are worth raising a glass over.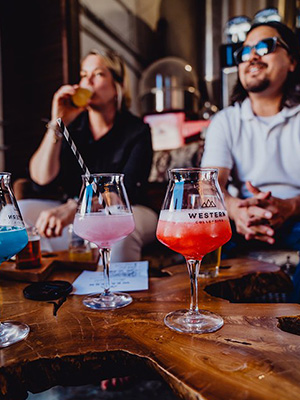 Keep Track With A Tasting Scorecard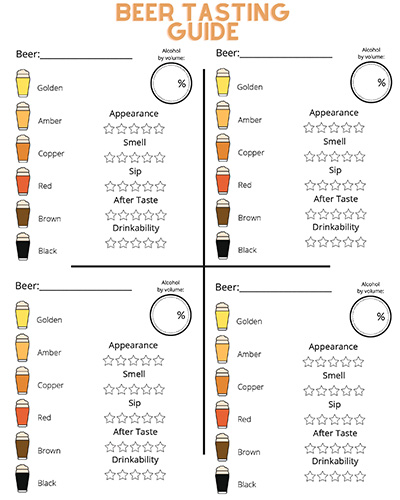 Before you get started, download this tasting score card to keep track of your new favorites, because let's be honest, if you enjoy these drinks like the rest of us, it might be difficult to keep them all straight…
Passing through town? Thinking about relocating? Checkout this free relocation guide for answers to the big questions, like communities in and around Boise, schools, and how to find a great work-life balance in Boise. Moving always has its challenges, but making a new place feel like home shouldn't be one of them.
As local real estate experts, we love helping people find great deals, but more than that, our team believes everyone should love where they live. At the Mike Brown Group, you'll find a whole team of people excited to share all we can to help you feel at home in this great community.
When you're ready to move, we're ready to help.
Alright, on to the beer recommendations!
Top Spots for Craft Beer in Boise
Give it up for the folks at Highland Hollow Brewhouse! They were the first microbrewery here in Boise, effectively launching our craft beer community in 1992.
Since then, all our local brewmasters have been hard at work fine-tuning and taking more than a few sips of these awesome recipes. These local gems can now be found in restaurants, bars, and taprooms around town, but we think your first samples should come straight from the people who made them.
Did someone say $10 growler fills?! The "Hollow" was started with the vision to bring good people together and they have the history to prove it. This family-owned microbrewery features 9 taps with handcrafted ales with new options rotating through on a regular basis.
Looking for something smooth? You need to try the Spoon Tongue, a light ale that's never bitter and hopped exclusively with Willamette hops.
Love IPAs? Their Thunder Monkey is layered with great flavors to give you the best bitter taste around.
If you're lucky, you might even catch the seasonal Bonnie St. Nan Cherry Smoked Porter. This dark brew has a surprisingly light consistency with subtle hints of real cherry and smoked malt meld. The roasty overtones swirl nicely to give this beer an awesome flavor profile.
If you're looking for variety, then the Western Collective has you covered. Grab one of their distinctive handcrafted beers on draft or sip your favorite hard seltzer FROZEN like the Shark Attack Slush or our favorite, the Huck It Slush. Two distinctive locations allow you to taste the Western Collective creations from morning until night.
Western Collective Brewery is located in Garden City with plenty of beers on tap, a variety available in cans, and hard seltzer slushes. They also have a coffee menu and light food offerings so you can sit back and relax at the end of the day.
Western Proper is located in downtown Boise. This is the perfect spot for a night out, offering dinner, cocktails, bowling, arcade, and of course, craft beer. Be sure to check out their signature creation the cowboy hat party bowl and of course their weekend brunch menu!
Beyond the brews, Western Collective is on a mission to give back to the community. They host monthly fundraisers, designated beers with proceeds given to charity, and a focus on employee growth and benefits. A local brewery that is on a mission to do more than create handcrafted beer, it's no wonder why it's a local favorite.
Payette Brewing first opened in 2010 and has quickly built one of the best reputations in Idaho. It's a great spot to grab a drink after a short workout on the Boise River Greenbelt (just peel off at Pioneer Park and walk about 400 feet to their front door). 
They keep 8 beers on tap, rotating in seasonal brews when local ingredients are available. Order a flight or two, and if you love what you find, grab a 6-pack to take home! Here's the full beer list.
For an easy summertime drink, start with the Urban Surfer. This citrus wheat beer is dry, zesty, and wildly refreshing after a long day on the waves.
Next up, the Sofa King Sunny. This binge-worthy hazy pale ale is well-known for its vibrant finish and radiant hops. Plus it's pretty fun to order.
As an environmentally conscious brand, Lost Grove does everything possible to leave the right footprint. They use sustainable practices to positively impact the environment, which means you can feel even better about these brews.
The Teeny Tiny Cowboy Cream Ale is super light, refreshing, and usually a big hit with craft beer lovers and domestic enthusiasts alike.
Looking for something off the beaten path? Try the Teddy Bear Picnic Golden Session Ale. It has strong notes of tangerine and grapefruit that could easily become your new favorite drinking buddy.

Bonus: Lost Grove is located just off the Boise River Greenbelt, making it easy to find awesome brews while "getting lost" in their great event lineup that includes hits like a summer concert series, brewery yoga, trivia night, and more.

If you want to get more connected in Boise, this is where you should start. The brewmasters at Woodland Empire often partner with local groups to make special drafts, so if you're willing to strike up a conversation, there's a great chance you end up meeting some of the movers and shakers in town.
And for those who love hops, make sure to order The City of Trees IPA and their RyePA.

If you can't help but appreciate all the nuances in a drink, then you're going to love it here. This nanopub makes super small batch brews using only the best locally sourced, organic ingredients.

Instead of having the exact same line-up from month to month, new beers are added to the taps as soon as the last drop from the previous batch has been poured. No two experiences are exactly the same, which is great when you need a break from your usual routines.

Just on the outskirts of downtown, this quiet outdoor patio is the perfect place to hangout if you'd rather spend the night in someone else's backyard. Dogs are always welcome, drink options are plentiful, and food trucks cycle through on a regular basis.

Their German Hefeweizen is so light and smooth, yet so hard to pronounce. Look like a pro next time you order and say it like this: "hay-fa-vy-t'sen"
Ever tried a Cucumber Kolsch? You might not think these flavors would work together in a beer, but these guys are onto something here and this one is worth stepping off the beaten path for.
The Pepper Peach Seltzer isn't a beer, but it's summer for crying out loud and it's fun to mix things up every once in a while!